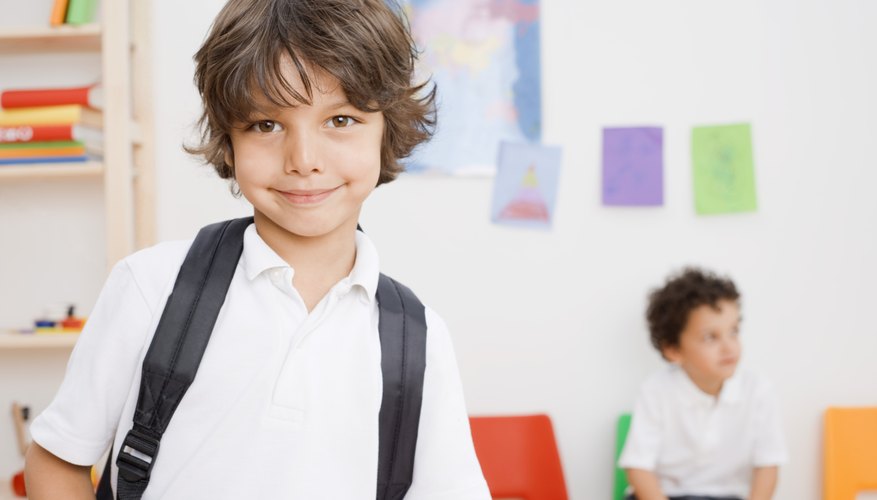 Flunking, repeating and being held back describe children failing to receive a promotion to a higher grade in school. Advancement signals the student has the skills and abilities to move on to work at the next grade level, but uneven abilities in some subject areas and not others create confusion in making a decision for promotion. Parents can ask officials to hold a child back a year, but schools and districts make the regulations and the final recommendations for student advancement. Parents, however, have a right to challenge retention based on the legal regulations and official education policies and practices.
Laws and Regulations
Federal laws and policies recommend retaining unprepared students, but the Elementary and Secondary Act, as reauthorized in 2001, demands states set education accountability standards for "adequate yearly progress" and enforce these regulations by requiring assessment exams and graduation standards. States typically set general guidelines for student promotion, but many rely on school districts to establish more detailed guidelines and enforce both sets of rules. Several states have policies to keep students in the third grade when reading skills lag behind district standards. Washington schools, for example, follow promotion policies set by the Washington State School Directors Association. The WSSDA recommends individual schools establish rules for student advancement. This general policy allows education rules to reflect the standards of the local community.
Strict or Loose Enforcement
Education officials and teachers interpret education laws on a practical level and, even when the law clearly requires student retention, individual schools and teachers don't always comply. State laws typically require retention of "low-performing students," but the loose interpretation of the guidelines, known as social promotion, helps avoid classroom overcrowding and the costs of hiring additional teachers. Superintendents and principals sometimes have individual beliefs on the value of retention and allow social advancement because they feel it's in the best interest of the child. This practice then sets a precedent and becomes unofficial policy for some districts or schools.
Student Redirection
Schools frequently redirect low-achieving students in danger of grade retention to avoid any legal challenge. Districts and schools use redirecting as a tool to place failing students into special education classes. This allows students remediation and special help, and sometimes makes formal promotion or retention unnecessary. Students in danger of retention occasionally have other problems, including behavior issues, and districts use the expulsion process to force children to leave school. Schools also allow students to drop out or to transfer to another schools outside the district or to transfer to a private school. Students in these cases typically continue on the normal promotion timetable.
Legal Challenges
The legal precedents for retaining a child deal with a number of considerations, including federal law, state department of education recommendations, district standards and enforcement policies. The final decision to retain or promote rests with the judge or mediator evaluating the evidence presented by the school and district officials to show the student fails to meet specific standards for grade advancement. Schools that allow other students at the same skill or achievement levels to move to higher grade levels have few grounds to hold back the student under legal review.