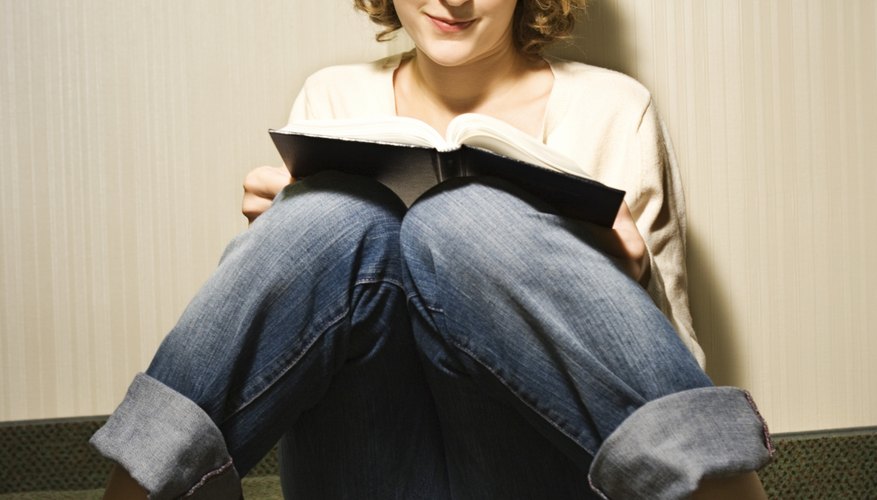 The idea of reading classical or even contemporary books assigned by his English literature teacher might not be appealing to your teen, but he has to do it. Many literature classes require students to do some sort of report or presentation that demonstrates their understanding of the plot, characters and overall theme of the book. However, book reports are old school and super-boring to write. Provided your teen's teacher allows for creativity with literature projects, help your teen come up with informative but fun projects sure to impress the entire class.
Visual Projects
You can help your high schooler make a science fair-style board for his literature project. Instead of using text and visuals to explain the scientific process behind an experiment, your teen can use it to explain the plot, characters, setting, purpose, main conflict and resolution. Get creative with art supplies to make the board reflect the setting and tone of the book. Another idea is to make a photo storyboard of the book. Have your teen enlist friends to help him recreate key scenes and photograph them. If your teen is good at drawing, he could also do a comic-strip type of storyboard if he prefers.
Dramatic Literature
For a teen with a flair for drama, he can act out a pivotal moment that happens with the characters in the book. Help him select a powerful scene and practice acting it out. Another idea is to have him write a monologue that reveals the dilemma one of the characters is facing. Your teen will have to really focus on the decisions made by the character and delve into his mind to really capture and express what drives the character toward his goal. For a humorous twist, your teen can get his friends to help him pull off a talk show skit where the characters in the book have come to a talk show to work out their problems. Have the teens practice with you, ensuring they remember to stay in character during the skit.
Writing Projects
Your teen can write a newspaper opinion piece about current events from the main character's point of view. This would be ideal for a book with a setting that takes place in an entirely different time than today. The opinion piece should be distinctive if you put it next to anything you would read in a current newspaper and your teen must have a strong sense of the main character's background and beliefs. Your teen can also keep a one-week journal writing about a certain character's thoughts and feelings based on the plot of the book, or you can do a journal entry for a different character each day. Another idea is to have your teen work on job resumes for the primary characters of the books that include each character's objective, past experience and skills.
Miscellaneous Projects
If your teen is reading a book from a different period in time, visit a costume shop to find an outfit closest to what the main character might have worn. He can deliver an oral book report in first person, pretending to be that character. Or, have your teen use magazine cutouts to create an image of how he thinks the main character would look and dress now. Ask him to explain why, based on what he knows of the character. Your teen could also set up an interview with the main character of the book (with the help of a friend), who can pretend to be a reporter famous for in-depth interviews. Throughout the interview, discuss the main character's motivation, conflict, and resolution.