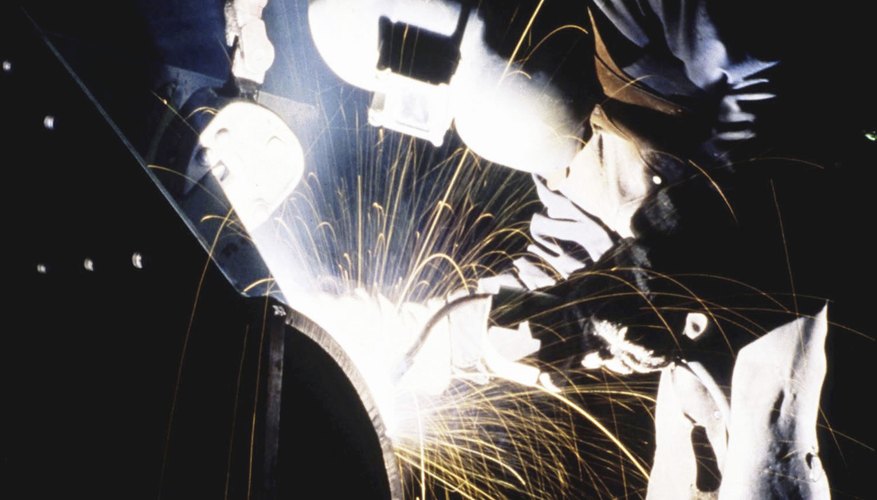 The Progressive Era during the 1900s through the late 1930s encouraged education reforms to offer practical education that trained female teens in the homemaking arts and males in manual arts such as wood and metalworking and ceramics. Practical work training continued at secondary schools until education shifted focus to higher-education degrees, and the large shop spaces required for industrial arts transformed shop spaces into classrooms for overcrowded schools in the 1960s and 1970s. The modern focus for secondary schools calls for "re-envisioning" career and technical education with an emphasis on practical education in business and industrial arts.
Industrial Arts Training
Industrial arts training gives students practical experience with machinery and equipment used in the construction, building and technical trades. Programs focus on teaching the student skills to enter the world of work, and feature tools, machines and processes. High school-level programs typically offer classes with hands-on instruction to complete projects in wood working, graphic arts, auto repair and metal crafts, but many secondary vocational education programs also have courses integrating computer technology and software to design and use these to fabricate objects such as new commercial buildings, residential housing or vehicle design.
High School Programs
Secondary programs sometimes partner with local industries to train high school students to complete projects typically done as part of regular employment in auto and machine repair, residential and commercial construction, and computer repair and programming. High school programs occasionally require students to complete small projects that build on formal degree programs partnering with classes at the community college level where students earn an industrial arts certificate. Secondary schools also frequently partner with 4-H or scouting programs in designing and completing projects in industrial arts classes.
Specialized Equipment
Comprehensive secondary industrial arts programs typically use equipment to reproduce the work done in factories and industries, and projects focus on showing competency using the equipment. Students design and create projects using wood and metal. Industrial arts projects frequently partner with high school art departments and involve the use of photography and ceramics. Industrial arts programs historically trained students to complete architectural designs using paper and drafting tools, but modern school projects use computerized drafting programs and digital technology.
Display and Awards
Secondary schools in states with large industrial arts programs feature students' school projects at county and state fairs in special exhibits. These public displays date to the turn of the 19th century and frequently award students ribbons and trophies for quality projects evaluated by expert panels of industrial arts teachers and industry volunteers. State and county fairs display homemaker projects, including sewing and baking, and shop projects such as candlesticks, bookcases, radio-controlled machinery and robotics. Large fairs have individual buildings reserved for the annual display of industrial arts projects.