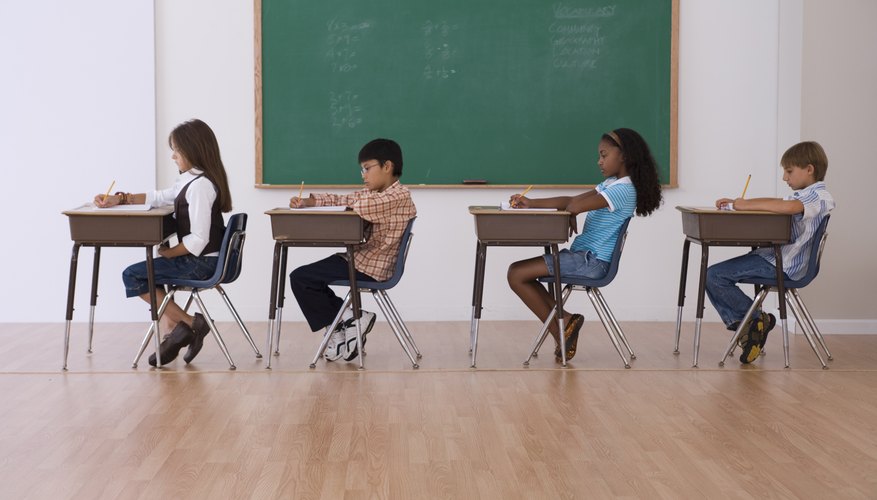 Middle school marks the beginning of new routines, friendships, teachers and coursework. It can be a difficult and stressful time for your daughter, so it is important to provide her with as much support and assistance as possible. According to Seattle-based psychotherapist Meg White, "Middle school is a training ground for building resiliency for later years." She advises parents to make themselves available when their child wants to talk and to also strive to provide strong family support.
Prepare
Help your daughter prepare for middle school by sharing stories of adventures and good times her brother, sister or you had while attending. Keep it light-hearted and fun -- make the transition an event to look forward to. Before she begins, let her tour the building so she can get an idea of the layout. She won't be staying in one classroom anymore and it will take time for her to get used to moving around between classes. Ensure that she has everything she needs for her first day of school and is dressed appropriately.
Make it Fun
Encourage your daughter to get involved with extracurricular activities. Theater arts, sports, and the school band or orchestra are all excellent outlets for your child to learn a talent and meet like-minded peers. Attend performances or events with the entire family to cheer her on and encourage her in her talents. Middle school might be the first time she attends a school dance -- buy an outfit for her and help boost her confidence and self-esteem.
Provide a Listening Ear
Middle school life might get hard for her occasionally, so keep lines of communication open. She might develop her first crush, fail to be chosen for a basketball team or lose a close friend to another clique. Give her advice only if she asks for it -- she might just want to vent her frustrations or have a shoulder to cry on, so withhold judgments and criticism.
Lend an Extra Hand
If she struggles with her schoolwork, check with the school to see whether tutoring is available. Hire additional help if necessary. Provide a quiet study area so she can concentrate and teach her how to organize her papers and projects. Many summer camps help this age group with math, reading or social skills. If these are not in your budget, enlist the aid of older siblings if they are knowledgeable enough to be of assistance. While middle school math might be out of your league, it might still be fresh in a brother or sister's young mind.