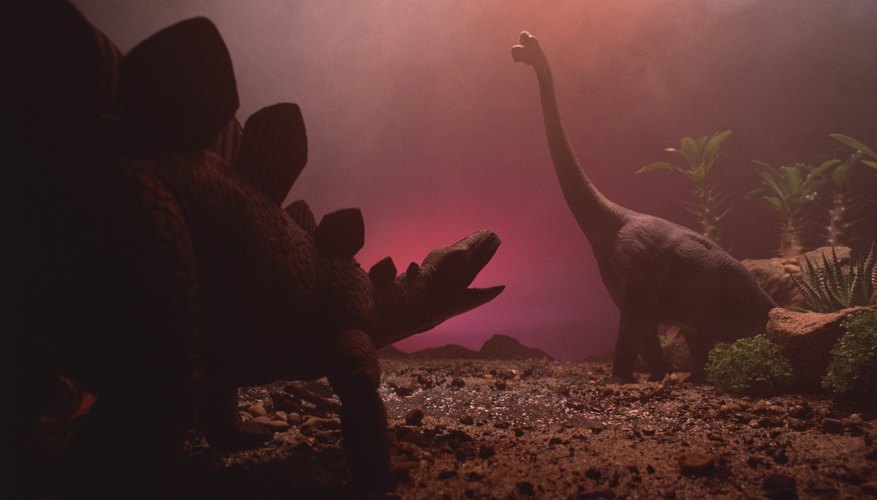 Learning the different types of mammal, amphibian and insect habitats is a part of the science curriculum taught by teachers at the elementary level. Building habitats is an activity that many elementary students enjoy. Possible activities to reinforce the habitat theme include a diorama, terrarium, poster or sculpture.
Diorama
A diorama is a hand-built scene constructed in a small area such as a shoe box or small cardboard box. Select then research the habitat of a mammal, amphibian or insect. Cover the inside of the box with brown or green construction paper to represent the land and blue construction paper to represent the sky or water. Another possibility is to paint the background of the diorama. Add correct scenery from construction paper cutouts, small toys or hand-built clay items.
Terrarium
Construct a living habitat in the form of a terrarium. Make a terrarium using a large glass jar, soil and small plants. Place the jar so the opening is on the top or on the side. Depending on the size of the jar, one area may be larger than the other. Position the jar on a flat work surface. Fill the bottom 1/8th of the jar with growing soil. Plant several small plants within the terrarium to represent the foliage of the animal's habitat. Add other elements to the environment such as rocks, sticks and small plastic/rubber animals. Use tongs or wooden skewers if you need help placing the plants or other items in the bottom or back of a deep jar. Place in a filtered sun location to promote plant growth.
Poster
The availability of large sheets of paper at the elementary level makes a poster the most accessible to create different habitats. Draw the specific habitat and animal on the poster paper. Color in each area with colored pencils, markers or paint. An alternative for poster creation is to cut and glue habitat objects from construction paper, magazines or photographs.
Found Object Sculpture
Reinforce recycling through the use of a habitat made from found objects. Upper elementary students find found object sculptures fairly easy to complete. Make the base from a flat object such as a pizza box, discarded board game or old cookie sheet. A paper mache base creates the terrain. Make trees and shrubs from old pencils, crayons or markers. Connect leaves made from such things as bundles of yarn, pompoms, cotton balls or curly ribbon. Add plastic or rubber animals to the habitat to complete.