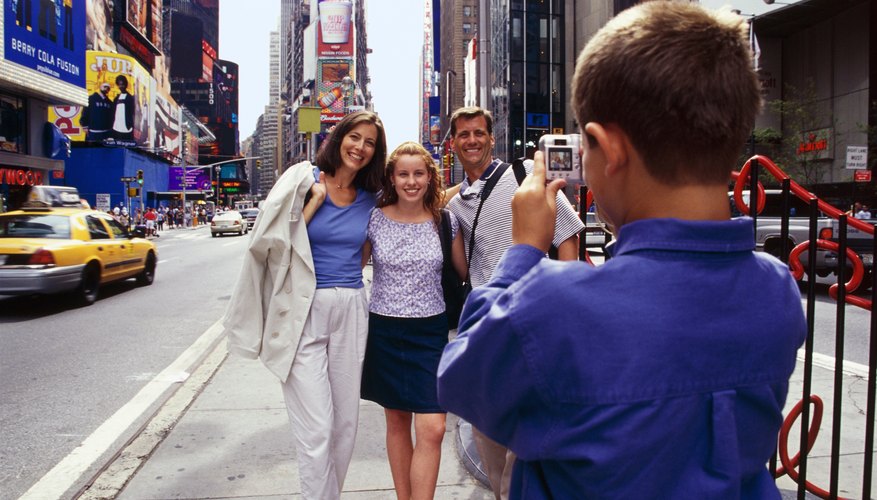 Considering the breathtaking variety of things to see and do in New York City, the problem in finding fun activities for teens is not so much in the searching as in the selecting. Choose activities from varying categories for a well-rounded itinerary for your teen as he joins the world in visiting the Big Apple.
Live!
New York City is broadcast home to a sizable number of television shows from Good Morning America to Saturday Night Live. Take your teen to the live taping of one of his faves. While some shows restrict entry for visitors under 18, many do not. On Broadway, catch a show such as The Lion King, Momma Mia! or Phantom of the Opera. If hip hop is more his style, consider Hush Tours' Hip Hop tours, which escort you safely through the city, providing an educational and eclectic look at this musical culture.
Madison Square Garden, one of the world's most famous venues for sports and live performances is another option. Perhaps one of your teen's favorite music groups is performing, or there's a sporting event of interest. After viewing the stars, your teen can star at Times Square Visitors Center where in the Panasonic booth he can shoot a video of himself, back-dropped by Times Square. This makes for a much more fun "postcard" he can upload to social media and text to friends.
Museums
New York City is home to dozens of museums. If your teen is into this sort of thing, consider the American Museum of Natural History, made even more famous by the 2006 movie Night at the Museum. It holds a myriad of exhibits that make it fun for teens whose interests run along the lines of dinosaurs, planetarium shows or animals - the museum holds more than 32 million specimens of mammals in the taxidermy exhibits. Allow more than one day to plumb the depths of this complex.
The incredible variety at the Metropolitan Museum of Art makes it a good choice of museums for even the pickiest of teens. It documents the histories of events, such as the Civil War, through multimedia. The modern art depository houses works from Picasso et al. The museum also features film screenings and other stimulating, interactive displays.
Educational Fun
For the brainy teen, consider the New York Hall of Science. This interactive exhibition hall includes displays ranging from electronics to genetics among its 450 exhibits. The facility was constructed for the 1964–65 World's Fair and educates and entertains hundreds of thousands yearly. The Big Apple is also home to a robust collections of zoos and aquariums. The New York Aquarium features indoor and outdoor exhibits, including more than 300 marine species in exhibits of sea mammals and of fresh and saltwater fish, many colorful and interesting. More animals can be seen at the city's zoos, such as the Bronx Zoo, Central Park Zoo, the Prospect Park Zoo and the Queens Zoo.
Coney Island
Coney Island is more than an amusement park. This historic neighborhood is home to a minor league baseball park, a swimming beach and a cornocupia of other fun places for teens. Luna Park at Coney Island is where you find the rides, including its 1927 circa Cyclone roller coaster. This still-extreme coaster attracts coaster aficionados and new visitors alike. The destination also houses an ice skating facility that is open from October until March, as well as bumper cars, sideshows and other classic carnival attractions.