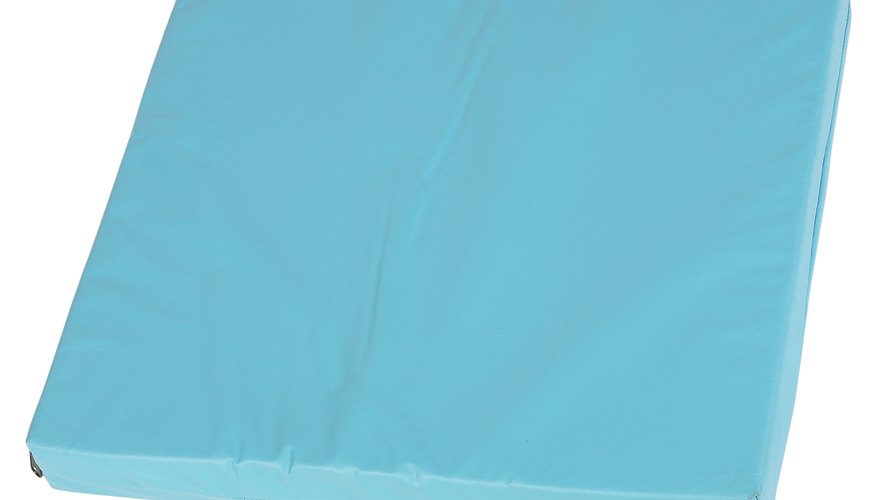 When your little one starts to explore his environment, it's an exciting time for both you and your child. However, when as he crawls, scoots and/or creeps around, he's also prone to all kinds of bumps and bruises. Parents often place foam mats of the floor to provide a cushy surface, as well as soft landing area if a child slips and falls -- which can happen a lot because babies are still developing their coordination. However, keep in mind that foam play mats can contain chemicals, which can pose hazards to your child. You want to ensure that by using foam mats, you're creating a safer environment for your baby, not a more dangerous one.
Harmful Chemicals
Some foam mats contain flame retardants like PVC, which contains troubling chemicals like lead and pthalates that can be toxic to children and adults. While EVA is often considered the standard safe substitute for PVC, according to 2013 information provided by HealthyChildren.org, a few years back, formamide, a chemical that can disrupt hormones in pregnant women, cause developmental delays in babies and can cause irritation to the eyes, nose, throat and skin was found in EVA foam, resulting in the recall of play mats in some European countries and Taiwan.
Researching Safety
Not all foam mats contain PVC, formamide or other flame retardants. You can contact the manufacturer directly to ask if their products contain any potentially harmful chemicals and inquire about their safety testing. Further, the Consumer Product Safety Commission protects the public from risks posed by products -- and tracks national and international recalls. You can also contact the CPSC to investigate products if you have concerns. If you can't get a satisfactory answer regarding your concerns for a mat you have in your home, or if you find out it contains something you don't want in your home, replace it.
Identifying Safe Choices Yourself
Since foam play mats aren't sold with ingredient lists, HealthyChild.org recommends starting with a smell check. If the mat has an overwhelming chemical odor, it is likely unsafe. Foam mats are typically derived from petroleum -- which is what contains the unsafe flame retardants that have the strong chemical smell. To avoid these dangerous chemicals, opt for all-natural alternatives instead, such as mats made of latex or rubber. Yoga mats are a good choice since they are made of rubber and provide a springy surface similar to foam play mats.
Alternatives to Foam
Foam mats aren't your only option for making a play space safe for your child. Other natural options like cork mats or cotton rugs are good solutions as well. They provide a soft surface but are made of natural materials. You can also make or buy a cloth mat with cotton padding, or simply throw down a couple of blankets in the area where your child will play.