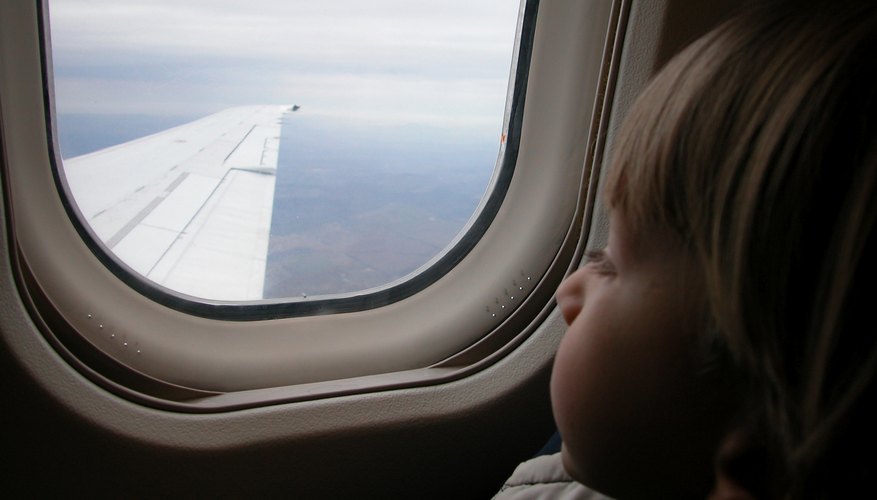 You've been looking forward to your trip for months, but suddenly, your child gets sick. Most airlines won't give a refund for your ticket if your child gets sick. Fortunately, sick children can often fly comfortably, provided you pack a few essentials in your carry-on bag. Smart packing ensures that you'll be prepared whether your child has a stomach ache or a case of the sniffles.
Ask your child's doctor if it's safe for him to fly while sick. If your child is ill, the doctor might advise against air travel.
Research the available medical facilities at your destination in case your child needs to see a doctor. Look for facilities that your health insurance provider will cover.
Pack medications and other items, such as pain relievers, cough syrup and tissues, that might help ease your child's discomfort. The Transportation Security Administration allows up to 4 ounces of nonprescription liquid medication per passenger.
Bring a change of clothes for your child in a carry-on bag, especially if your child feels nauseated and might vomit. Also consider packing a few plastic bags, because your airline might not provide bags for nauseated travelers.
Pack baby wipes so you can clean up any mess your child makes on the plane.
Give your child plenty of water to keep her hydrated during the flight. Drinking water might also help ease the pain of ear popping during takeoff and landing. Consider buying a bottle of water before you board the plane because flight attendants won't typically pass out drinks until the plane is in the air.
Wash your child's hands periodically with liquid sanitizer to prevent the spread of germs to other passengers.
Soothe your child's hot skin with a washcloth dampened with water. If your child is congested, a warm washcloth might help ease his discomfort.
Provide familiar toys, stuffed animals, books and other items to keep your child's mind occupied during the flight.
Things You Will Need
Medications
Clothes
Plastic bags
Baby wipes
Bottled water
Hand sanitizer
Washcloth
Toys
Tip
Don't fly with a sick child if you have the ability to cancel the trip. Flying could make your child sicker and his germs could infect other passengers.
Warning
Do not give your child aspirin unless advised to do so by her doctor.