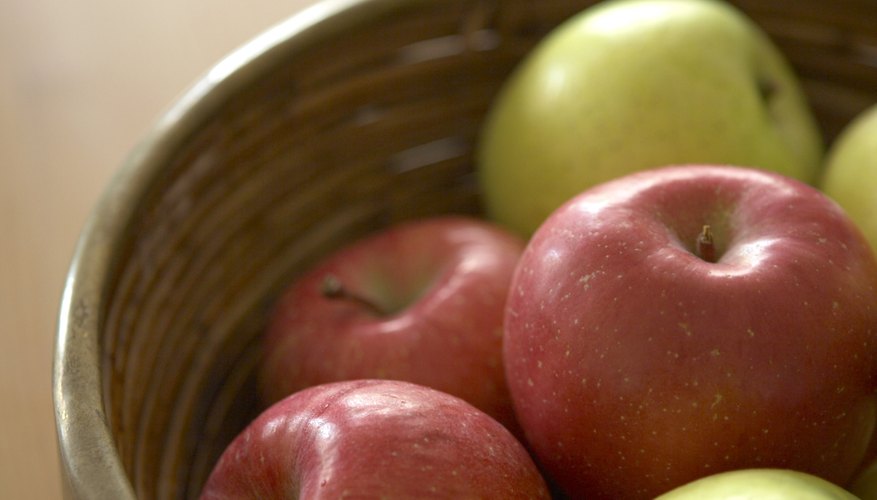 You know unprocessed, healthy foods are best for your family, but serving whole foods seems like a costly and time-intensive project. Getting your child to give up his favorite processed snacks is no easy feat either. Feeding your family a healthier diet doesn't require an instant and complete overhaul, and you won't spend all of your free time in the kitchen. With a few basic ideas in mind, you can wean your kids off of the sugar- and preservative-filled processed foods they crave in favor of fresh, whole foods.
Inspect your refrigerator, pantry and other food storage areas to identify the processed foods in the house. Common processed foods include cold breakfast cereal, snack foods, bread, pasta and heat-and-eat items, such as frozen waffles or boxed meals.
Plan out all food you will feed your child, including the three meals and snacks. You don't have to stick to the menu completely, but having the plan makes it easier to avoid reaching for processed junk food in a pinch. A sample breakfast menu is homemade oatmeal, fresh fruit and a hard-boiled egg.
Fill your kitchen with whole foods so they are convenient for the family. The budget may not allow for a total replacement of all food at once. Your kids may also resist the sudden change. Gradually convert to whole foods in place of the processed foods the family likes if necessary. Stop buying boxes of cold cereal in favor of homemade oatmeal. When the kids finish the last package of processed, gummy fruit snacks, bulk up on fresh fruit or make your own dried fruit at home. The gradual conversion gives the kids a chance to get used to the new foods.
Buy less-processed foods if a completely unprocessed option isn't available or doesn't work for your family. For example, if you don't want to make your own yogurt, look for a low-sugar, organic yogurt option from a local source if possible. Instead of grinding your own peanuts, buy a natural version from the store. Some grocery stores offer freshly-ground peanut butter without the hassle of doing it at home. As a general rule, choose the least processed version. Instead of buying canned salmon, buy fresh salmon filets, for example.
Prepare the whole foods to make them easy to eat. Processed foods are quick, but whole foods can also be convenient. Wash and cut up veggies to keep on hand. Wash fruit and place the pieces in a fruit bowl. Cook a large batch of homemade oatmeal on Sunday that you can reheat throughout the week.
Make your own version of processed foods from scratch so they are healthier than the store-purchased versions. Instead of jarred spaghetti sauce that is full of sugar, salt and preservatives, make your own simple pasta sauce from fresh tomatoes.
Eat the same healthy, non-processed foods you want your kids to eat. Modeling healthy eating encourages your child to go along with the change in diet. Talk to your child about healthy food choices and why they should eat unprocessed foods instead of processed food.
Pack lunches for the whole family from fresh, whole foods. School lunches vary in quality and nutritional value. By sending your child with a lunch, you control what he eats instead of leaving it to chance.
Carry unprocessed foods with you when you run errands with your child. If he gets hungry on the go, you can hand him a healthy snack instead of buying him a processed snack at the store.
Tip
As your child gets older, it becomes more difficult to control everything he eats. He is likely to get processed foods at a friend's house, at birthday parties or at a classroom celebration. Prepare yourself for the possibility that he may eat some processed food outside the home.
Don't beat yourself up if you occasionally buy processed food or reach for a convenience meal on a busy night. Aim to eat as much unprocessed food as possible without feeling bad about slipping up at times.