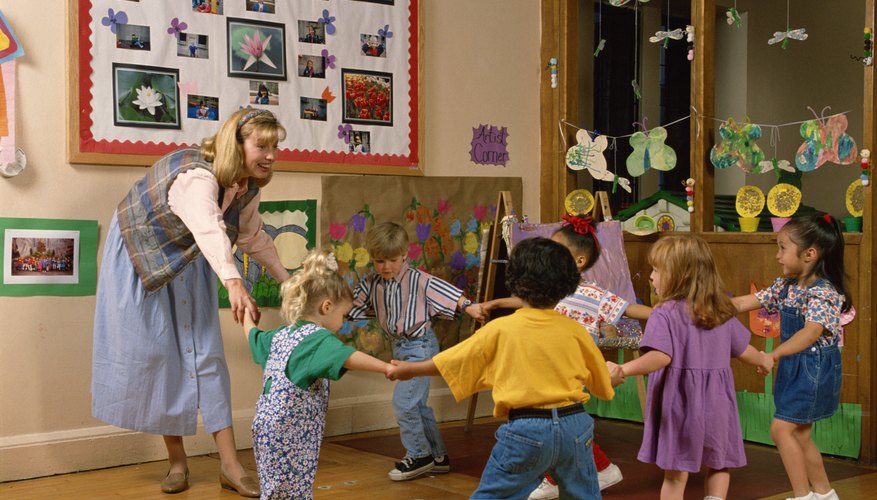 Kindergarten students enter their first year of formalized schooling with a clean slate, ready to be shaped by the experiences and environmental factors of the classroom. A positive kindergarten environment establishes an educational foundation for young children's future learning. Individual personalities of teachers and students positively or negatively impact the learning environment, as does the location and setting of a kindergarten classroom.
Class Size
Class size is one of the biggest environmental factors affecting kindergartners. Some children might perform very well in a larger class, but young children generally tend to benefit most from a smaller class, according to the National Association for Early Education Research. Overcrowded or underfunded schools might not have the financial or space availability to keep kindergarten classes small, creating a much different learning environment than less crowded rooms. However, the educational philosophy of some schools such as Montessori schools use large groupings of children to facilitate peer learning and tolerance of others.
Facilities and Resources
Kindergarten classrooms might be located in a new state-of-the-art building, a decades-old schoolhouse or somewhere in between. Depending on the length of time students are in school, they might receive in-house lunch or even breakfast. A crowded school might make kindergarten classrooms louder or they might share common areas with other classes, while a privately owned academy might have a designated play space for kindergartners. Some kindergarten classes might move throughout the campus during the day to attend special classes, school functions or eat lunch, while others are self-contained. Each of these variables can contribute to a student's kindergarten experience.
Parental Support
All children are impacted more by the support of their parents and other close family members than any other environmental factor, notes Early Childhood Iowa. A child entering kindergarten with a loving, stable family is likely to have an easier time learning than a child who in a tumultuous home environment. Supportive parents help establish a positive environment for kindergarten students, often paving the way for future success in the classroom, as the Harvard Family Research Project reports.
Curriculum and Teachers
Kindergarten students are highly affected by teacher quality, educational approach, discipline methods and curriculum choices that make up the learning environment. Teachers who are adaptive to change and understand the developmental norms for kindergartners are likely to establish a positive and effective learning environment for children filled with play-based activities. Students in an exclusive private school are likely to have access to quality kindergarten teachers who utilize effective teaching methods, while inner-city urban kindergarteners are more likely to encounter inexperienced teachers unprepared to teach a quality kindergarten curriculum, as a 2002 "New York Times" article by Arthur Levine reports.