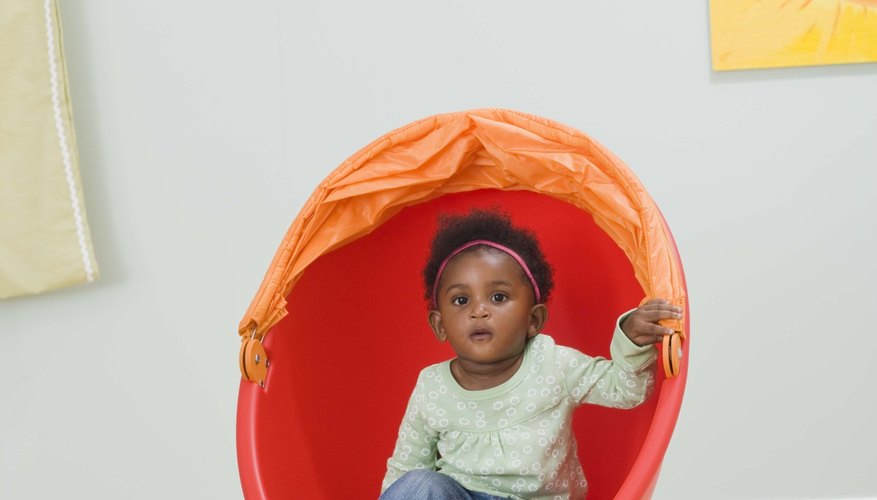 As a parent, you likely worry about whether having your newborn in child care is a wise choice. Concerns about intellectual, social and emotional development have surfaced over the last few decades among parents and medical professionals alike. In the end, however, the quality of child care largely determines whether it negatively affects your little one's development.
Continuity of Care
Babies and toddlers who develop a strong attachment bond to the adults who care for them have better early brain development than those who see regular turnover in their caregivers, according to the Center for Law and Social Policy. They learn to trust caregivers who are nurturing and responsive. Having the same caregivers in a child's life from birth through age 3 is important to develop the necessary base for a child's healthy development, according to the CLASP. Children without this foundation may not play, explore and learn as much while in a child care situation, and they are more likely to experience distress and behavior problems. A nanny may be able to provide more continuous care than center-based child care for your infant, but a center with low staff turnover is a good option as well.
Effects on Behavior
Results from a 2007 National Institute of Child Health and Human Development study on the effects of child care, which began in the early 1990s, found a correlation between behavior problems and day care. Researchers suggest that lack of training for staff and the availability of adult attention in child care centers may account for some of the correlation. When babies move from day care to day care, they tend to become less sociable and more aggressive as they enter preschool, according to CLASP. Those children also tend to have less effective work habits than those who have not spent a long time in child care, but researchers caution that the effects were small, according to "Psychology Today." Choosing a child care situation with low teacher-to-infant ratios and one in which staff has extensive experience and training is important to your newborn's development.
Quality of Care
The quality of your newborn's care is just as important as its consistency. In a 2010 paper on the cognitive development of children in center-based child care between infancy and age 3 in Germany, researchers from the University of St. Gallen and the University of Lausanne found that high-quality child care centers encourage the development of cognitive and noncognitive skills. They also reported that the benefits of good-quality early center-based child care does not seem to lessen as children get older.
Mother vs. Center
A 2010 Columbia University study found that babies of working moms didn't necessarily have cognitive delays, as was previously believed. The study found that during the first year of life, the infants of working mothers developed normally. The study tracked more than 1,000 kids in 10 geographic regions through first grade. Babies raised by mothers with full-time jobs had lower scores on cognitive tests than babies whose mothers stayed home, but these working moms sought out high-quality child care and were more responsive toward their children. The researchers believe that these positives outweighed the negatives. The National Institute of Child Health and Human Development study also found that children in center-based child care scored higher on short-term memory tests, and this effect lasted through the primary grades. Better academic achievement was also a positive result of high-quality child care, points out "Psychology Today."