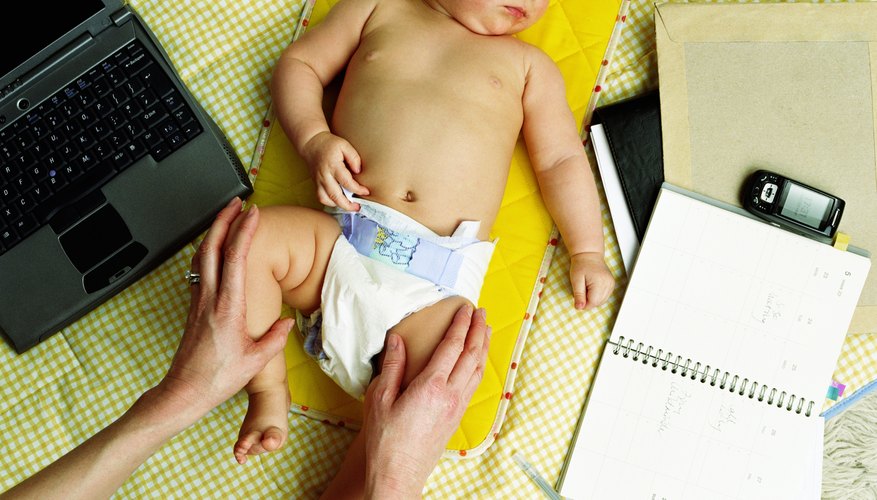 As a sleep-deprived new parent, you can barely remember what day it is -- let alone how many diapers your baby has gone through. As tedious as it may sound, keeping track of your little one's diaper changes -- and what's in each one -- is the surest way to know if your baby is getting enough milk. This is especially important for breastfeeding moms who can't measure out each meal. AskDrSears.com notes that by the fourth day after birth, a baby getting enough breast milk should have four to six wet diapers and two to three bowel movements per day. Formula-fed babies should have the same number or wet diapers but may have one or two fewer bowel movements than breastfed babies.
Apps
If you have a smartphone, an app could be a good option for counting all those diapers. Try EatSleep (free, available for the iPhone and iPad), which allows you to keep track of the number of changes and whether the diapers are wet, dirty or both. All information can be entered with one quick finger tap, and you can view trends from day to day, week to week and even month to month. EatSleep also has a note-taking feature to jot down unusual-looking diapers or questions for baby's pediatrician. BabyConnect ($4.99, available for Android, iPhone and iPad) is also a good choice. A comprehensive app, it lets you view graphic reports, trending charts and weekly averages. Another cool feature: you can exchange info with your spouse, babysitter, nanny or day care provider.
Printable Charts
Some parents prefer a visual system they can always reference if they need to. If this sounds like you, a great option is a ready-made printable chart. Most charts have boxes to note the date, time, feedings, and number of wet and dirty diapers. Just be sure to keep it in a convenient spot, with a pen handy, so it's easy to keep track throughout the day; you could even tape it to the wall above your changing table, just so you don't forget. Another option is to print several and put them in a binder. Check out FreePrintable.com, ChartJungle.com or Huggies.com for nicely designed diaper charts that you can download in a PDF file and save to your desktop.
Diaper Stacking
If you're a no-fuss kind of mom, diaper stacking might be the way to go. Simply have a set number of diapers in a designated spot each morning -- say, 10. At the end of each day, count the number of diapers you have left, and you'll know how many your baby went through. For example, if at night you have two diapers in your stack, you'll know that your baby had eight wet or dirty diapers that day. This method is probably best for moms who aren't totally sleep-deprived and who have an excellent memory; you'll have to remember to clear your stack each night so your numbers are correct the next day, and also which diapers were wet and which were dirty.
DIY Log
If you're on the artsy side or have neat handwriting, creating your own chart in a notebook or journal might be the way to go. With this method, you can make your boxes as big or small as you like, and you can leave yourself plenty of room to jot down notes and questions. With more space on the page, you might even choose to use different small stickers to represent wet and dirty diapers. And because this is a more personalized route, your homemade chart and notes could make a nice keepsake that you'll enjoy reading sometime in the future when your little one is finally out of diapers.