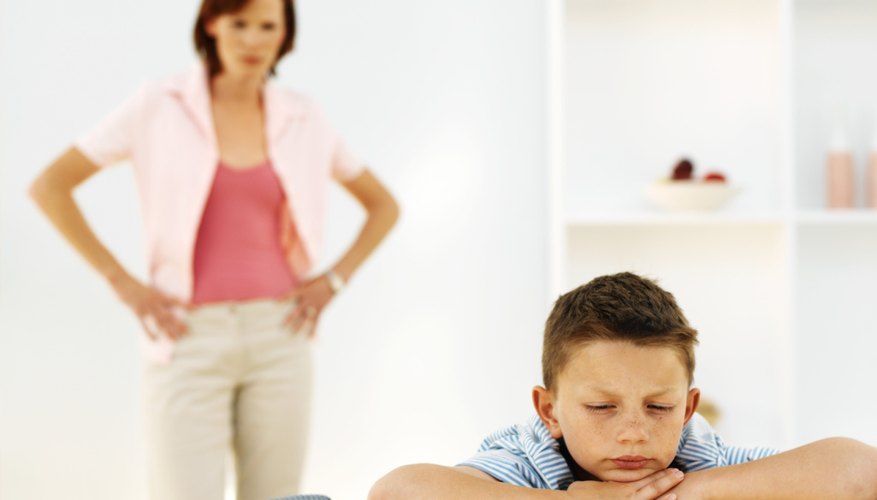 The prospect of disciplining your stepson might be overwhelming to you, especially if you have not developed a close relationship or struggle with your parenting skills. In most blended families, the biological parent will likely manage most of the discipline, according to the Iowa State University Extension. However, you can establish a basic level of respect from your stepson when you implement some basic disciplinary rules and expectations. You will have much better success as a stepparent if you listen to your stepson and communicate clearly, the National Stepfamily Resource Center states.
Remain calm, even if tensions occasionally run high. He is unlikely to listen to you if you are worked up and irrational. Depending on his age, his behavior might be a normal part of childhood development and will likely subside with time. If you are a newcomer to his life, he might be testing his limits with you by misbehaving. When you remain calm and let him know that you are not going anywhere but also will not tolerate disrespect, he will be less likely to misbehave. Even the strongest-willed stepchild will likely resist joining in a power struggle with you if you calmly handle behavioral situations and look for mutually agreeable ways to solve problems, Aha! Parenting reports.
Establish expectations. Stability and clearly outlined expectations make him feel more stable and supported, the Mayo Clinic Reports. It is unfair to expect your stepson to behave if your expectations change often. As the Virginia Cooperative Extension website reports, it is much easier to stop problem behavior before it happens than to manage it once it occurs. Even if he is allowed to throw his shoes down and grab a snack immediately after school at his biological mom's house, you can calmly remind him that he needs to clean up and finish his homework before raiding your kitchen.
Enlist the aid of your spouse. Ideally, you and your spouse discussed how your disciplinary roles before you married. If you did not or need to modify your plans, your spouse's support will improve your disciplinary effectiveness. It is not uncommon for it to take some time for your stepson to adjust to your role in his life, HealthyChildren.org reports. It is critical that your spouse serves as a positive intermediary between you and your stepson in the meantime.
Be respectful. It is much easier for you to discipline when you respect your stepson. If you try to discipline your preteen or teenage stepson by sending him to timeout, he is likely to feel disrespected and embarrassed. If you belittle an elementary child for wrongdoings, he will likely bristle at your attitude. Instead of focusing on disciplining your stepson, look for common ground or ways to bond with him when he behaves properly, the Mayo Clinic recommends. You might take him to the skate park or try to play his video games with him to show him that you are interested in him and want to be involved in his life.