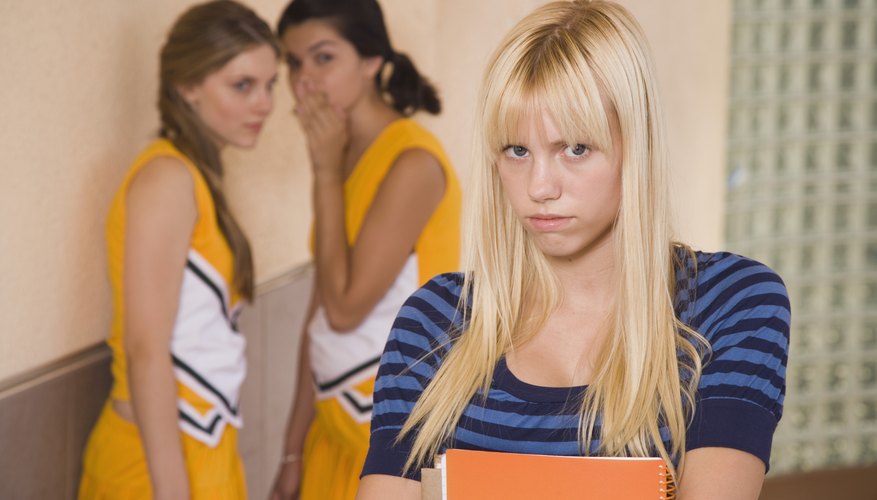 Rumors are often active in middle school and high school. Borne of a malicious desire to intimidate or cause anxiety in others, rumors may abound among adolescent peers who don't know or don't care about the hurt they create. If your daughter experiences the hurt and pain of rumors and gossip, provide support to help her deal with the negative effects of rumors at school.
Ask your daughter to explain the entire situation to you so you understand what's happening. Listen carefully, without interrupting, to hear the story. After your youngster finishes explaining the rumor situation, ask questions to clarify points or to ensure you understand. Paraphrase what you think you heard to make sure you got it.
Employ empathy as you discuss the situation with your daughter, advises the Scholastic website. It's likely that your child feels hurt, embarrassed, angry and frustrated about the rumors, so give proper weight to the magnitude of these emotions to show her that you understand. At the same time, however, do not overreact with anger and vow to right the wrongs against your daughter. Your empathetic understanding and listening ear are important for helping and supporting your child.
Talk about the anatomy of a rumor with your girl to help her understand how rumors originate and spread. Explain that rumors involve negative information about another person. For a rumor to spread, people must have a belief that an event could have happened. People don't care whether it is true and often have an interest in the subject of the rumor, states R.L. Rosnow on Education.com. Help your daughter understand that denying a rumor with factual arguments that refute it should help stop the rumor. Advise your daughter that rumors usually lose steam and die down as kids focus on other things.
Explore the origin of the rumor to learn who might have started it. Talk about possible motives for the rumor -- did someone start it maliciously, or is it merely an exaggeration that grew? By discussing it, you may succeed in tracing it to where it began, which would enable your daughter to speak with the people involved.
Encourage your daughter to seek allies who will help her refute the rumors. Peers working against a hurtful rumor can often succeed in stopping its negative energy, according to the PBS Kids website.
Speak with a teacher or other school official if your daughter needs more help. If the rumor has serious allegations, or your child is exhibiting significant angst about the situation, involve school authorities to get additional assistance. Faculty might be able to intervene on your daughter's behalf to quell the rumor.
Tip
If you know with certainty who started a rumor, you might also consider contacting the other child's parents to discuss the situation in a positive manner to resolve the problem.