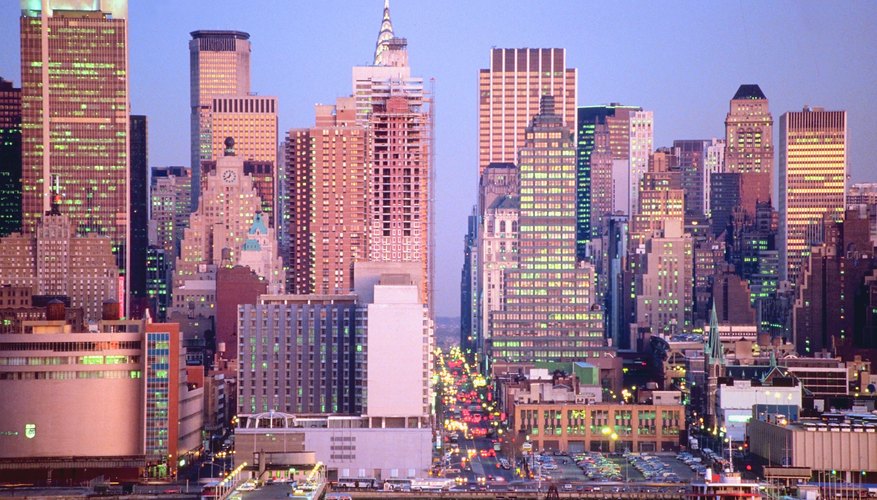 Manhattan is the most densely populated of the five boroughs of New York City. It is a fascinating and exhilarating place for families to live or visit with plenty of fun and crazy activities for teens. Visitors in their teens have a wide choice of crazy stuff to do during their stay that allows them to explore the sights of Manhattan and find out its history, while also having thrilling and unusual experiences.
View Manhattan From the Sky
Although sightseeing may not seem the craziest of activities for teens, Manhattan offers several sightseeing experiences with a twist. Viewing Manhattan from a helicopter is an ideal activity for thrill seekers, provided that you are not scared of heights or flying. Manhattan Sky Tours offer flights over Manhattan and New York City in a state-of-the-art helicopter. The Classic Manhattan Tour lasts for 15 minutes and has stunning views of landmarks such as the Empire State Building, the Statue of Liberty, New York Harbor and Ground Zero. The Deluxe Manhattan Tour lasts for 20 minutes, taking in additional views of Uptown Manhattan and the Bronx.
Take to the Water
An alternative way to see Manhattan is from the water and a ride in a speed boat is a thrilling and crazy way for teens to enjoy the view. The Shark and The Beast, both operated by Circle Line Cruises, are two ideal options for teens. Both boats feature a high-speed tour of Manhattan, fun and music. The Shark boat ride starts at South Street Seaport's Pier 16 and reaches speeds of 35 miles per hour, while The Beast reaches speeds of 45 miles per hour and departs from the Hudson River in mid-town Manhattan. Both trips last for 30 minutes and offer travelers the opportunity to take photos of the Statue of Liberty.
Pizza Tours
Eating out may also be a fun experience. A food favorite among teens is pizza, so why not combine a love for this cheesy treat with a fun day out? Scott's Pizza Tours give visitors the chance to combine tasting the culinary delights of pizza with a choice of three tours of Manhattan and the surrounding area. The first tour is a four-hour trip in a converted school bus and includes pizza from four different establishments, sightseeing and a talk about the local history of pizza. The two alternative options are Pizza Walks lasting around three hours; one in Crosstown, the other in Greenwich. All tours include pizza, a goody bag and guidance from a licensed tour guide and certified "Pizza Enthusiast." Beverages and toppings are not included.
Ripley's Believe It or Not!
If the streets of Manhattan are not wild enough for you and your teen, then step inside Ripley's Believe It or Not! to see some crazy sights from around the globe. Visitors can expect to see more than 500 outrageous exhibits including some record-breaking items and some gruesome sights, with the more interesting exhibits including a pickled tourist head, the world's tallest matchstick model of the World Trade Center, a two-headed calf, an albino giraffe and a shrunken head.