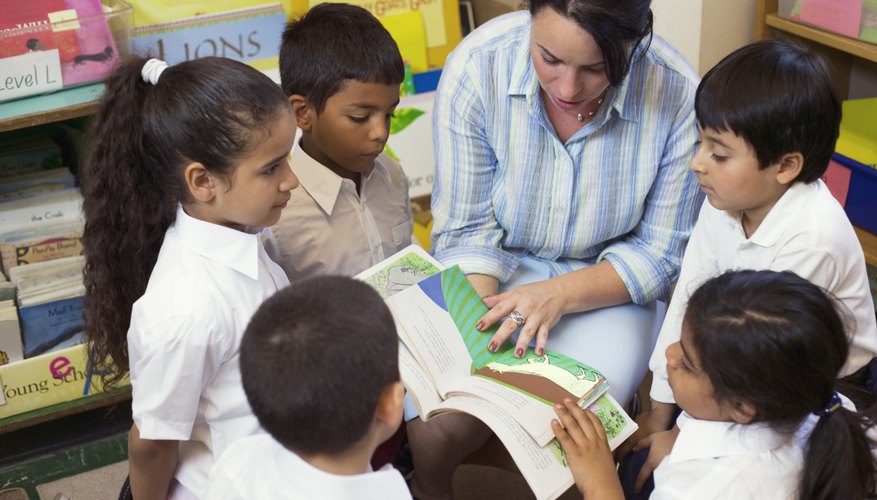 Understanding plot development not only helps children comprehend what they read, it also helps them develop their own story writing skills. The plot is the basic structure, or outline, of the story. It covers the story's conflict and resolution, or problem and solution. When teachers choose appropriate children's literature that illustrates plot development, children are able to understand the idea much more quickly and easily.
Picture Books
Picture books are an effective way to teach children at all grade levels plot development. Since the story is shorter, it is possible to read it in one sitting, which makes it easier for students to remember its main points. The illustrations can also help students visualize the plot elements and increase understanding. In a classic fairy tale like "Jack and the Beanstalk," for example, Jack needs to be able to support himself and his mother, a simple and clear problem. He then attempts to solve the problem, first by trading the cow for the magic beans, then by climbing the beanstalk and taking the giant's treasures. At the end, having acquired the treasures, Jack has clearly solved his problem. Other classic fairy tales like "Rumpelstiltskin" and "The Three Little Pigs" also clearly demonstrate plot development by having characters solve a pressing problem.
Read Write Think
The International Reading Association's experts have created a list of picture books that illustrate strong plot development. Featured on the Read Write Think website, these books range from old-fashioned classics like Beatrix Potter's "The Tale of Peter Rabbit" to more modern fare like Patricia Polacco's "Thunder Cake." They are divided into four groups by type of conflict: character vs. character, character vs. nature, character vs. society and character vs. self. Sharon Mathis' "The Hundred Penny Box" and Hans Christian Anderson's "The Ugly Duckling" represent character vs. character plot development. The characters are causing each other conflict in these stories. Lynn Cherry's "The Great Kapok Tree" and Dr. Seuss' "The Lorax" demonstrate character vs. nature plot development by having their characters fight forces of nature. In Muro Leaf's "Story of Ferdinand," Ferdinand is different from the other bulls and thus has conflict with the society he lives in. Bernard Waber's "Ira Sleeps Over" and Keiko Kasza's "The Dog Who Cried Wolf" show characters fighting within themselves, over their fears and their desires, respectively.
Reading Rockets
If you don't want to focus on the conflict aspect of plot development, Reading Rockets has another list of picture books that teach plot by story structure. They mention cumulative, or toppling stories, like "This Is the Teacher" by Rhonda Gowler Greene, where students put their teacher through a lot in a typical school day, and the traditional story, "This Is the House That Jack Built." Cumulative stories pile on textual repetition and have usually silly story lines that eventually collapse at the end. Next, Reading Rockets discusses decreasing stories, like the traditional "Ten Little Monkeys" and "Bunny Money" by Rosemary Wells, where Max slowly uses up all of his money on a shopping trip. Then there are increasing stories, where the text adds things on to come to a logical conclusion, such as in the traditional, "The Old Lady Who Swallowed a Fly" or the newer "Mushroom in the Rain" by Mirra Ginsburg. Reading Rockets goes on to describe simultaneously increasing and decreasing stories like "The Doorbell Rang" by Pat Hutchins, where the number of cookies for each child decreases as the number of visitors increases. Then they discuss parallel stories, where two characters do similar activities, like in "Just Like Daddy" by Frank Asch, or where two characters have similar personalities, as in "Click!" by Shutta Crum. The website also covers stories within stories like "The Day Jimmy's Boa Ate the Wash" by Trinka Hakes Noble, stories with linear timelines like "The Very Hungry Caterpillar by Eric Carle," stories with circular timelines like "If You Give a Mouse a Cookie" by Laura Numeroff and stories with rising action, like "Company's Coming" by Arthur Yorinks.
Iowa City School District
For a list of more picture books that teach plot development, you can check out the Iowa City School District. Instead of being divided by plot element, they are divided by age group; kindergarten through second grade, third and fourth grade, fifth and sixth grade. Their listed books are also recent, with none published before 2007. In the primary section, they list Janet Perlman's "The Delicious Bug", Barbara M. Joosse's "Roarwr!" and Margaret Mahr's "Bubble Trouble." They recommend "Violet the Pilot" by Steve Breen, Jeremy Draws a Monster by Steve McCarty and "Louise the Big Cheese" by Elisa Primavera for third and fourth graders. Those in their final year of elementary school should try James Runford's "Rain School," Diana Hutts Aston's "Moon Over Stars" and Katie Smith Milway's "One Hen: How One Small Loan Made a Big Difference," suggests the Iowa City School District.