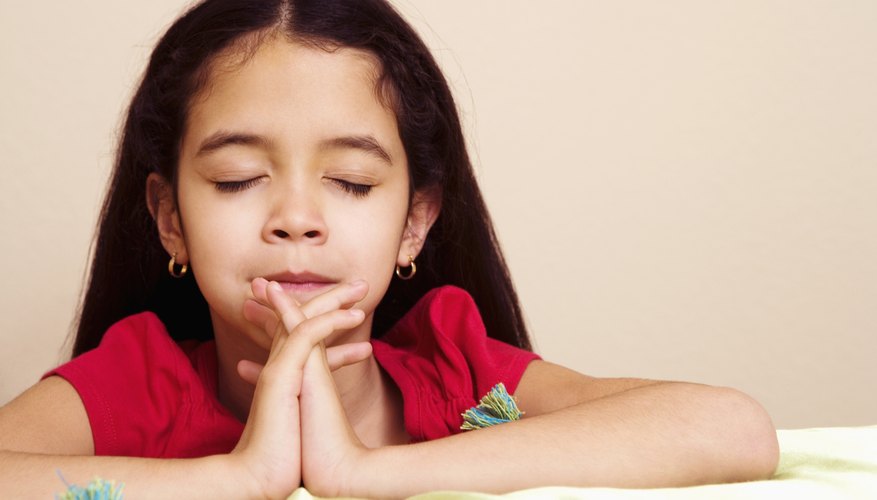 Saying good night prayers, also called bedtime prayers, is common practice for Catholic children. They are usually spoken after the child has gotten ready for bed and is ready to settle down. If you'd like to instill a nighttime prayer habit, spend a few minutes praying with your child before he climbs under the covers. Some prayers are universally Christian and others are more specific to Catholic traditions. Sometimes the manner in which a Christian prayer is spoken makes it uniquely Catholic.
The Sign of the Cross
Probably one of the most visible aspects of Catholic prayer is the crossing or blessing of oneself. Making the sign of the cross by touching the forehead followed by the chest, the left shoulder and then the right shoulder, usually while saying, "In the name of the Father and the Son and the Holy Spirit" is a sacramental, or sacred tradition, that is rooted in the Bible and began to appear in regular practice in the early 5th century. Blessing oneself at the beginning and end of either spoken or silent prayer distinguishes the person praying as Catholic.
Traditional Catholic Prayer
Many Catholic children are taught to say "The Lord's Prayer" and "Hail Mary" at bedtime, but "The Guardian Angel" prayer is another traditional option that's more child-friendly. It's comforting at bedtime and easy to remember: "Angel of God, My guardian dear, To Whom His love, Commits me here, Ever this day, Be at my side, To light and guard, To rule and guide. Amen."
Colonial Time Prayer
The bedtime prayer that many Christian children know begins, "Now I lay me down to sleep ..." It was first published by Benjamin Harris in 1690 in a textbook for elementary school children called "The New England Primer," when public school was heavily influenced by religion, according to the University of Notre Dame. One of the popular versions includes the following refrain, "If I should die before I wake, I pray the Lord my soul to take." If you feel this version is too scary for your child, modify it to suit your family and be reassured that several gentler variations have sprung up since its creation. "Angels watch me through the night, And wake me with the morning light," is one such option.
Invoking Saints
Prayers need not be memorized recitations. Sometimes good night prayers are conversational -- they are an opportunity to recap the day, admit mistakes and express gratitude. Bedtime prayers are also an opportunity to invoke a little extra help from saints. Use a Catholic children's guidebook to learn about saints and ask for their intercession as you pray.