Types of Playground Flooring
Turf
While actual grass is one option, many playgrounds today feature a green turflike surface. This surface is actually synthetic and consists of polyurethane, rubber and other products. Primarily used for outdoor playgrounds, the porous surface allows water to drain and provides a cushion for children to reduce the incidence of injury. The surface also keeps children from becoming soiled with dirt. Most turf surfaces are rolled over a poured base surface. The turf is applied in much the same way that in-home carpeting is installed.
Rubber Mulch
A popular playground surface today is mulch composed of granulated tire rubber. The rubber provides a cushion that also allows water to pass through. Additionally, the rubber mulch is inexpensive and helps the environment because it is composed of recycled rubber tires, which might otherwise be tossed into a landfill. One consideration with this mulch is that it might include some of the wire that is encased within rubber tires. One company, PermaLife, claims it removes 100 percent of the wire from the tire rubber before it is poured for playgrounds. The mulch can be raked for equal distribution. One downside is that it is difficult to maintain; trash and glass can become mixed with the mulch.
Rubber Tile
Rubber tile specifically designed for playgrounds is another option. Like rubber mulch, this tile also is manufactured from used tires, but the rubber is formed into square tiles. Some tiles cover about 4 square feet of playground and provide shock resistance to protect children from hard falls. The tiles come in many different colors and different thicknesses. The most common thickness is between 2 and 3 inches. The tiles can be glued in place with a special bonding agent, and they can be joined together with metal clips. Rubber tile can be applied over concrete, dirt or grass. Unlike mulch, rubber tile is easy to clean; it can be swept or mopped.
Mulch and Sand
Sand and wood mulch are alternatives to synthetic playground flooring. Both allow water to drain, and both provide some cushion for children. Sand, though, washes away, and wood mulch decomposes. Mulch comes in many different colors, due to dye added to the mulch. The dye eventually washes away.
How to Make Your Yard a Playground for Kids
Install a sandbox. Young children enjoy digging in the sand and making sand castles, and the boxes are readily available at most toy stores and home improvement stores. Situate the sandbox in a shady area and add a variety of shovels, pails and other sand toys.
Build play equipment. Most play structures, such as swings, slides and climbing walls, come unassembled. Purchase one of these structures and add it to your backyard playground. Situate it on a level area and install a soft surface underneath to cushion your child if he happens to fall while he's playing.
Design and build a tree house or other play structure such as play house. If you're unsure about your design abilities, purchase an unassembled play structure from a toy store or home improvement store.
Keep toys for smaller backyards on hand. A small plastic wading pool or a sprinkler are entertaining and can be used in most backyards.
Leave space in your backyard for your child to run and play. Provide sports equipment, such as soccer balls and baseball bats, to encourage your child to play with you or with her neighborhood friends.
Check for safety. Your last step before turning your child loose is to make sure it's safe. Make sure that all play structures are stable and sturdy, and that they don't have any loose, missing or broken parts. Always supervise your child when outside playing, as well.
Tip
If you have a small child, install a plastic play structure designed for toddlers. Look online for used play structures and outdoor toys. Sites that allow owners to post their items for sale can be a good way to build your outdoor playground for less money. Check recall lists before purchasing a used play structure and always inspect it to be sure it's safe before letting your child play on it.
Warning
Skip trampolines, monkey bars and trapeze bars in your backyard. According to KidsHealth, these aren't safe. Don't install rope swings either as these are dangerous and pose an entrapment hazard.
How to Build Playground Borders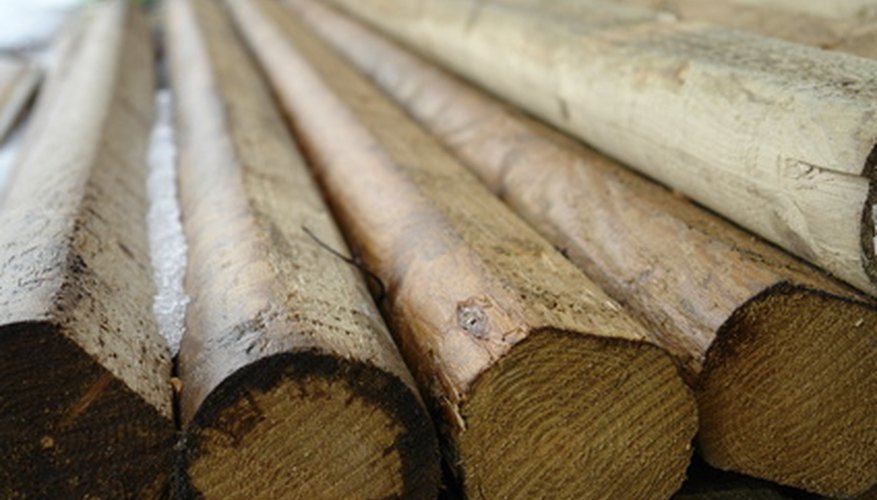 Build the perimeter of the play area out of landscape timbers. Place them in line one at a time creating a continuous border. Place the border no closer than 6-feet from any piece of play equipment.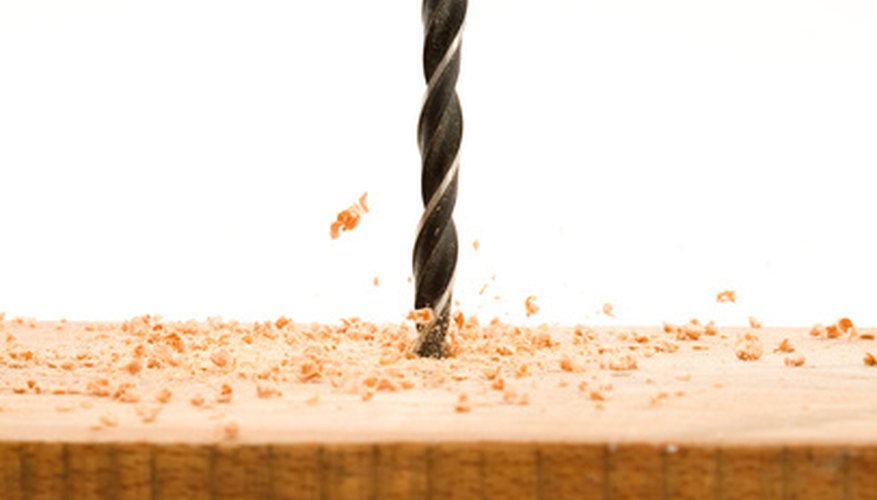 Drill a hole, the diameter of your reinforcing bar, 1-foot from each end of every landscape timber.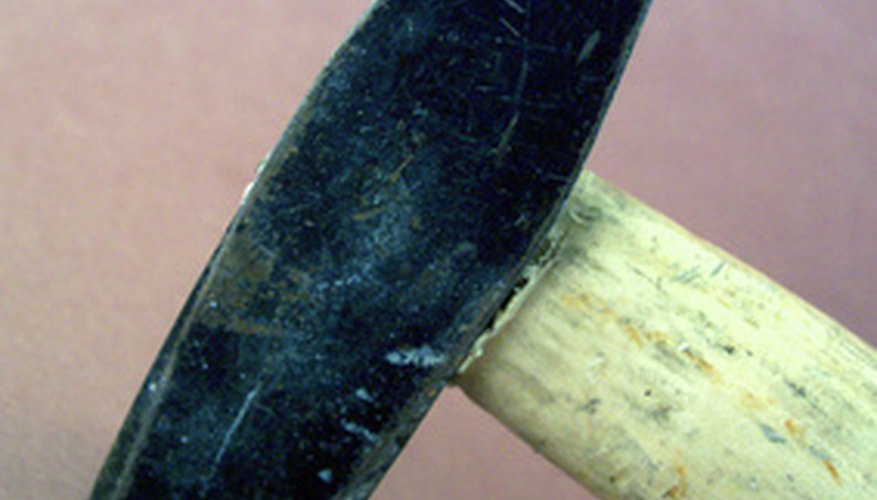 Bang a length of the reinforcing bar through the hole with a sledge hammer until it is flush with the timber and deep into the ground. Repeat at both ends of each timber.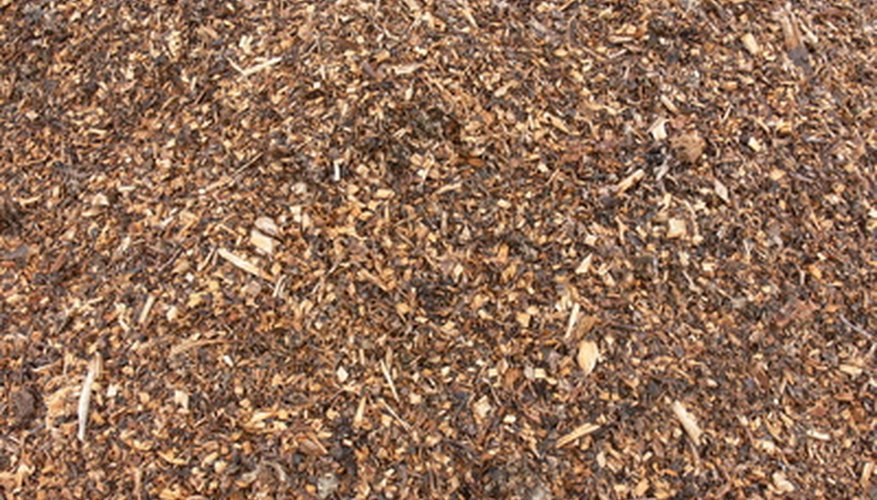 Fill your playground border with 9-inches minimum depth of shredded rubber mulch, bark mulch, wood chips, sand or small gravel which are all suitable materials for a protective play surface.
Tip
Place your playground far from trees, fences or sidewalks to avoid injuries. If you choose to use logs follow the same steps but substitute logs for landscape timbers. For manufactured products like those at Frame It All, follow the product's specific instructions for installation.
Warning
Drill holes in your landscape timbers that will accommodate the diameter of the reinforcing bar you choose for the project so it does not split the wood when banging.
How to Introduce Toddlers to Playground Safety
Read a book with your toddler that introduces the importance of safety at the playground. For example, you could read Margery Cuyler's "Please Play Safe! Penguin's Guide To Playground Safety." After the story, talk about the specific safety precautions Penguin and his friends used to have an enjoyable but safe experience at the playground. Ask your toddler open-ended questions like, "How will you stay safe the next time you play at the playground?"
Visit a playground with your toddler for the sole purpose of striking up a conversation about its safety. Watch the other children play and ask your toddler to point out kids who are being safe and kids who are not. Do not forget to discuss the importance of stranger safety if you plan to let your toddler play at a public playground. You can also model safe ways to play for your child.
Use your toddler's favorite stuffed animal or doll as an age-appropriate way to introduce playground safety. Pretend that Teddy is headed to the playground with his friend and use him to act out safe playground practices. For example, you might have Teddy wait in line patiently as his friend Dolly slides down the slide. This reinforces the idea that only one child should use the slide at a time.
Introduce the importance of water safety using a book like Dana Meachen's "Water Safety." With more and more playgrounds including water features in their design, don't forget to introduce this crucial safety topic. The use of a fun and entertaining book gives your child pertinent information in a way that keeps him interested in material that otherwise may not be exciting.
Print off or copy black and white coloring pages of various playground equipment like swings, slides or ladders. Give your toddler child-safe crayons or markers and ask her to color the various equipment. As she colors the swing, remind your toddler that she needs to ask an adult to help her get in and out of the swing to stay safe.
Things You Will Need
Children's literature on playground and water safety
Stuffed animals or dolls
Playground equipment coloring pages
Non-toxic art materials
Tip
Always supervise your toddler while he plays at the playground, even if it is in your backyard. Even though a playground provides great entertainment for your little one, there are many opportunities for your child to hurt himself during play.