Sweet Sixteen Food Ideas
Sweet 16 Party Drinks
Stocking up with soda and flavored sparkling water provides a wide selection of choices for hosts who prefer simple ready made drinks that are tasty and economical. Another option is making your own special drink for the party. Homemade iced tea, lemonade and non-alcoholic punch are some traditional choices for teen parties. For a more modern spin, serve an alcohol free "signature drink" in martini glasses. Like punch, these can be made by combining various soda, sparkling waters or fruit juices to create a variety of flavors and colors.
Sweet 16 BBQ
Sweet 16 parties held during warm weather months can include a barbecue. Add a touch of sophistication by swapping grilled burgers and hot dogs for turkey burgers with avocado salsa or kabobs. Salads, fresh fruit and veggies with dip pair well with food from the grill. You can also try grilling fruit such as peaches or pineapple. Grilled corn on the cob served with flavored butters, like herb or spice infused butters, is also wonderful side dish.
Sweet 16 Appetizer Menu
A meal comprised solely of appetizers is another option for a sweet 16 party. Fingers foods are simple to prepare and fun to eat. Most grocery stores sell a number of frozen appetizers to choose from that just require baking. Frozen foods such as egg rolls, mini quiche, mozzarella sticks and jalapeño poppers are all choices that can be found in most supermarkets. There are also a number of choices that are easy for hosts to make at home. For example, tea sandwiches that are cut into quarters can be filled with ham and cheese, egg salad, tuna salad or turkey.
Sweet 16 Party Desserts
Colorful cupcakes are a perfect addition to the end of a sweet 16 meal. They can be purchased ready made or made and decorated at home. Hosts that want to really make an impact with the menu can set up a table as a candy bar, allowing guests to choose from a large variety of sweets to savor throughout the party or take home with them.
Teen-Friendly Grad Party Food Ideas
Finger Foods
Plan finger-friendly appetizers such as chopped up fruit and vegetables with dip. A chocolate fountain lends a touch of sweet sophistication to the festivities. For savory palettes, serve up an antipasto and cheese platter with a variety of deli meats, olives and cheeses. Include a nuts platter with different types of nuts or trail mix in different compartments. Other teen-friendly appetizers include pita bread with hummus, mini-bagel pizzas and pigs in a blanket -- Vienna sausages wrapped in pastry and baked.
Build Your Own Meals
Let teens customize their food by serving up dishes do-it-yourself style. For hot dogs and hamburgers, provide the traditional condiments like relish, catsup and mustard, but add a little variety by laying out onions, peppers, tomatoes, coleslaw, sauerkraut and a host of other toppings. Variations on the do-it-yourself theme include a taco bar, potato bar and salad bar. Another cool idea is a grilled cheese station, where the teens can take this classic childhood favorite to the next level by selecting what they want to go inside of their grilled cheese sandwich, such as what type of cheese and extras like bacon, turkey or tomatoes. A hired chef --or just mom or dad -- will then grill up the sandwiches. A self-serve dessert such as an ice cream bar or even a cheese cake bar with sweet toppings can round out the festivities
Grad-themed Desserts
It's not a graduation party without a cake, or at least a cupcake tower. You can either decorate the cake or cupcakes in school colors, or choose your teen's favorite colors. Another idea is to make cinnamon rolls in the shape of diplomas or simply wrap a school-color ribbon around pirouette cookies. Cannolis also make an ideal diploma-shaped dessert.
Drinks
A mocktail bar is perfect for a teen graduation party, as the teen can sip on sophisticated-looking drinks that don't have a drop of alcohol in them. Plan to have a bartender manning the bar and create a menu of tasty, alcohol-free versions of popular drinks such as pina colada, mai tai and mudslides. During the party, consider having a mocktail contest as well, where the teens pair up and try to come up with the best-tasting mocktail.
Sweet Sixteen Party Food Ideas
Mexican
Mexican food is usually a favorite of teens. This menu would tie in perfectly with a Mexican fiesta party, but it would work with other parties as well. Serve chips with salsa and cheese dip as a snack. Then, give the teens a few options for something more substantial. A taco bar is easy to make. Simply set out hard and soft tortilla shells, some grilled chicken and beef and all sorts of toppings, such as lettuce, tomato, cheese, sour cream and guacamole. The teens can choose what they like.
Grill
Throw some food on the grill for outdoor celebrations, such as a pool party. Make it easy on yourself and serve hamburgers and hot dogs with chips and dip. If you want to serve more sophisticated food, choose grilled chicken, steaks or seafood. Make side dishes such as pasta salad and grilled vegetables.
Pizza
Choose pizza if you aren't sure what kinds of foods the teens will like. Order a few pies from your favorite local pizza parlor. Alternatively, let the teens make their own pizzas. Purchase ready-made pizza dough in personal pie sizes. Then, place all kinds of toppings on a big table. The guests can put sauce and cheese on their pie and then top it with pepperoni, sausage, ham, onions, peppers, mushrooms and whatever else they like. Because the dough is already cooked, these pizzas won't take long in the oven. Serve bread sticks and marinara sauce while they wait.
Dessert
This is a great idea for the birthday boy or girl who has a major sweet tooth. Set up a buffet filled with all kinds of dessert treats. The guests can select from cupcakes, cookies, truffles and bonbons. Another addition to the dessert bar is a chocolate fountain. Rent one from a party store and let the teens dip fruit and other items into the flowing fudge.
How to plan food amounts for a picnic for 30 people
Find the location of the picnic and figure out the time of year it will be held. The venue and the time of year will alter menu options. Most picnics are in the spring, summer or fall. You will want to choose a menu that matches the weather and that fits in with the venue. For example, you would not want to have a casual menu at an outdoor wedding.
Plan the menu. Outdoor barbecue is a classic picnic food, as is fried chicken and sandwiches. However, there are many more food choices than this. Foods that are easy to prepare in large quantities for 30 people include soup, chicken salad, baked beans, potato salad, chilli, salad, lasagne, chicken, steak, fruit, pasta, cheese, crackers and other appetizer-style foods. For dessert, cakes, cookies and pies are easy to make ahead and bring to a picnic. Knowing what you're serving will help determine the correct amount to bring.
Find out the ages of the guests. If it is a mostly adult picnic or if a bunch of teenagers will be there, then you will need more food than you will if the picnic is attended by mostly children. If the food is spicy, children will not eat as much, nor will older people. Children will eat more desserts and drinks than older people. Teenagers will eat the most of anything. Adjust the amount of food for your guest list.
Plan on about 12 pieces of appetizers for each person attending the picnic. Since a picnic is outdoors, people may eat slightly more than average. For 30 people, this will be 360 servings of appetizers. You can serve all one kind of appetizer, or mix it up with several different appetizers.
Plan on half a pound of side dishes per person. For 30 people, this will equal 6.8 Kilogram of side dishes. You can have salads, vegetables, beans or any other side dish you want, or just serve one.
Serve half a pound of main dish for each guest as well. Fifteen pounds of main dish should be enough for 30 people. When in doubt, always round up slightly. To ensure everyone gets enough, serve 18 or even 9.07 Kilogram of main dish. Remember that the weight measurements are skewed for meats with bones. The weight measurement is edible food, not food plus bones. Double the required amount of main dish if bones are involved.
Plan for each person to drink about 680 to 1134gr at a picnic. For 30 people you will need about 35,488ml of drinks, which is almost 20 gallons. If you are serving individual soft drinks, plan on at least three per person. For alcohol, stock enough for each person to drink two beverages for each hour of party.
Can You Use an Electric Chopper for Baby Food?
Preparation
Before starting a batch of baby food with your food chopper, wash all the pieces well with warm water and soap, then allow them to air-dry. This prevents your baby's food from being contaminated with bacteria and germs that may be present on the chopper after being stored for a while. Wash the chopper again between ingredients so that you don't mix flavors and create something your baby won't want to eat. Wash fruits and vegetables and remove the peels and seeds, if needed, before chopping. Always cook meat before putting it in the chopper to prevent food-borne bacteria from contaminating anything.
Chopping Ingredients
Make sure your chopper is on a stable surface before placing your ingredients in the bowl and turning it on. Turn the chopper off when the pieces of food have reached the desired size and consistency. Wait for the blades to finish turning before opening it. For large fruits and vegetables, you might have to cut them into several smaller pieces before fitting them into the chopper. An electric chopper makes fast work of prepping baby food for cooking, so getting several types ready at one time gives you plenty of options for a few days.
Pureeing Ingredients
Unless the food you chopped is soft, as in the case of peaches or bananas, you'll have to cook the food before you can mash it into a puree. Steam, boil or bake fruits, vegetables and meats until they are very soft. Some electric choppers, particularly those marketed for preparing baby food, allow you to puree foods, so place the cooked items back into the bowl of your electric chopper and process them until they reach the desired consistency. You can also use canned fruits and vegetables, which are already soft enough to puree, but many are high in salt and sugar, so read labels to make sure you're choosing something healthy for your baby.
Storage
Once the baby food is finished, place it in small containers and store it in the refrigerator or freezer within two hours. If you're warming up the food, reheat it to at least 165 degrees Fahrenheit before serving, recommends FoodSafety.gov. Allow it cool slightly before spooning it into your baby's mouth to prevent burns.
Snacks for Toddlers With a Food Allergy
Fresh and Fruity
Fresh fruit is a safe and easy snack for most toddlers with food allergies, but it doesn't have to be boring. Use small cookie cutters to slice fruit into fun shapes. Make something your little one loves, such as a butterfly using a row of grapes for the body and apple slices for wings or apple slice cars with kiwi fruit wheels. Make homemade fruit leather by pureeing ripened fruit with some sugar or honey, spreading it onto a parchment-lined cookie sheet and baking at your oven's lowest temperature for six to eight hours.
Vegetable Variety
Even the pickiest toddler will munch on colorful vegetables if you find kid-friendly ways to serve them. Serve a small bowl filled with cold, fresh green peas. Slice sweet potatoes and carrots into thin sticks and bake them into "fries." Dice several types of root vegetables, including parsnips, beets and carrots, in an array of colors. Toss with olive oil and roast until golden brown. The candy-like shapes and colors will tempt your tot.
Little Dippers
Little ones love to dunk finger foods into creamy dips, but making them allergen-free can be a challenge. Crudites with mild salsa, bean dip or hummus are often well-received. Try making hummus using lima beans, peas, lentils or edamame for a change of pace. For a sweet dipping treat, blend berries with a bit of coconut water and some chia seeds to make a thick, fruity dip perfect for little rice crackers.
Crunchy Munchies
Leafy greens, including spinach and kale, make for surprisingly delicious chips for tots who enjoy a crispy snack. Rip up the leaves, toss with some olive oil, season and bake. Slice squash with a mandolin, spritz with oil and bake on a low temperature for another allergy-safe, toddler-friendly chip substitute. Drain a can of chickpeas, toss with oil and roast until golden brown for a crunchy snack similar to nuts and perfect for tiny fingers.
The 4 Parental Perks of Owning Chickens… Really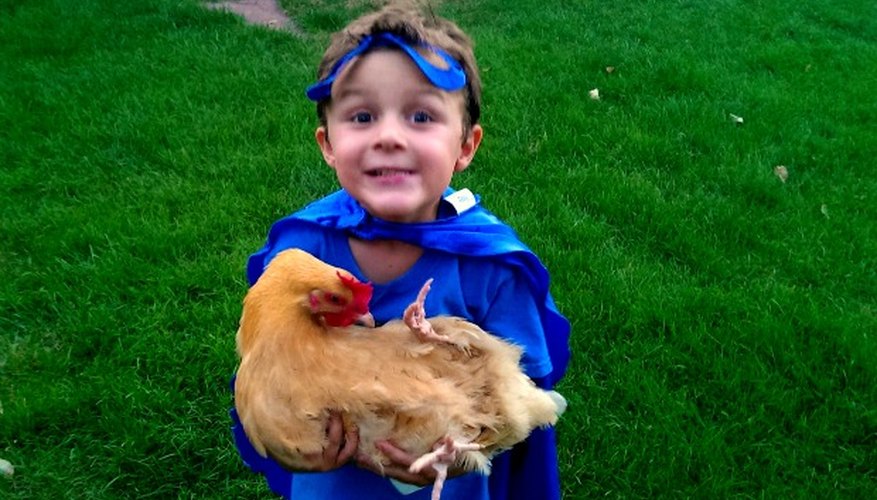 The circle of life is on display in our backyard, something that sounded much cheerier in that "Lion King" musical number.
My wife recently decided that having two young children, a dog and a fish just wasn't enough. So she bought and built a coop and connected us to an animal swap held close to our home. Suddenly, our boys spend a good chunk of their day chasing chickens around our backyard.
Our fowl experiment hasn't gone smoothly. We've learned that some chicken breeds can leap over our backyard fence if we don't clip their wings – a process aided by an instructional YouTube clip. We also learned local critters not only roam our streets after dusk but love late-night snacks. We've since turned the chicken coop into a fortified bunker, but more often we place the chickens in our sturdy backyard shed for full protection.
And, let's be frank, chickens poop at an alarmingly high rate.
It's tempting to throw up our hands and quit this pet chicken business. What parent needs another time suck, let alone one that comes with the heartache over chicken mortality? Owning chickens still has its perks, qualities I'm not ready or eager to give up.
1. You can expand the educational possibilities. Children typically get to know the animal kingdom through a dog or cat. Owning chickens expands the educational possibilities. Why doesn't it hurt when we clip a chicken's wings? Why is it a bad idea to pair young chickens with full-grown hens? Why do chickens of all ages spend so much time pecking at the ground even if it seems like there's no food to be had? Did you know different chicken breeds lay a variety of egg colors?
2. The Meat-Diet Connection Our most awkward dinner after buying our chickens involved, you guessed it, a chicken recipe. It's hard to reconcile chicken ownership with a fried chicken feast when your kids are watching you, waiting for an explanation. It forced us to hold some age-appropriate chats about the food we eat and where it comes from. That's a healthy way to teach youngsters about nutrition and the country's food supply.
3. Chickens are stress busters. They cluck. They strut. They let you pet them endlessly–assuming you can catch 'em in the first place. Best of all, there's something calming about seeing chickens sauntering across your property, a sense that in our digital age we can still have an egg production facility in our own backyard.
4. They're clucking conversation starters Whenever we invite guests over the first thing we ask them is, "Do you wanna see our chickens?" Children adore our feathered friends. Adults have a million questions about chicken ownership. At neighborhood parties chicken ownership is a fun way to break the ice or chat up potential friends. And fresh eggs make the perfect gift, period.
Photo credit: Christian Toto
Food Safety Lessons for Kids
Kitchen Safety
As children grow older, they may develop an interest in helping out with baking or cooking foods. Consequently, it is important that you teach children the dangers present in the kitchen and how to avoid them. Teach children to always walk with knives with the handle facing them and the blade facing downwards. This will prevent serious injury in the event your child falls with the knife. In addition, ensure that children know to turn pot handles away from the edge of the counter to avoid spilling hot contents on themselves. Advise children to cook on low temperatures to avoid hot food splattering onto their skin. Teaching children not to touch hot dishes, stoves or ovens will help them to avoid burns while cooking food.
Avoiding Spoiled Food
Instruct children to avoid eating or consuming spoiled food and drinks. Children should always read the expiration date on food and drinks. If no expiration date is present, children can smell food and drinks and verify that no strange or unusual odours are present. Dairy products, especially, emit odours when spoiled. Other foods such as fruits and breads may grow mould on them when they are no longer suitable for human consumption. Teaching children to refrigerate food right away is another way to ensure they practice sound food safety. Children also should learn to freeze foods they will not consume for longer than a few days to prevent spoilage.
Illness Prevention
Food and drink consumption is one way that children either pass or attain illness. Whether it be food poisoning or the flu, teaching children to stay healthy through food will help prevent illness. Children should learn to always check meat for blood that will indicate that it is not cooked thoroughly to avoid food-borne illnesses. In addition, teaching children to check if the food was prepared in a clean environment also will help prevent such illnesses. Children should not be afraid to ask where food came from or how it was prepared before consuming it. Furthermore, children should avoid sharing food and drinks with friends and family members to avoid easily passing cold, flu and other germs to one another. Children also should be taught to always wash fruits and vegetables before eating to remove dirt and bacteria that can make them sick.
Cleaning the Kitchen
Teach children that a clean kitchen will help prevent illness or injury from food. Always wash dishes immediately after cooking to prevent flies and other bugs from being attracted to your kitchen. Tell children to notify an adult to use hot water and bleach when cleaning blood or other food byproducts from the kitchen counters, as well. Teaching children to rinse out dish sponges and rags with soap and warm water thoroughly after each use to prevent bacteria build up. Dish towels should also be washed weekly.
Hand Washing
Children should always wash their hands before handling or consuming food. Instruct children to wash their hands using warm soap and water for 60 seconds and dry them with a clean towel. This will help prevent the spread of germs from their hands to their mouth.