Kid Craft: Easter Egg Washi Tape Art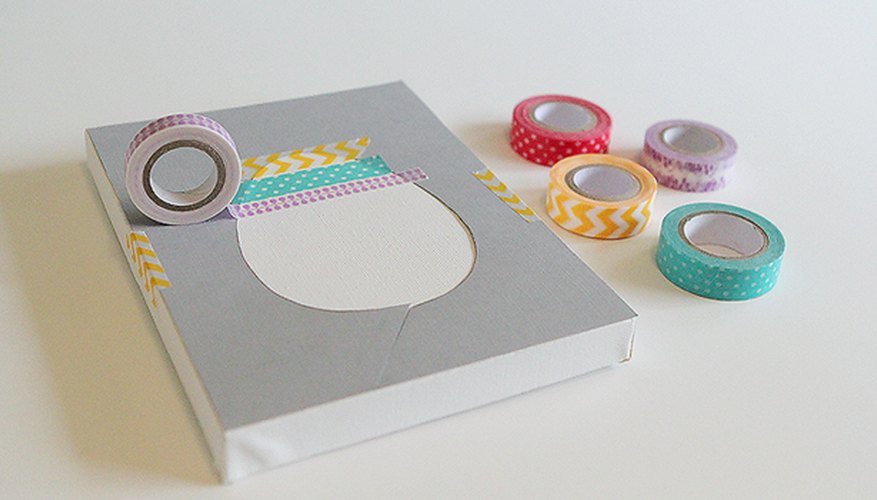 Welcome back to part 2 of our mini-series on easy egg art for kids. Last time we played around with eraser stamps, today we're breaking out the tape. Have you had the chance to use washi tape yet?
It really is the perfect art supply for kids (and adults). It comes in an array of gorgeous colors and patterns and it's extremely forgiving. Didn't quite get it where you wanted it the first time? No problem, just pull it up and start again – no muss, no fuss.
For this activity, you will need:
a few rolls of washi tape
card stock
paper/canvas
a craft knife
white vinyl lettering (optional)
As with project #1, this one begins by tracing or freehanding an egg shape onto cardstock, cutting it out, and placing on top of your canvas or paper (hint: use Google images to track down a traceable egg image). This time around it's a good idea to secure your cardstock with a little tape on both side to prevent slippage.
Now the fun part. Pick out a few rolls of brightly colored washi tape and start laying strips across your egg, being sure to go past the edges on both sides.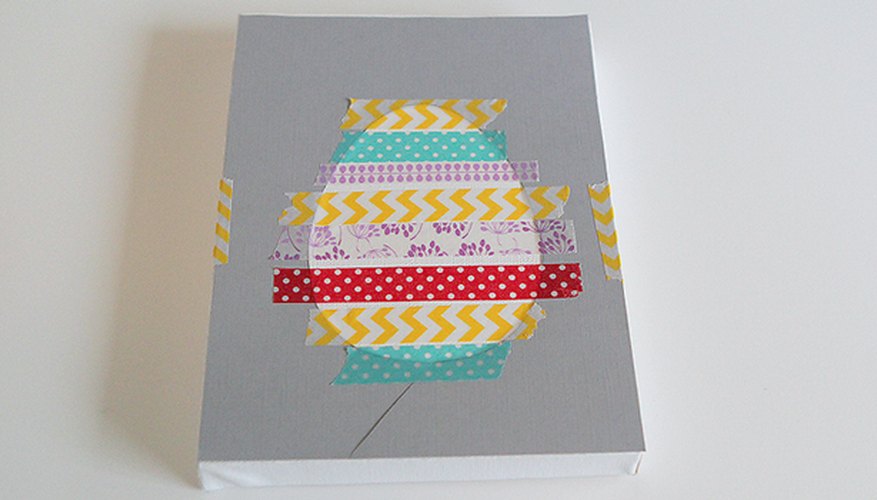 Your final product will look something like this.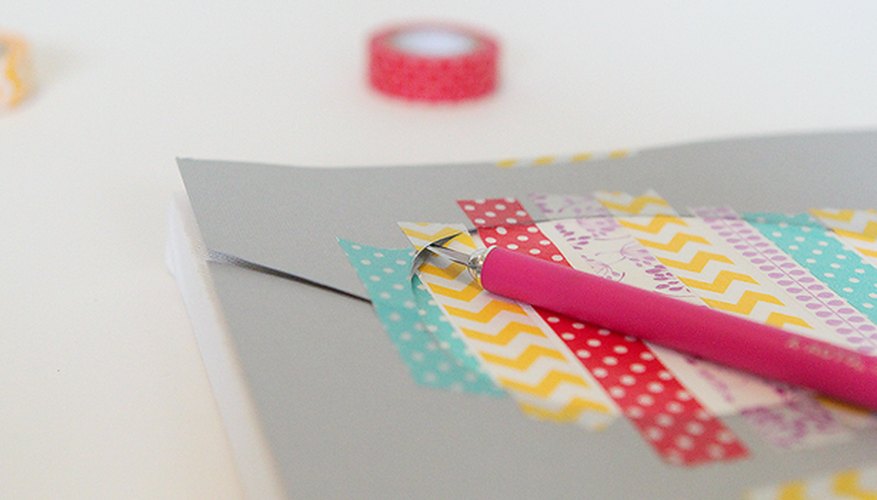 The next step can be a little precarious, and should only be attempted with adult supervision. Take a razor blade knife and trace around the edge of the egg, pressing straight down as you do so. Take care not to tear the tape.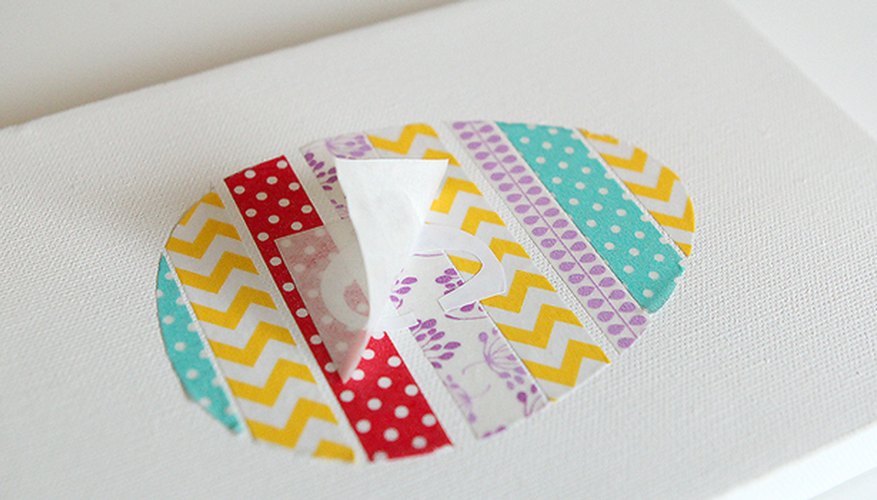 Once you've cut all the way around your egg, remove the cardstock from the canvas and voila! To personalize, add some vinyl lettering.
Here's the final product: personalized Easter art for our mantel. We made the big egg for our 2 year old and the small one for our 4 year old. Who says the baby should always get the small stuff?
Photo Credits: Stephanie Morgan
Easter Basket Ideas for Toddlers
Candy
Bite-sized, chewy candy such as jelly beans and gummy bears can pose choking hazards for toddlers, so instead create safe yet tasty alternatives: Prepare Easter bunny-shaped sugar cookies and chocolate chip cookies with cookie cutters. Wrap the cookies in cellophane, tie with ribbon and place in the basket. Milk chocolate bars and large peanut butter cups can be placed in the basket and broken into smaller pieces when ready to eat. Pre-wrapped cotton candy comes in spring colors and is also a no-worry item for toddlers to eat.
Toys
Age-appropriate toys should be placed inside a toddler's Easter basket. Toddlers will adore plush bunny and chick animals they can cuddle up with or place on their beds. Give the toy animals faux food items such as plastic carrots. Springtime themed blocks with pictures of chicks, lambs and such are another possibility. Placing a bunny ear headband or bunny costume inside will allow a toddler to pretend he is a real bunny hopping around.
Books
Easter or spring-themed books with vividly-colored illustrations inside the basket will capture a toddler's attention. Select pictures books to read aloud to your toddlers and/or interactive baby books. Consider books that feature characters from popular children's shows such as, "Thomas Saves Easter" by Rev. W. Awdry and "Dora's Easter Basket" by Sarah Wilson. To teach toddlers about the religious meaning behind Easter, consider "My Toddler Bible" by Bethan James.
Movies
After a long day of Easter egg hunting, your toddler might enjoy snuggling with you and watching a movie. Place Easter-themed children's movies inside their baskets as entertainment for the holiday's afternoon or evening. Animated children's movies about Easter and spring include "It's the Easter Beagle, Charlie Brown," and even more fitting for toddlers, "Winnie the Pooh — Springtime With Roo." Both have friendship themes.
Children's Activities for Ash Wednesday
Crafts
Most kids like arts and crafts, so getting out your art supplies to celebrate Ash Wednesday is an ideal way to teach your child more about the holiday in a way she'll like. Draw the outline of a cross on a piece of white paper and use small pieces of brightly colored tissue paper to fill it in with a stained glass pattern. Use crayons, markers or paints to color Ash Wednesday coloring pages. Make puppets from paper bags to act out the story of the holiday.
Devotions
Having a simple, age-appropriate devotional time at home is a way to introduce Ash Wednesday to your child without the crowd and a less than kid-friendly atmosphere at a formal church service. Read to your child from the Bible and talk about why Ash Wednesday is important, how it relates to the church calendar and why you celebrate it. As you and your child are out and about for the rest of the day, watch for fellow Christians who have ash crosses marked on their foreheads and point them out. Throughout Lent, hold a short daily devotional to help your child understand that Ash Wednesday is the beginning of a season in the church, rather than a stand-alone holiday.
Cook Together
Many families choose to fast on Ash Wednesday, but small children probably make this difficult. If your family chooses to eat as normal on Ash Wednesday, having a meatless meal is another tradition for the Lenten season. Have your child help you plan a meal that revolves around vegetables, fruits and bread. For example, prepare a tossed vegetable salad with grilled cheese sandwiches and sliced fruit. Some Christians eat fish on Ash Wednesday, so if your child likes seafood, pair it with vegetables and potatoes for dinner. As you eat, talk about the fact that people avoid meat to honor the sacrifice that Jesus made for Christians by dying on the cross. Many Christians avoid meat on Fridays throughout Lent as well.
Give Something Up
Many Christians choose to give something up for the Lenten season, starting on Ash Wednesday. This signifies Jesus' sacrifice for them. Talk with your child about this practice and come up with something to give up as a family. For example, you might decide to skip your nightly bowl of ice cream after dinner, stop drinking soda or give up candy. The point is to give up something that will be difficult to do. Your child can help keep everyone accountable and you might have him be your family's spokesperson when people ask about why you're giving up a favorite treat.
Easter Egg Hunt Ideas for Teenagers
Pool Party Egg Hunt
If you have access to a pool, utilize it for a one-of-a-kind Easter experience. Toss empty plastic eggs into the pool to float at the surface. Now fill other eggs with coins to sink to the bottom of the pool creating an additional challenge. Give each teen a plastic grocery sack to fill with eggs. Start the countdown and watch them splash their way to victory. The teen with the most eggs is the winner. Consider offering prizes to the teens with most eggs collected. To ensure safety, make sure that all of the participants know how to swim and hire a lifeguard for the event.
Glowing Egg Hunt
Wait until the sun sets to create an unforgettable egg hunt. Make your eggs stand out in the night with a few simple supplies. Paint plastic eggs with glow in the dark paint or put glow stick bracelets inside each egg. A glow stick is a thin clear tube filled with a substance that glows for several hours when activated. They are often available at craft stores. Hide the eggs all over a large outdoor area. Pass out glow sticks and flashlights to the teens and let the craziness begin. Make it a party with snacks and music.
Token Egg Hunt
Chocolate is great, but look beyond candy for your next egg hunt. Fill plastic eggs with tokens and hide them all over the house or yard. Allow the teens to "cash in" the tokens for prizes. For tokens, use coins, paper money from a board game, marbles or paper clips -- any small set of objects that you can assign a value will suffice, feel free to get creative. Offer different prizes in exchange for the tokens. Gift cards to coffee stands, restaurants and favorite stores are likely to be popular. Alternatively, consider offering a prize without a monetary value like an extra 30 minutes added to curfew.
GPS Egg Hunt
Use your teen's existing love of his smart phone and plan a GPS (Global Positioning System) egg hunt. Plot the GPS coordinates of each egg's hiding spot and write them out on a list. Give each teen a copy of the list and let them use their GPS devices or smart phones to find the eggs. The teen to find the most eggs is the winner. Alternatively, plan a treasure hunt and hide the coordinates in each egg. Give the teens a starting set of coordinates, which will lead them to an egg containing the coordinates for the following egg, and so on. The final egg will contain the coordinates leading to a large final prize -- the treasure. Make sure to hide your eggs in a very large area, such as a park or a piece of property with acreage. GPS coordinates have a 10 to 20 foot range of accuracy.