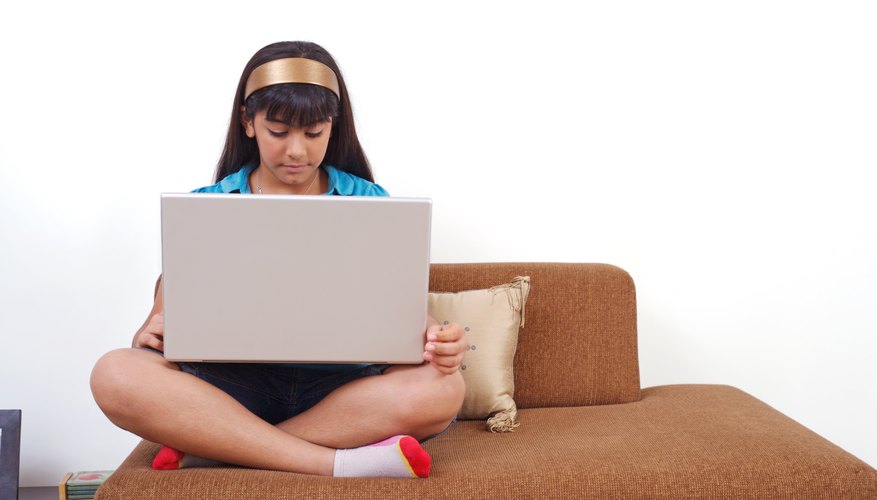 The Internet carries a variety of potential perils for children, including social media and chat functions associated with websites and programs. A child using Facebook and Skype can connect with other people to interact through a computer or a smartphone. Left unsupervised, children often make mistakes in judgment and might engage in unsafe conversations that share personal information or locations. Monitor a child's Facebook and Skype communications regularly to keep your youngster safer.
Facebook
Ask your child for Facebook log-in credentials, including the email associated with his Facebook account and the password. Some parents make sharing Facebook credentials a prerequisite to using the website, as suggested by psychologist Alan Dienstag. Other parents opt to use software to provide ongoing access to Facebook activity, according to the SafetyWeb website, a parental monitoring service connected with Experian.
Become your child's friend on Facebook to gain access to daily activity on the website. Check Facebook daily to keep up with your child's Facebook activities. Realize, however, that children can restrict the flow of information to you through Facebook by using customizable options within every post and picture, according to the Connect Safely website. Your child has the ability to set privacy settings to exclude you from being able to view some content.
Set notifications within Facebook to enable you to receive text messages or emails to notify you of your child's Facebook activity. Within your child's Facebook account, you can enter your email address or your cell phone number into these fields so you receive messages with this information.
Skype
Ask your child for Skype log-in credentials, including username and password. As with Facebook, you might require your child to give you this information to enable you to supervise Skype use for safety.
Check Skype logs within the program to monitor activity. Within the "Tools" tab at the top of the program, find the "Privacy" link in the left sidebar and click to open. Check the "keep history for" setting and ensure that your child's setting shows "forever." This will enable you to look back through instant messaging logs to view conversations.
Instruct your child not to clear instant messaging history or to change the setting to anything other than "forever."
Use software that will monitor Skype outside of the program. This software has the benefit of not only providing instant messaging logs, but it also enables you to monitor voice chats by recording the chats. Programs such as Skype Call Recorder and MX Skype Recorder are two options for recording Skype conversations.