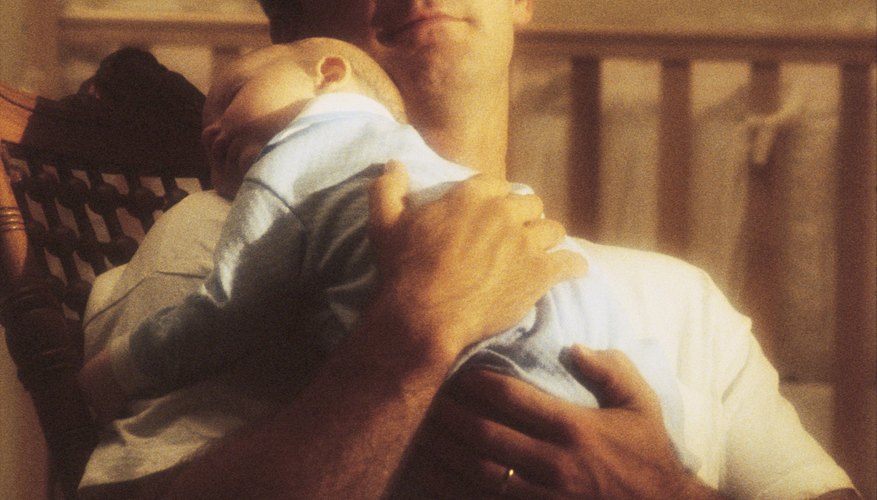 A glider rocker is a joy to have in the nursery. You and your little one can cuddle and read books together while rocking back and forth -- without the jarring motion or moving around the room that traditional rockers like to do. It's a seamless, soothing glide that can easily put both of you to sleep. Gliders also have the added benefit of working just as well on carpeting as they do on hardwood or tile. The only thing you have to worry about as your little tyke gets older -- and more curious -- is his fingers getting caught in the mechanisms under the rocker. Luckily there are ways around this worry.
Solid Sides
A glider rocker has moving mechanisms underneath that enable the chair to slide back and forth without the base itself moving. It's this area that presents a danger to your little one, who might be fascinated by the movements. Some glider rockers come with solid sides that shield these mechanisms from interested fingers.
Completely Enclosed Bases
You can also purchase a glider rocker with a completely enclosed base so the moving parts are totally protected. Enclosed rockers may also swivel, an added benefit when it comes to keeping an eye on an active toddler.
Locking Mechanisms
The glider rocker presents the most danger to your child when it's in motion. That's when a glider lock comes in handy. These locks are optional hardware built into the rocker. Use the lock to secure the glider when you aren't using it. That way the glider won't move when you aren't sitting in it and your little one can't get hurt when curiosity gets the better of her.
Automatic Lockers
Some glider manufacturers take the safety lock to a whole new level. Instead of having to apply the lock when you get up -- and possibly forgetting to do so when your hands are full with your little one -- some gliders lock automatically when not in use. When you sit back down, the lock then releases itself and allows you to rock freely.