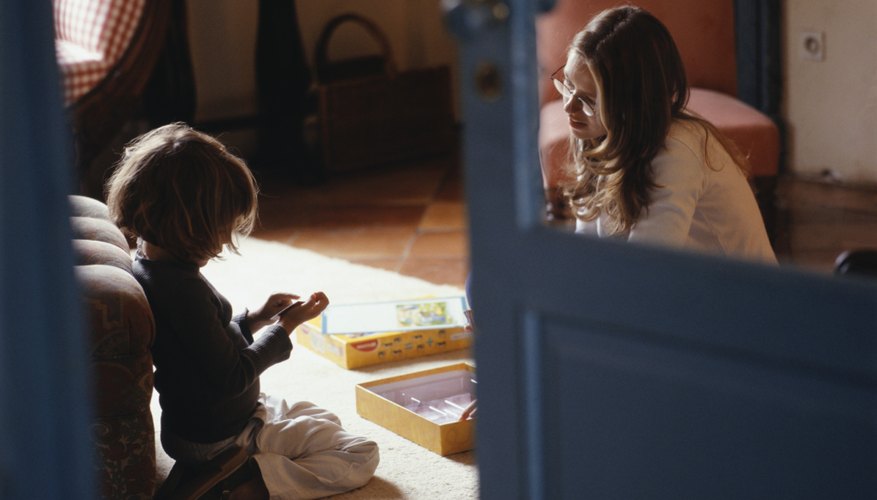 With scary nanny movies in the theaters and even scarier news headlines about nannies harming children in their care, it's no wonder that moms often worry when they leave their little ones with a new nanny: enter the nanny cam. Monitoring your nanny and little bugger with this type of camera can ease your mind and calm your nerves. And if you want to fully monitor the interaction between your nanny and child, you'll want a nanny cam with audio capability so you can actually hear what's going on between them.
Legal Use
Using a nanny cam is absolutely legal, as long as you place it in a common access area such as the living room, den, kitchen or family room. But you've got to give your nanny some private space. You can't install a nanny cam in areas where a nanny would require privacy like the bathroom, dressing room, closet, hotel room or your nanny's personal bedroom if she lives with you; it's actually illegal to install cameras in these areas. Before choosing a cam with an audio option, keep in mind that some states, including California, Connecticut, Delaware, Florida, Hawaii, Illinois, Louisiana, Maryland, Massachusetts, Montana, Nevada, New Hampshire, Oregon, Pennsylvania, and Washington, do not allow audio recording of a nanny – unless you have her written consent. It's essential to check your state laws before installing one of these cams.
Types of Nanny Cams
Should you live in a state that allows audio recording, or your nanny gives written consent, there are several nanny cam video/audio options available. You can find these types of cams hidden in fans, Blu-ray players, clocks, teddy bears, DVR's, "books" and more. You can also select options such as remote control, battery-operated cams and cams with night vision. Depending on your selection, you can send the video and audio recording to a SD card, built-in DVR -- or have it streaming to your phone or computer.
Price
Cams equipped with HD video and audio are pretty standard now, so you won't have to sacrifice quality for price. What is going to break the bank is where you decide to hide it. If you opt for the Blu-ray version, you'll pay a pretty penny because it's a fully functioning Blu-ray player, while a nanny cam with audio capabilities hidden in a clock won't be nearly as expensive. Prices can also vary depending on whether the nanny cam has time-scheduled recording, continuous recording and/or adjustable recording qualities.
Where to Buy a Nanny Cam
You can find nanny cameras with audio at multiple online retailers. You can also go to a local spy store or surveillance system installer where they can customize your nanny cam -- and show you how to use it.