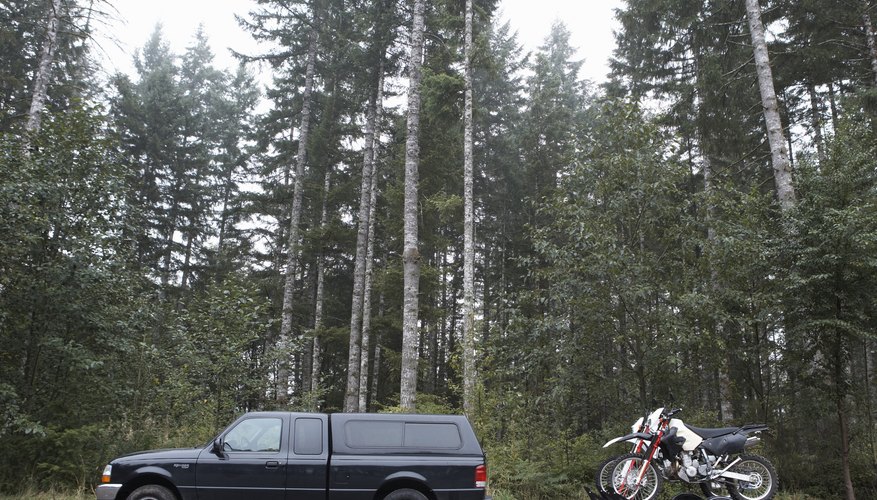 Whether motorcycles are your passion or it's purely your child's idea, riding dirt bikes is a pastime guaranteed to get kids outside and away from video games. No matter your child's age or abilities, it's critical that you insist your child follow basic dirt bike safe rules.
Is Your Child Ready?
Watch for the signs that your child is not only physically ready to handle a dirt bike, but that he is also capable of riding responsibly. A child is physically ready to handle a dirt bike when he can easily get on and off it and comfortably reach the brake pedal and gearshift lever, according to the Motorcycle Safety Foundation. In addition, the child must also understand and follow the rules associated with responsibly riding a dirt bike. The Motorcycle Safety Foundation also urges parents to test their child's peripheral vision before riding. Ask the child to look forward while you move an object off to the child's side. If the child is unable to perceive the movement, it could pose a danger while on the dirt bike.
Choosing the Right Bike and Safety Gear
Follow the manufacturer's recommendations concerning the age, height and weight requirements of the bike. In general, a 6- to 11-year-old can handle a bike featuring a 70 cc or smaller engine. A 12- to 15-year-old is capable of handling the power created by a 70 to 90 cc engine. In addition, buy your child a helmet, riding boots and gloves and a riding suit that fits properly. Avoid choosing gear that is slightly larger to save money. Err on the side of safety by following the manufacturer's recommendations and buying items that properly fit your child's frame.
Teaching Your Child to Ride
Inexperienced parents should consider enrolling your child in a professional-run dirt bike riding course. The Motorcycle Safety Foundation has classes for novice to experienced riders, and class enrollment information is found on its website. If you're an experienced motorcycle or dirt bike rider and plan to teach your child how to ride, the American Motorcycle Association recommends always staying in front of your child to ensure they're paying attention, using language they can understand, and keeping your emotions and expectations in check. Don't expect your child to master the dirt bike overnight and instead emphasize safety over the pleasure of riding.
Trail Safety
Teach your child about the importance of remaining safe on the trail. For example, insist your child always remain on a trail and avoid interacting with wildlife. Encourage your child to ride at a reasonable pace and avoid racing. The American Motorcycle Association also urges parents to supervise their young riders at all times. Set a good example by biking responsibly, staying on the trail and riding without passengers.