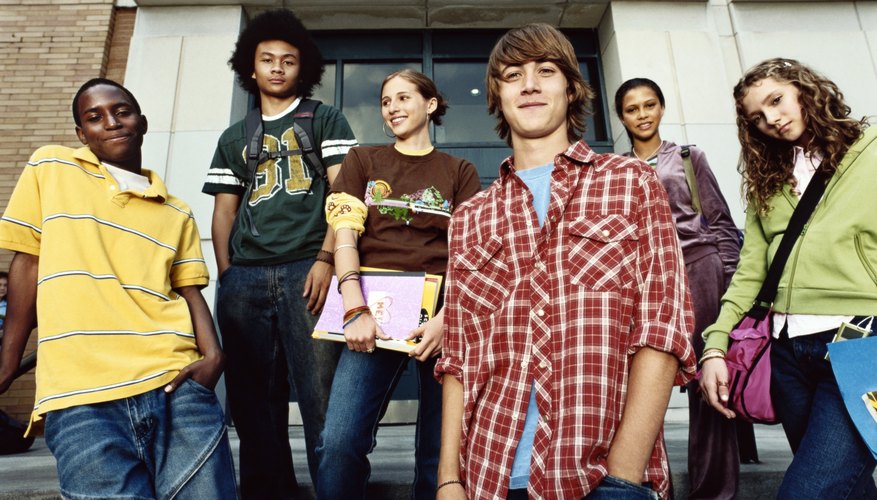 As children become teens, they are more likely to seek out social support through peers and engage in social activities. These activities are important in late adolescence, since relationship building and support systems are beneficial to mental and emotional health; this is a natural and healthy part of adolescent development. You can foster your child's need for social interaction by understanding what social activities are important to him and playing a role in encouraging healthy socialization with peers.
Electronic Social Interaction
Times are changing, and so are the ways in which we interact and communicate. Facebook, Twitter, Instagram, electronic games, texting and video chat are all ways that teenagers communicate now. Realize that this form of communication is the new "hanging out" in some cases. According to a study published by Common Sense Media, kids who engage in digital interaction are more likely to be confident and less shy. While it is crucial to understand your child's need for social interaction in the digital age, also make it a point to encourage offline interactions as well.
Eating Out
Late adolescents typically enjoy hanging out with friends and eating -- just as adults do. Teenagers may gather at a pizza joint or the mall food court and chitchat over fries and sodas. This can be a great way for your teenager to spend quality, laid back time with friends.
Concerts
Music is probably something that's very important to your teenager -- he may find songs or genres that he can relate to, and this may become a significant entity in your child's life. Teenagers can connect on this level, so live music is a fun activity to engage in with a group of friends.
Other Activities
Many teenagers enjoy hanging out at the mall. They can walk around, talk and browse without adults listening over their shoulders. What some adults may find silly, like mall T-shirts with sayings, teenagers may use as a way to connect to each other and converse -- and that is an important part of learning how to interact socially and form relationships. Bowling and going to the movies are also fun social activities for kids that can break the monotony of staying at home.