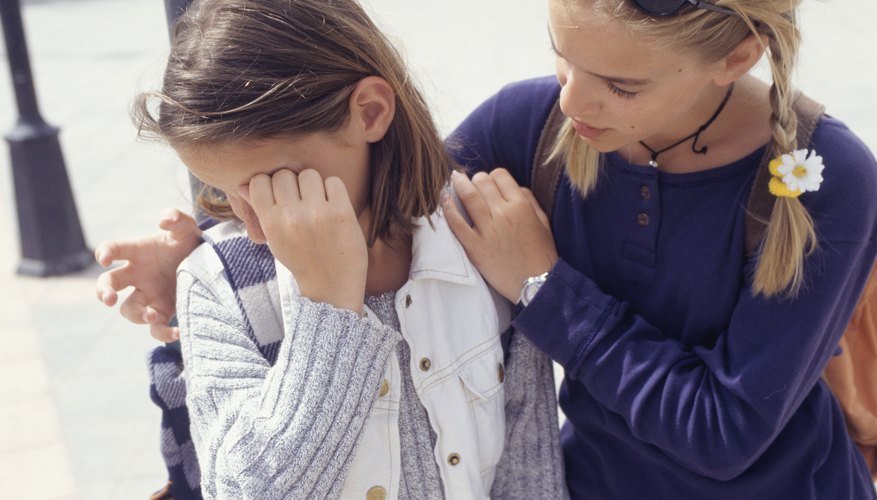 Whether your youngster is taking toys and making kids cry at the playground or he has a difficult time understanding feelings, you can help him better understand others' emotions and his own. Empathy can develop over time with your consistent example and guidance. Start teaching your child about empathy early by becoming his empathy role model and then employ the use of the technology in your home to help him develop his skill, learn to view circumstances from another's perspective and respond compassionately.
Make an emotion collage on the computer and print it off to hang on your child's wall. Search online and through clip art for pictures of people expressing happiness, sadness, anger, fear and excitement, and have your child identify the emotion in each picture. Next, copy the pictures and transfer them into a photo program. Divide the page by emotions and insert each picture into the corresponding section. By being able to recognize and name emotions, children can come to better understand their own feelings and recognize the feelings of others. Have your child speculate why the characters in each picture feel those emotions. For example, "The little girl in the picture looks sad because the toy on the floor is broken."
Help your child recognize empathy by having her search for it on the Internet. Open up a photo program and then search for pictures online that depict people acting in empathetic ways, such as a mother consoling a teary-eyed child or a friend comforting another friend. Each time you find a relevant picture, talk to your child about the scene and copy the picture into the photo program to create a collage. You can save the collage and use it as wallpaper on the computer or print it off and hang it on your child's wall.
Watch DVDs or TV series about empathy. You can look for educational videos that are designed to help children learn about social skills or find examples in the TV series and movies that she already watches to make the lesson more relevant and engaging.
Design an empathy brochure with your child on the computer. Treat it like a vacation brochure, detailing the attractive features of the empathy, why people would be interested in demonstrating the behavior and the rewards that come from becoming an empathetic person. Look for pictures or clip art to illustrate the brochure.
Play video games with your child that are designed to encourage empathetic behavior. Look for games where the objective is to help others or save characters. Games such as these encourage empathy in players, according to 2010 study by the American Psychological Association.