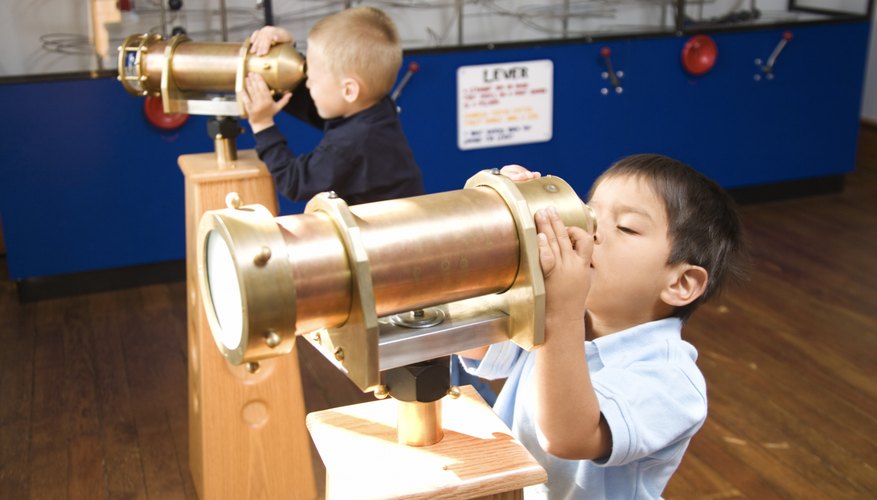 Although it is possible to beat the heat in New York's summer, sometimes children need more than a pool and a frozen treat. New York City's excellent museums and zoos offer a variety of programs for all children. Whether you want to paint like Picasso, identify dinosaur bones, or camp out near the lions in the zoo, New York is the place for summer learning.
Art
New York's art museums and galleries are summer havens. The Metropolitan Museum of Art opens its galleries for young artists, kids ages 11 to 18, with its "Summer Sketching" program. Participants choose to draw in one or more of the museum's galleries, with the help of an artist-instructor. Art Trek takes younger art historians on global scavenger hunts, using the museum's works as stopping points. The Brooklyn Museum near Prospect Park runs a "Gallery Studio" program for children ages 6 to 13, which focuses on themed programs, including "Claws and Paws" for younger children, "Art and Humor" for middle schoolers and "Special Effects" for older students.
Science
The Bronx Zoo nurtures budding zoologists during the summer. Two camp programs, "Animal Kingdom," for kids ages 8 to 12 and "Pablo Python Looks at Animals," for kids ages 4 to 7, teach campers to observe, protect and enjoy wildlife during one- or two-week sessions. The zoo's "Family Overnight Safaris" become summer traditions for many in the New York area. Families bring tents, sleeping bags and a picnic dinner. The zoo programs activities and provides late night snacks. When it is time to bed down near the animal exhibits, campers find out just how active lions are at night. The American Museum of Natural History on Central Park West offers a variety of programs for elementary and middle school students that integrate technology and hands-on experiential learning. Workshops include "Paleo Adventures: Exploring Dinosaurs" for second and third graders, and "What Happened to the Neanderthals?" This is a workshop for middle school students, which uses computer software to reanimate a prehistoric being.
History
From the Bronx to the north, to the Battery at the southern tip of Manhattan, New York City has a fascinating history. Those who know it best work at the Dimenna Children's History Museum at the New York Historical Society, which is across the street from Central Park. "Reading Into History" is an ongoing book club for children and families. Members read an historical fiction or non-fiction book and then post questions and comments to the museum's "History Detectives" blog. At a wrap-up, get-together for each book, club members meet, discuss and see museum artifacts related to the reading. For a closer look at history, the "Intrepid Sea, Air and Space Museum" offers camps and overnights on the decks of a WWII aircraft carrier. Camps are open to children ages 5 to 13 and run all day, with occasional boat rides on the Hudson River and outdoor playtime in the new Hudson River Park.
All-in-One
It may be difficult to choose from all the options in New York's museums, but don't let that hold you back. "Museum Camp" is an all-day program that brings groups to many of the previously named institutions, plus others, which include the Smithsonian Museum of the American Indian and the Sony Wonder Technology Lab.