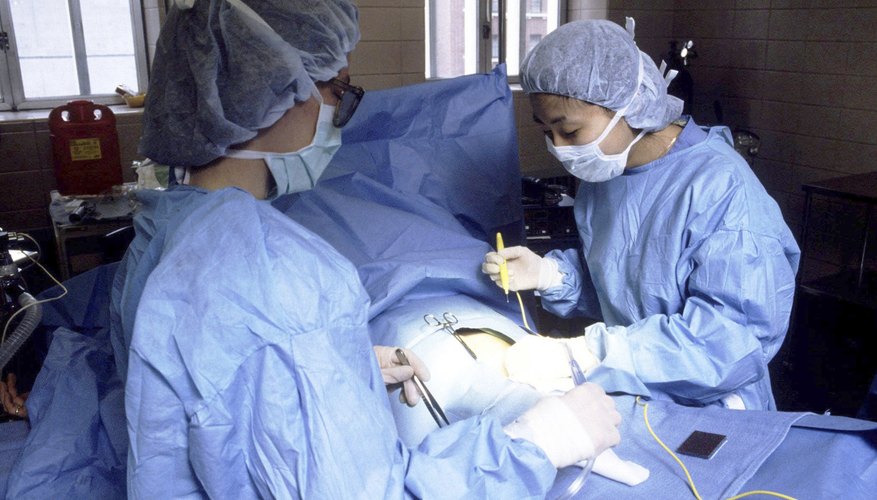 Moms need lots of support during childbirth, regardless of how the baby is coming into the world. If you end up having a C-section, you may feel like all those hours in your labor and delivery classes were wasted. But the same principles -- like emotional support and being your wife's biggest cheerleader -- apply in the operating room, as well as the delivery room. Dad and baby usually get immediate bonding time while Mom is still finishing up surgery, so once your child is born, your role will be paramount as No. 1 caregiver.
Scheduled C-section
For scheduled C-sections, the mother is usually awake during the surgery, so having her partner by her side can help her get through an exciting but nerve-wracking time. Dads are usually instructed to stay behind the cloth or paper curtain that nurses put up so that you don't actually watch the surgery. Mom first gets spinal anesthesia or an epidural, which involves a needle in her back, so she may need you to hold her hand or distract her with conversation. Once she is numb and the doctors have everything ready, the delivery of your child begins; it usually takes 10 to 15 minutes until your baby emerges, according to the Cleveland Clinic. Even though she won't be in pain, your partner may still feel frightened and anxious. You can give her a hand massage, stroke her forehead, kiss her cheeks or just talk her through it.
Emergency C-section
Most hospitals allow the father to be in the operating room during a scheduled C-section. However, if the birth turns into an emergency C-section, Dad may be left behind because the doctors want the operating room clear for the health professionals to rush in and out. In some cases, general anesthesia is used during emergency C-sections, so your partner may not be awake during surgery, according to the University of Maryland Medical Center. If you are in the room, be aware that emergency C-sections are often rather frantic. While during a scheduled C-section, the surgery takes about 10 to 15 minutes, if baby or Mom are in distress, the doctors may get your baby out in as little as two minutes, says the Cleveland Clinic.
Dizzy Dads
If you are queasy around blood or needles, be aware that the operating room may not be the place for you. Some hospitals have reflective ceilings above the table so that Mom can see her baby as soon as possible, but this also means you could witness the surgery, even if you stay behind the curtain. Keep your eyes focused on your partner's face to avoid thinking about the medical procedure, and try to concentrate only on the excitement of your baby being born.
Dad as D.J.
More and more hospitals are allowing music in the operating room during scheduled C-sections. Whether you play it through the speakers on your smartphone or provide a CD for the hospital staff to play through their system, music can help keep Mom relaxed. A 2009 study by the Cochrane Pregnancy and Childbirth Group found that music during C-sections lowered patients' pulse and improved their perception of their birth experiences. You can be a great supporter by finding just the right song to make her experience tolerable. And with a little advanced warning from the doctors, you can choose the song that plays the minute your child comes into the world.
After the Birth
The C-section isn't over once your baby enters the world. The doctors usually hold up your baby immediately so Mom can see her, then hand her to nurses to clean off. You are usually allowed to walk over and touch your baby while the nurses tend to her and administer any tests they may need to do. Once the baby is cleaned, they usually hand her to you for the first time. You can place the baby on Mom's chest if the doctors allow it. If not, place the baby close to Mom's face so they can share the moment.
After a few minutes of visiting, the nurses may ask you to leave the room with the baby. Your partner has about another 45 minutes of surgery after this, according to the Cleveland Clinic. You can stay with your partner while she gets sewn up, but you'll probably want to spend the time holding your new baby and showing her off to any waiting family members. At this point, you could send in a close friend, family member or doula to support Mom through the rest of the surgery.