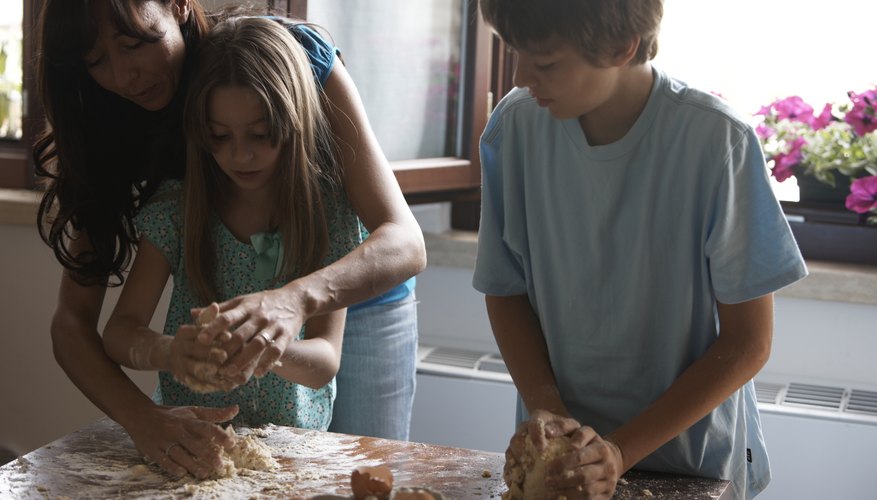 Human relationships are complicated, and sooner or later we all offend someone or are offended ourselves. Teaching your children the value of a sincere apology will help them develop and maintain satisfying relationships throughout their lives. Whether your child is on the giving or receiving end of an overture of reconciliation, take a positive, gentle approach and use games, art projects and activities to foster forgiveness.
Finding Solutions Through Art
After a conflict, emotions are running high. Before kids can even think about reconciliation, they must process the emotions they're feeling. Offer crayons, markers and paper and encourage your child to draw a picture of what happened and what she's feeling. Then ask your child to draw a picture of what she'd like to do to make things right. Both of these pictures are private and will not be shared with anyone else. Once your child has calmed down, she can use art to express an apology or a wish to reconcile. Getting out the words "I'm sorry" is difficult, but most kids can write it in a note or draw it in a picture.
Using Children's Literature
The characters in classic children's books can teach lessons that sink deep into a child's heart. After Edmund betrayed his siblings in "The Lion, the Witch and the Wardrobe" by C.S. Lewis, he went to considerable effort to make amends. Find an abridged version of the Dickens tale "Great Expectations" to learn how Pip reconciles with his friends and family. Nonfiction books, such as "Sorry" by Trudy Ludwig, teach skills like apologizing more directly. Read these books together and gently help children draw their own conclusions. Avoid moralizing or preaching, though, which takes all the joy out of the lesson.
Activities for Communication
Listening and understanding another's point of view is an essential part of reconciliation for children. Try this trick used by many teachers to facilitate listening: Offer a "talking stick," which might be a real stick, a dowel, a small toy or any other object. One child holds the stick and expresses his point of view while the other child listens. When the first child is finished, he passes the talking stick to the second child, who can then talk. Teach your child to really listen for understanding, rather than spend the time contemplating what he will say during his turn.
Role-Playing
Using puppets for role-playing is a nonthreatening way to teach reconciliation and other social skills. Act out a situation using two or three puppets, such as children fighting over a toy or leaving another child out. Ask your child for suggestions on how to solve the problem. Then act out the suggestion. Ask, "How do you think that worked? Do you have any other ideas?" Once the problem's been satisfactorily resolved, show the puppets apologizing or making amends.