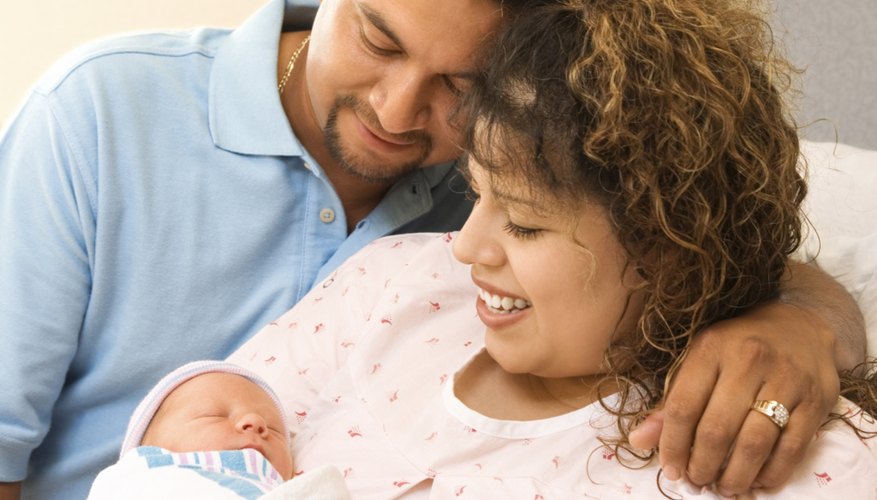 Mothers are the obvious focus of pregnancy and childbirth, but fathers are strongly affected by the process as well. Men experience physical, emotional, and social changes as a mother's pregnancy progresses and when the child is born. While the changes to the mother are more pronounced, helping new fathers deal with the changes to their lives will only help the mother, baby, and family in the long run as the dad is able to be more present and enjoy the pregnancy and childbirth more.
Physical Changes
While the woman goes through the most obvious changes during pregnancy, men actually experience hormonal changes as well. Scientists cannot fully explain why expectant fathers experience these physical changes, but they hypothesize that men are reacting to the woman's pheromones. Men may experience an initial spike in cortisol in the first few weeks after they find out about their impending fatherhood, a stress hormone that puts them on high alert. In the weeks before the baby's birth, a man's testosterone levels may drop by a third, lessening his sex drive and competitive and aggressive feelings and priming him to focus on nurturing the baby. Male hormones should normalize about 6 weeks after the baby is born.
Sex
Many couples fear for their sex lives when they decide to have children, and sex definitely can suffer during pregnancy and after childbirth for many reasons, both emotional and physical. However, expectant fathers don't need to worry that they'll never have sex again. Many women enjoy sex throughout their entire pregnancy and most women are cleared for sexual activity 6 weeks after childbirth, though not everyone is ready immediately. Being up all night with a newborn, dealing with postpartum bleeding, and getting used to a post-baby body can make a woman hesitant to jump back into bed, but she will get there in her own time. Likewise, fathers may have to overcome feelings about watching their wives birth their child, and dealing with exhaustion of their own.
Emotional Changes
Women are expected to get all teary eyed when it comes to their pregnancies and newborns, but men often experience a range of emotions that can be made even more difficult because they don't feel comfortable expressing them. Many men struggle with feelings of jealousy when they see their partner become completely consumed by the pregnancy and new baby, excluding the father. A man may also feel overwhelmed and stressed about providing for his new family, both financially and emotionally, as he tries to give her support during pregnancy, childbirth and new motherhood.
Lifestyle Changes
No matter what kind of household chore split a couple had before, dads may be expected to pick up some of the household slack while mom is uncomfortably pregnant and recovering from childbirth. Many men enjoy the opportunity to have a concrete task to complete along with supporting mom emotionally. But some feel resentful about having more responsibilities when they may already be stressed about finances and time. A woman may want her partner home more, working on household projects while she is nesting. Also, some men may struggle with giving up their child-free lifestyle even if they planned for and are excited about the new baby.