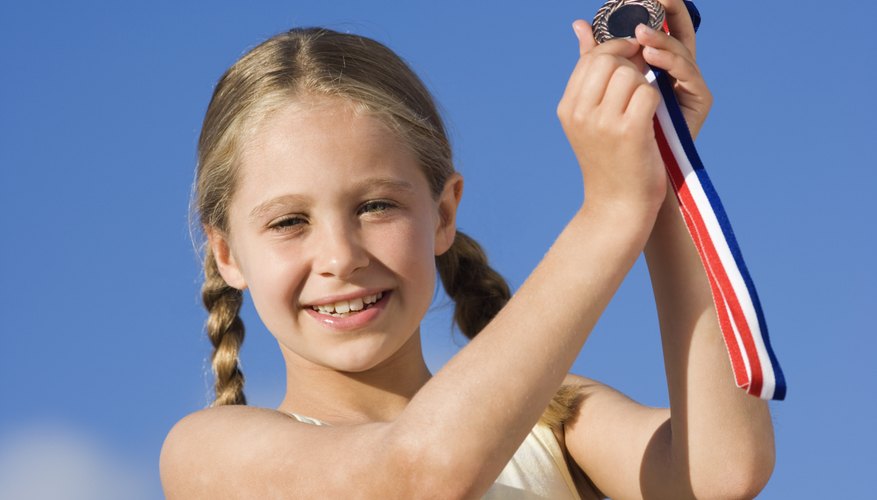 A big part of being a parent is boosting your child's confidence and helping to ease her worries. An excessively anxious child with low self-esteem is likely to struggle to achieve her goals and form positive relationships as an adult. On the other hand, a secure, confident child has a good chance of leading a happy, healthy, productive life. It is perfectly normal for a child to go through phases of low self-esteem or worrying about specific things in her life. By knowing how to help her overcome these obstacles, you can help her learn and grow from the experience.
Improve your own self-confidence. Children often mirror traits -- both positive and negative -- that they see in their parents. If you suffer from low self-confidence, it's never too late to help yourself and watch your child reap the benefits. If your young child sees you unhappy with yourself, he may equate that to you being unhappy with him. An older child may start to feel responsible for his parents' happiness, which can have a long-term effect on the child's own self-worth. Find the best way to fix your own confidence issues, whether it is through self-help books, counseling or meditation.
Spend time interacting and playing with your child. This may involve building blocks or creating art work with young children, or playing a computer game with an older child. One-to-one playtime tells your child that she is worth your time, which will boost her self-confidence. View playtime as an important element of parenting your child. Let your child initiate the play and, during playtime, focus all your attention on her, which will increase her feelings of self-worth.
Encourage your child's talents and passions. Praising him in one activity will help to boost his self-esteem, and this will give him the confidence to try his hand at other activities and improve his overall self-image. However, do not push you child into excelling in something he is not naturally gifted at. Some parents expect their children to be great at something just because they were, but you must let your child be himself. Ensure he knows that your love for him does not depend on your approval or his achievements.
Show how proud you are of your child's achievements, no matter how small. Hang her artwork on the wall, or display her athletics trophies on shelves. Whenever she sees this showcase, she will feel proud of herself.