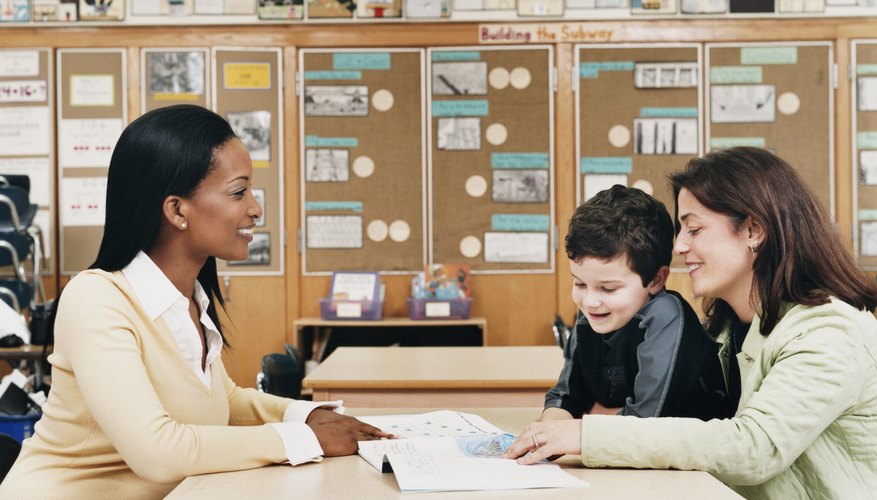 Volunteering at your child's school and being involved in his education can help improve his performance in the classroom. Parental involvement can also boost your child's standardized test scores, according to the Michigan Department of Education. Many parents don't volunteer and don't take the time to become involved in what their children are learning. A variety of situations exist that can prevent parents from taking the time to get more involved in their child's school, and most of them don't have anything to do with parents not wanting to participate.
Time
One of the biggest barriers to parent involvement is time. Working parents might not have time to spend in the school, go on field trips and help teachers with their various duties. Even parents who don't work might have other time commitments that prevent them from becoming actively involved in the school. Other parents might not want to set aside time to go to the school to help. Because staying involved in your child's education is a crucial way to help him be successful in the classroom, it's essential to get involved in other ways. Help your child with his homework, read to your child, listen to him read to you and ask him what he's been doing in the classroom, suggests the New York University Child Study Center.
Self-confidence
Many parents might not volunteer at their child's school because they don't think they have anything to offer. Parents might not offer to help a child with homework because they don't feel confident in their ability to provide solid instruction. Parents don't need to have a college degree or other training to be valuable assets to the school. The New York University Child Center suggests that parents volunteer to chaperone on field trips, help with art projects, read to children, work as a lunchroom or recess assistant, build sets for school plays, join the Parent Teacher League or bake cookies for the bake sale. Ultimately, it doesn't matter what you do. What matters is that you use the talents and skills that you do have to make the school a better place for your child.
Children Don't Want Them
Children might tell their parents that they would be mortified if they were to show up at school to volunteer or get more involved. This can deter many parents from pursuing their desire to help out. Actually, most children, even teens, crave involvement from their parents, but they might think they are too cool to admit it out loud. Children of all ages need to know that their parents care about their education. Talk with your child about how she wants you to be involved. Perhaps she would like to go over her homework with you each evening or maybe she wants you to go to the school to help with a play in which she has a part. Follow through with your conversation and provide the involvement you agreed upon with your child.
Additional Factors
A parent with a child in a dual-language school might be reluctant to get involved because she doesn't think she'll be able to communicate effectively. The same reluctance can occur if a parent isn't fluent in English, but that's the only language spoken at her child's school. Other parents might fear getting involved because they don't feel welcome in the classroom or in the school. That can happen for any number of reasons, but it's usually not intentional. If you don't feel welcome in your child's school, talk with his teacher or the administrator to get to the bottom of why you're feeling that way. Once you do that, you might be more excited about getting involved.