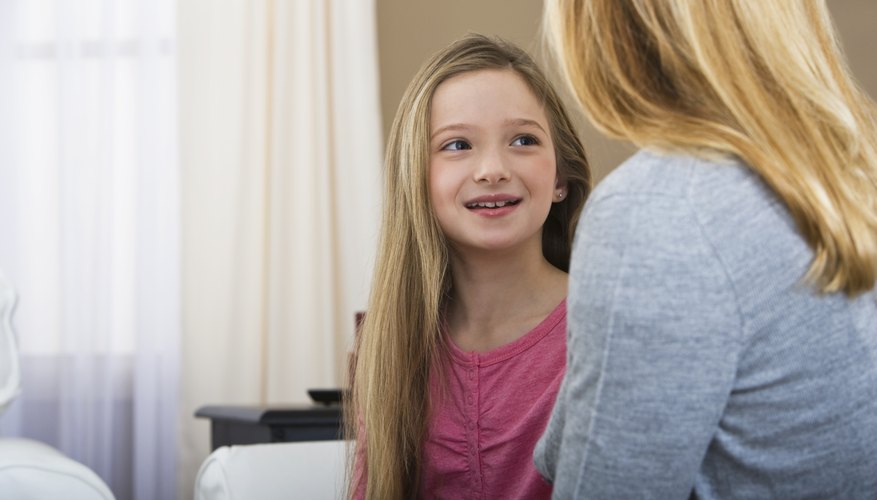 The preteen years can sometimes be challenging for both kids and their parents. Tweens are dealing with peer pressure, body changes, school, homework, extracurricular activities and hormones. Parents have to reevaluate how to best parent their growing tween. Establishing some basic rules can help parents and preteens work together to make it through this stage of life.
School
Parents don't want their preteen to get distracted and stray away from his educational responsibilities. Creating homework and school rules can help keep your tween focused and organized, so he can do well in school. Stay involved in your child's schoolwork as much as possible, by keeping track of grades, homework and school projects, to ensure he is keeping up with everything. Make it a rule that your tween completes his homework each day before he watches television, plays games or hangs out with his friends. Make it a rule that he study for all of his tests without you having to constantly remind him. Keep your preteen organized through a notebook to keep track of assignments, when they are due and when tests are scheduled to take place.
Home
It's important for your tween to have clear-cut rules at home. Among these are rules for daily chores. Make it a rule that your preteen lend a hand with household tasks such as laundry, dishes and keeping her room clean. Create rules for your tweens in regards to a schedule at home, including setting a bedtime for school nights and dinner time with your family. Tweens and teens need 8 1/2 to 9 1/2 hours of sleep each night to be healthy, according to WebMD. Failing to get enough sleep can lead to bad moods, poor performance and trouble in school, weight gain and bad judgment.
Technology
Technology is virtually everywhere, including in your home and your child's school. So, it's important to create rules in regards to television, computers, video games, cell phones and social media. The American Academy of Pediatrics recommends that kids should have less than 1 to 2 hours of total screen time per day. So, decide on rules for how much time your preteen is allowed to spend using electronics on school nights and on the weekends. Common Sense Media recommends creating some basic responsible cell phone rules. Make it a rule that your tween only call or text people she knows, that she be selective about taking photos and videos and to whom she sends them, and that she not use location services on her cell phone. Other rules could include never giving out personal information when using the Internet, never meeting up with someone she has met online, never sharing passwords with others and never participating in online bullying.
After School
Talk with your tween about rules for when he is away from home and participating in after-school activities. Make it a rule that your preteen ask for permission before going to a friend's house and that he needs to check in with you before going anywhere else. Make sure he knows you have the right to check in on him at any time. Another rule could be that your tween go straight to after-school activities, such as sports practices or club meetings, and straight home when the activities are over.
Consequences
When your preteen breaks a rule, no matter how minor the rule is, there needs to be clear consequences for her actions. It's important for you, as a parent, to be consistent with discipline, no matter your child's age, says KidsHealth. For tweens, use natural consequences in some situations and just let your child learn by making mistakes. Or, take privileges away for breaking a rule, such as taking away electronics or not allowing your tween to hang out with friends for a set amount of days.