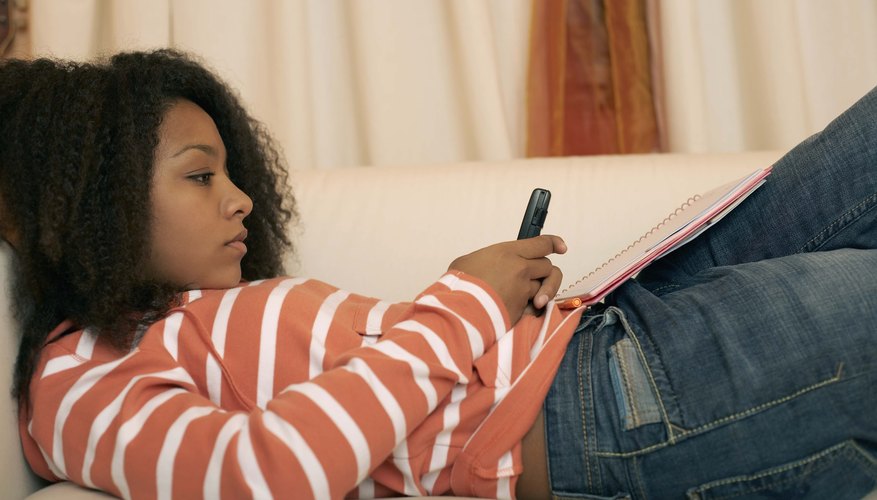 Instead of worrying about play dates and potty training, your concerns with your teenage daughter now are her safety and what kind of woman she will turn out to be. What are the issues facing teen girls today? It's important to know what you're dealing with when raising a teenage daughter, and what you need to look out for.
Self-esteem Issues
The teen years can make even the most self-confident girl doubt herself. Changes in her body might make her self-conscious and compare herself unfavorably to other girls her age. Emphasize to your daughter that everyone is different and has different strengths and weaknesses. Encourage her not to make celebrities and models her role models, but to instead focus on her schoolwork, athletic pursuits and hobbies.
Peer Pressure
Teenage girls can experience peer pressure for the first time in high school or they might have experienced it to some degree even earlier. The pressure of peers can vary widely, from pressure to cut classes, dye her hair a certain color, or listen to certain bands. But peers can also pressure her on more serious issues such as using alcohol and drugs.
Auto Safety
The Allstate Foundation reports that more 3,000 teenagers are killed in auto crashes each year. Don't allow your teenage daughter to drive with a bunch of friends in her car, and stress the importance of seat belts and following safe driving rules. If the state you live in has laws about the hours that teens can drive, enforce those rules. Some states have rules that include teens not being allowed to drive after 11 p.m. and having a decal on the car that denotes a teen driver is behind the wheel.
Depression
According to the website Help Guide, depression is a serious problem facing teens. Signs of depression are a sudden loss of interest in activities she used to enjoy, trouble sleeping or excessive sleeping, talking about death or suicide, and dramatic weight gain or loss. If you notice any of these signs in your daughter, seek help immediately. Contact her pediatrician or call a suicide prevention hot line.
Substance Abuse
Girls ages 12 to 17 now use alcohol and drugs at the same rate as boys the same age, and have surpassed boys when it comes to misuse of prescription drugs and smoking, according to the website of CompDrug, an Ohio substance abuse resource program. The reasons teen girls sometimes give for these behaviors are to lose weight, to feel more confident and to ease stress. If you suspect that your teen is abusing drugs or alcohol, get counseling or rehabilitation for her as soon as possible.