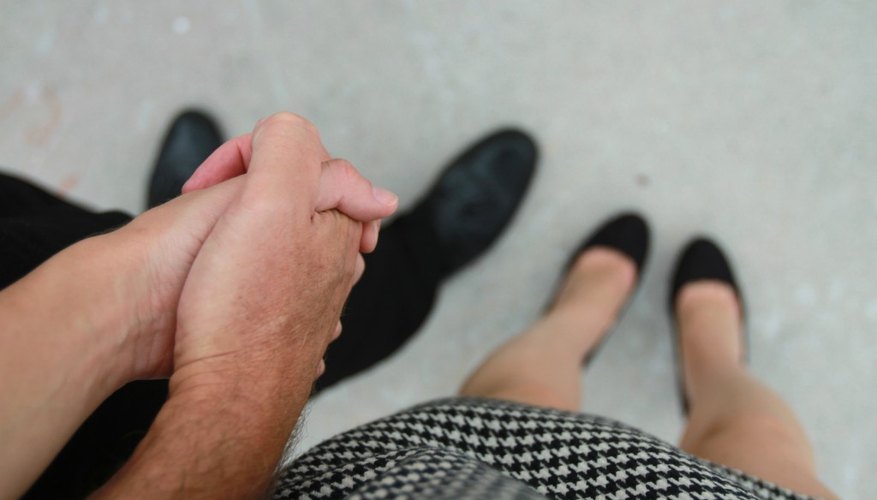 Buried under baby scrapbooks and boxes of family photos in our hall closet is a red leather photo album. It's the "dating album," completely filled with double selfies of my husband and me before we were married — him with longer hair and his arm outstretched to take the picture, and me in some sexy shirt, my head buried into him with a big, I'm-going-to-marry-him! smile. We were getting to know each other, so we did what getting-to-know-each-other couples do. We went out — to restaurants and movies, with and without other couples, in dress-up clothes and in casual clothes, to fancy places and low-key joints. We dated and we dated well — and we have a hundred dating selfies to prove it.
And then we got married and had some kids. Let me tell you, one way to get to know each other: have a baby. And then have another and another. We've seen each other in hospital gowns, on toilets, in showers, on sick days, through arguments, tears, worry and celebrations. One thing's for sure: we know each other. Or do we?
Like many other couples with kids, we've become very skilled at scooting "us" to the back burner to simmer quietly while "them" boils in the front, demanding our attention. We celebrate family, form a united front and are naturally inclined to spend an extra 50 bucks on a family date as opposed to a "just us" date. Not only do we enjoy our family time, but let's face it — going out sans kids often requires the extra effort and cost of arranging for a babysitter. We find ways to fill in the cracks with couch dates after the kids are in bed as best as we can.
But we know better. We know that it's important for our kids to see us go out, and we know that now, eight years later, there's still more to discover about each other that we can't always pick up through the noise of the kid xylophone that seems to be the soundtrack of our life these days.
May is National Date Your Mate month — and although I question exactly who's sitting at a board room table making all these official holiday declarations, I figure what better opportunity than a fill-in-the-blank celebration to get us out there on a real date again. It had been a couple of months since our last one, so we went for it. We followed our quiet dinner with a trip to the grocery store to co-shop for diapers and school lunch snacks, but even so, it was just what we needed — together time. Better yet, planned together time.
"We need to make sure we do this more often," we both concluded.
"And next time, we'll make reservations," I added.
Which brings me to a few tips to help make your dates mean the most:
Make Reservations We arranged for babysitting and walked out the door looking pretty snazzy, but relied on the fun of winging it to land us a date location. Because of that, we spent an unnecessary 20 minutes of our date frustrated because we couldn't decide on a place or find something without a horrible wait time. We ended up landing a great location and enjoying our evening, but we definitely made note to do it differently next time. We're worth a reservation.
Set Reasonable Goals I get a little overexcited sometimes and want to commit to great big amazing things, like "I'm going to run a marathon next month!" or "I'm going to read 10 books this week!" or "We're going to go on a fancy date every Friday from now until the end of time!" Two points for ambition, yes. But what happens when I set the goal too high, let's say by committing to dates every Friday, is that when it doesn't work out, I count it as another failed attempt and am likely to forget the whole darn initiative in the process. A more reasonable goal for our family right now is a once-a-month date night out for my husband and me. In between, we can get creative with how we set aside alone time at home.
Make a Dating Bucket List Making lists gets me excited about things and ignites a little fire to get 'er done. We make summer bucket lists at the end of the school year and holiday to-do lists come November, so why not a dating bucket list? Get some colored pens out, check out social sites (Groupon and Living Social) for ideas, investigate your community for out-of-the-box activities, and together make a list of fun dates for the future. Think daytime dates too — like kayaking, shopping together, a bike ride in the park, a matinee movie followed by lunch at the new Mexican joint you've been dying to try. Tape your list to the refrigerator for incentive — and make it happen.
Swap Babysitting To save on babysitting, consider swapping kid-watching duties with friends once a month. You take theirs for their date night, they take your kids for yours. This also serves as a little accountability to make sure your dates happen.
Hold Hands Yes, that's right. Hold hands like junior high kids — in the car, while you're walking and at the restaurant. Initiate it. Just reach over and hold his hand. I love the secret messages that you can convey through the simple act of clasping fingers, like "We're in this together."
Make It Obvious to Your Kids Kids love to see that their parents love each other. When you're going on a date, talk about it with your kids. Let them know you're excited. Have them help you choose a dress and pick out a lipstick color. They'll remember these rituals years later and, in doing so, will remember the importance of "us" in their own relationships.
Are you great at Date-Your-Mate rituals? Have any tips that work for you and your family? Do share!