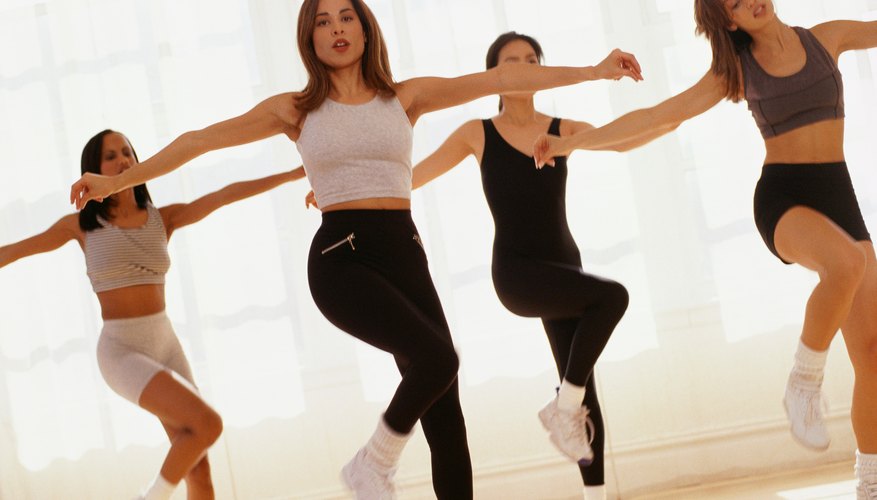 Exercise enhances a teen girl's health and helps build self-confidence and a healthy body image. Fitness classes allow girls to socialize while working out under the guidance of a trained professional. Explore the variety of exercise classes available to find one that best suits your teen's preferences and style. Check with your teen's pediatrician before she starts any new fitness activities just to make sure there are no medical reasons why she shouldn't.
Dance
Many teenage girls enjoy participating in dance classes; in addition to learning new skills, they can make friends and develop confidence. Your teen can choose from the standard ballet, tap and jazz classes offered at most dance studios to contemporary classes such as hip hop or Latin-inspired Zumba. Ballroom dancing classes are an option for teens as well. Dancing offers the benefits of both cardiovascular exercise and muscle toning. No matter what the dancer's age, this activity enhances cognitive ability, according to Stanford University.
Muscle Toning
Your teen can build strength and endurance by taking a body toning class at the local YMCA or health club. Some facilities have classes designed especially for teens. If not, be sure she meets the minimum age requirement. Classes should begin with a warm up, like marching in place for five minutes, and end with some stretches to cool the body down. Encourage your teen to be patient, as the results of muscle toning take time to be noticeable. Girls tend to develop a fit and healthy look from toning exercises as opposed to the bulky look teenage boys strive for.
Yoga
Yoga is an excellent activity for teenage girls because it provides a total-body workout through holding a variety of poses and breathing properly. No specific skills or ability are required to learn it. Girls who practice yoga regularly will notice improved flexibility, strength and balance, as well as reduced stress and anxiety, according to Nemours' Teen Health. Yoga studios and local recreation centers offer walk-in classes for beginners, and all that is needed is a yoga mat or large towel, water bottle and loose, comfortable clothing that allows for movement.
Spinning
Spin classes provide a low impact workout with a very high calorie burn and are popular among teens because of the social camaraderie that riders feel when they take a class together, according to Teen Vogue. Spinners ride the bike as hard as they can, changing the resistance at the instructor's suggestion, but class members should always work out at a pace that is comfortable for them, even if that means going slowly at first. Dim lighting, mirrored walls and energizing music with a fast beat create an exciting atmosphere for spinning.