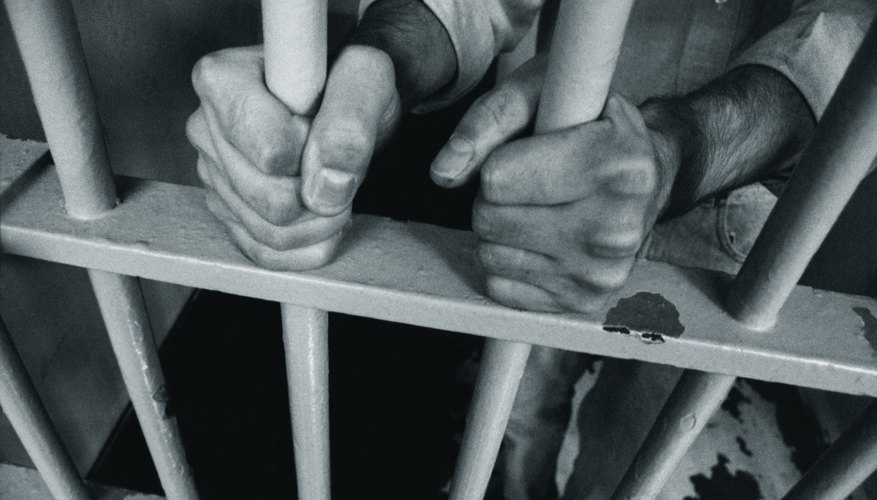 Approximately 500,000 adolescents are sent to juvenile detention centers each year, and more than 26,000 are detained on any given day, according to a publication released by the Juvenile Policy Institute and entitled "The Dangers of Detention: The Impact of Incarcerating Youth in Detention and Other Secure Facilities." Some may also be sent to adult prisons, according to a June 2012 article in The New York Times. Teens who are incarcerated are at risk for sexual violence, increased rates of mental illness, suicide and recidivism.
Teens in Prisons
Each state regulates the management of juvenile offenders individually, according to the JPI report. Teens who are arrested may be placed in adult jails, held in juvenile detention centers or released to the supervision of parents. Some states, such as Arizona, California, Colorado and Montana, require that teens be housed separately from adult offenders. Others, such as Arkansas, Connecticut and New Jersey, allow teens to be placed in the same facility with adults. In some states, the decision about placement is based on the crime -- if the teen is being held for an adult crime, he may be placed with adults.
Sexual Violence
According to "Jailing Juveniles: The Dangers of Incarcerating Youth in Adult Jails in America," a report from the Campaign for Youth Justice, in 2006, 13 percent of victims of sexual violence in prisons were under the age of 18. T.J. Parsell, author of "Fish: A Memoir of a Boy in a Man's Prison," is a human rights activist who was raped at the age of 17 after he was sent to prison for robbing a Fotomat. Parsell writes in The New York Times that juveniles who serve time are typically either traumatized from sexual assault or have become hyper-vigilant to protect themselves. Parsell notes that he was drugged and gang-raped on his first day in prison, and that youth in adult prisons are easy prey for adult perpetrators.
Mental Health Issues
About one-third of all incarcerated teens need ongoing mental health care, according to the JPI report. Most prisons are not equipped to provide mental or behavioral health care, and overcrowded, chaotic or violent conditions can make mental health issues worse. Suicide is the third leading cause of death for all teens, according to the Centers for Disease Control and Prevention's website. Some prison practices, such as placing an adolescent in isolation, can increase the risk of teen suicide, according to the JPI report.
Other Issues
Incarceration of teens can have a number of other effects. Teens who are incarcerated are much less likely to return to school upon release. The JPI publication notes that 43 percent of incarcerated teens failed to resume their schooling. Of those who did receive an education while incarcerated and returned to school, 16 percent dropped out within five months. The combination of incarceration and lack of school also has a negative effect on a teen's work potential. Recidivism -- or repeat offense -- rates are high for juvenile offenders who are incarcerated. One study in Wisconsin found the recidivism rate was 70 percent, according to the JPI report.