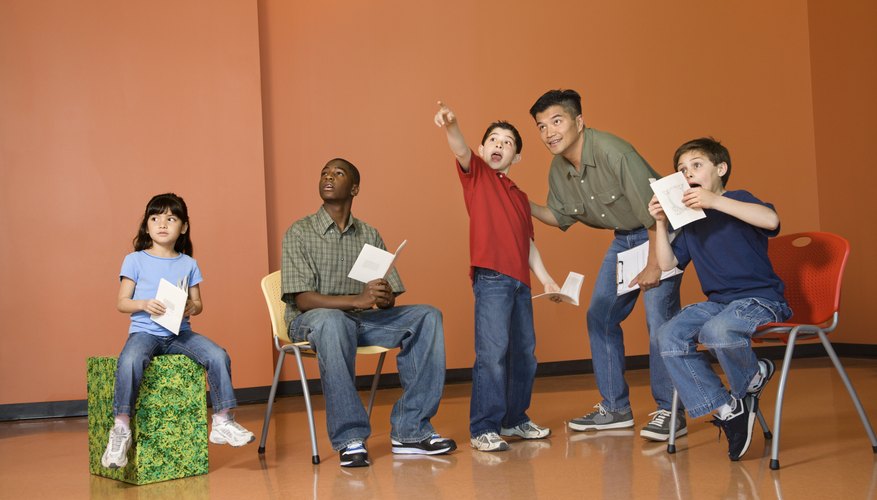 Fairfield County is in the southwestern corner of Connecticut and is home to more than 916,000 residents, as of the 2010 U.S. Census. Parents in the county who are looking for ways to keep their children busy in summer can sign their kids up for one of the fabulous theater programs offered. Theater can give children an opportunity to express themselves and build self-confidence, all while learning the ins and outs of how theater works.
Ridgefield Theater
In the city of Ridgefield, children can attend two summer theater programs. At Standing Ovation Studios, you can get your children involved with the Lighthouse Youth Theater, where acting and musical theater classes are available for kids ages 5 to 18. Two performances take place during the summer theater workshops, one in Ridgefield at The Ridgefield Playhouse and another, 30 minutes away, in Armonk, New York. Alternatively, you can allow your children to participate in one of the summer theater programs at the Enchanted Garden in Ridgefield. During the summer, an assortment of theater and voice summer camps are held, such as Off-Broadway Kids Jr. Summer for kids in kindergarten through first grade, Off-Broadway Kids Summer for kids in grades two to four and Summer Shakespeare for kids that are ages 9 to 17.
Fairfield Programs
In Fairfield, your children can enjoy the Missoula Children's Theater program at Fairfield University. Available for kids in first through 12th grade, this program offers six separate sessions that run for one week each and put on shows, including "Robinson Crusoe," "Rapunzel" and "Pinocchio." During the weekly program, your child will attend rehearsal Monday through Thursday and have dress rehearsal and a performance on Friday. Broadway Bootcamp is also offered in Fairfield, for children in grades three through 10. You can choose from two sessions that run for three weeks each and provide an educational and confidence-building experience for your child.
Stamford Area Programs
Curtain Call in Stamford has a summer youth theater program for kids in fourth grade and older. Each summer, kids participate in this program and use it as a creative outlet to express themselves. Past summer theater performances have included "Seussical," "The King and I," "Cinderella" and "Annie." In North Stamford, your kids can go to the Creative Summer summer camp at The Mead School. This program is offered to kids ages 6 to 16 and includes five classes per day that children can choose from, such as painting, rock band, musical theater, movie making, animation, puppetry and improvisation.
Additional Fairfield County Programs
Connecticut Dance in Monroe is a year-round dance studio that offers an array of summer programs for children. Renaissance Ballet Theater is offered to kids 3 years of age and older and includes a fully staged production of a ballet, such as Peter Pan or Snow White. Theater Camp is offered, too, and includes dance, theater and vocal training, with a musical performance at the end of the session. Additionally, the Performing Arts Center of Connecticut in Trumbull hosts a summer theater and ballet program for kids. During this weeklong program, children learn about the history and making of a classical ballet performance and will participate in a choreography showcase at the conclusion of the program.