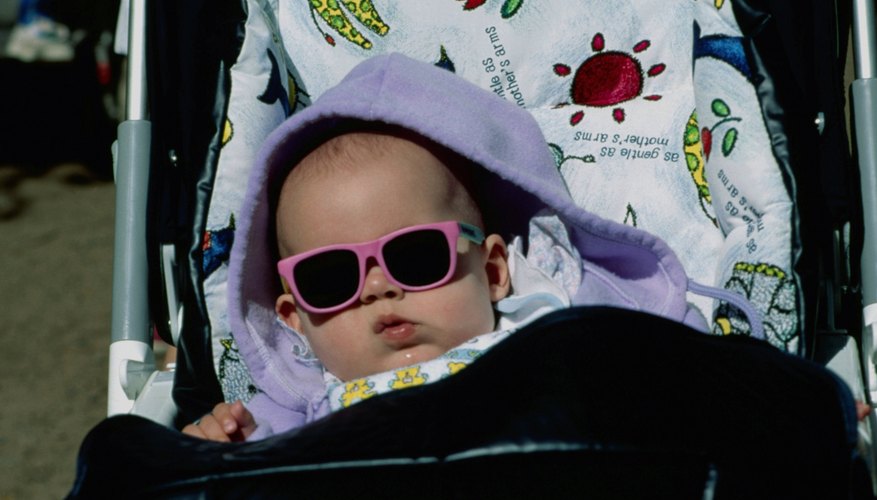 For some first-time parents, the idea of taking a newborn out of the house can be pretty scary. Everyone has a different opinion about how long parents should wait before taking their new baby on outings. While there are no set medical rules regarding how long to wait before taking a newborn out of the house, parents should take certain factors into consideration when making this decision.
Where Can We Go?
While there are no specific health concerns related to taking a newborn baby out of the house, keep your infant's developing immune system in mind. Start out slowly, maybe by taking your newborn on a short walk, on a car ride or to visit a friend or relative. Avoid exposing your newborn to the elements, if possible, as well as to people who may be sick. Taking a newborn into a crowded public place, such as a mall or supermarket, puts the baby at a greater risk of catching infections that other people are carrying. In the opinion of Connecticut pediatrician Lori Storch-Smith, quoted on Disney's BabyZone.com, it's best to wait until your baby is closer to 2 months old before visiting these types of public places.
What to Bring
It's important to be prepared for (almost) anything when taking your newborn on an outing. Have a fully stocked diaper bag containing lots of changing supplies, multiple extra outfits and feeding supplies, if necessary. Other items to bring include blankets, burp cloths and pacifiers, if applicable. It's also a good idea to include an extra shirt for yourself, just in case your little one spits up on you, which happens more often than you may realize.
What to Wear
It may be your first instinct to cover your newborn from head to toe in warm clothing for her first outings. While it's necessary to make sure your baby is dressed appropriately, especially if you're going to be spending time outside, be sure not to overdress your little one. The general rule is to dress a baby in roughly the same number of layers that you are wearing, according to pediatrician Jennifer Shu of BabyCenter.com. If the weather is cool, make sure your newborn's head, hands and feet are covered. Bringing a light jacket or blanket along is always a good idea.
Up to the Challenge
In worrying over the decision of whether or not to take a newborn out of the house, you may find yourself overlooking your own well-being. New mothers should take it easy for their first few weeks home with baby. Many doctors suggest that women who have had a c-section wait three to six weeks before driving. When going on a walk with your newborn, consider bringing a walking companion along the first few times to make sure you are okay. Having an extra pair of hands is also helpful when dealing with a newborn outside of the home.