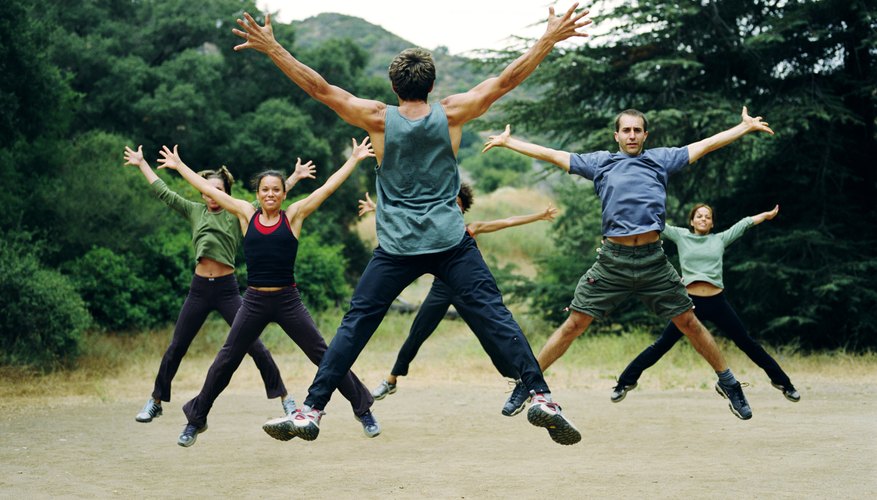 Overweight teens who are struggling to get healthier can get a jump-start on weight loss by attending a boot camp. These intensive programs include hours of challenging exercises, restrictive diets and education on how to maintain a healthful lifestyle. Teenagers living in the Orlando area have several weight-loss boot camp options to choose from.
Mind Body Fit Camp
As its name suggests, Mind Body Fit Camp in Winter Garden stresses an all-inclusive approach to weight loss, including learning to eat a healthful diet and exercise more, and finding ways to reduce stress and discovering internal motivation. Boot camps usually take place in four-week increments and include 45-minute classes. Classes meet every weekday, with options in the mornings and evenings, and participants are encouraged to attend at least three times a week for best results.
Nick Parker's Boot Camp
Nick Parker is a certified fitness trainer who has appeared on television and radio. His fitness philosophy focuses on burning fat at a faster rate by performing a more intense workout. He also focuses on individual body types to determine the best exercises for fast results. The 45-minute classes meet in Longwood and Lake Mary in the morning and evening. The boot camp is open-ended, so participants can determine the length of time needed to attend.
Forte Fitness
High-intensity interval training, kettle bell workouts, and flexibility training are just some of the features of this boot camp in Winter Park. Different programs are available, such as the 21-Day Belly Blast and the Little Black Dress Project, to meet different goals. Teens are welcome to join any program, and the workouts can be adjusted to meet individual goals. The program doesn't have a set length, so teens can participate for as long as needed to meet their weight-loss goals.
Not Your Average Boot Camp
Teen girls can sign up for this camp, which focuses on creating a comfortable and fun atmosphere. Classes meet in Maitland on Mondays, Tuesdays and Thursdays in the mornings and evenings and on Wednesdays in the evenings. All classes are 45 minutes, and participants can attend as many classes per week as they like for as many weeks as they like. Workouts involve a variety of exercises, from yoga to strength training, and a diet is recommended to accelerate fat loss.