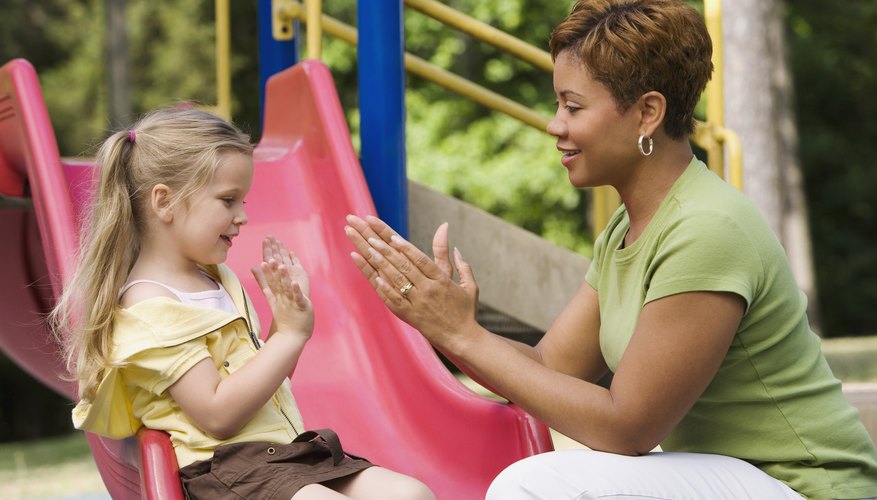 If you've never gotten to be the boss before, you'll get your chance when you hire your first babysitter. Ideally your sitter will become an extension of your family, but ultimately she answers to you. It's your job to establish a job description for your sitters to make sure that both your children and home are cared for when you're away.
Safety
The most important job of a babysitter is also the most obvious: it's her duty to keep every child in her care safe and healthy. A competent sitter will supervise children at all times. She'll stay within reach of young children and always within sight and earshot of older kids. You might require her to transport children to and from school and activities. If so, she should operate a car safely and know how car seats and other restraint systems work. A sitter should be willing and able to provide basic first aid and CPR; however, many teen sitters won't be trained to do so. If you're hiring a young sitter, you may ask that she complete a babysitting safety course before leaving her alone with children.
Entertainment
Keeping the kids entertained doesn't mean your babysitter should show up with hand puppets and a prepared dance number. It is her duty, however, to facilitate play and keep her charges from getting bored. A competent sitter will play board games, read stories and come up with ideas for art projects and outdoor activities. She should always ask your permission before taking children away from home, according to KidsHealth.org, and also shouldn't let kids watch endless television without your permission. If older children have homework to do, a babysitter should help them stay focused on work and offer assistance if possible. It's not her job to tutor a child in math, but if she's able to answer questions about long division, that's a major plus.
Child Care Tasks
It's a sitter's job to prepare and serve meals and snacks, though asking her to cook an elaborate dinner is unfair. She should be willing to do simple tasks like make sandwiches or reheat leftovers and feed young children who can't feed themselves. Your sitter should also be willing to change diapers, burp an infant, and bathe children when necessary. Don't assume that every sitter will know how to do these jobs and do them well. When hiring a new babysitter, talk to her about your expectations, and demonstrate your diapering, bathing, and food-prep techniques. If she'll put children to bed, walk her through the nighttime routine so little ones will have consistency.
Household Tasks
No busy parent wants to come home to a house that is even messier than she left it. Ideally a babysitter will handle small household tasks related to the children; she'll wash their dishes or at least stack them in the sink, and she'll clean up toys and art supplies before moving on to the next activity. Since her priority is caring for the children, she will often not have time to do more than that. Do not expect a sitter to act as a housekeeper. If you hire someone who's willing to wash a load of dishes or fold laundry after the children go to bed, consider yourself lucky. You may ask your sitter to take on larger household jobs like vacuuming, laundry, and dusting -- but she may expect to be paid more to do these tasks, according to Care.com.