Kids wanting to play dress up with 1950s-style clothing have a fun selection of outfits from which to choose. The era featured All-American looks straight out of the TV show "Happy Days," with rolled-up straight-leg blue jeans and plain button-up shirts for the guys, and short sweater sets with poodle skirts for the girls. Whether you're dressing up for a school dance or a friend's '50s party, both boys and girls can look nifty in their fifties outfits.
Step 1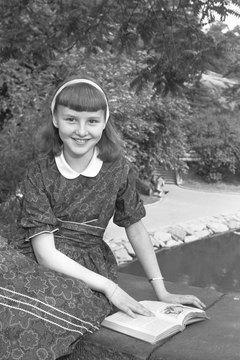 George Marks/Retrofile/Getty Images
Select a schoolgirl outfit for girls dressing up in 1950s clothes. You can find many of these fashions in secondhand shops or online. Wear a knee-length dress with white anklets or fluorescent socks in the colors of the rainbow to match your dress. Pair the socks with Mary Jane shoes. Look for dresses with short puffy sleeves, rounded high collars and a waistband that ties into a bow at the back. Pull on a cardigan sweater to top off your outfit. Try out one of the many teenage girl styles. Find a skirt that falls the knee or at mid-calf — either a straight, pleated skirt or the popular poodle full skirt worn over crinoline slips or stiffened net petticoats underneath to provide extra fullness. Choose fitted sweaters or blouses with three-quarter-length sleeves. Bobby socks and penny loafers go well with the longer skirts. Tie your hair up in a ponytail with a scarf as in "Peggy Sue Got Married" or just tie a kerchief around your neck.
Step 2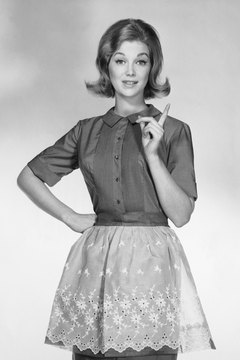 Stockbyte/Retrofile/Getty Images
Choose a plain button-down shirtwaist dress with pearls and tie on an apron if you want to dress as a 1950s housewife. Think Doris Day or June Allison for girl-next-door looks, which means wearing a high neckline in a conservative dress style that's a size too large. Wear rounded-toe flat shoes like dance slippers or plain, low heels. If you're after a more glamorous look, you might want to emulate movie stars like Marilyn Monroe or Elizabeth Taylor, who wore form-fitting dresses that hugged the torso and waist to show off their hourglass figures. Wear undergarments to achieve this look with a tight girdle and pointy bra. If you're wearing a full skirt, add a crinoline underneath. Pick out a bright cocktail dress that zips up the back. Wear gloves, big pieces of costume jewelry, a fur stole and stilettos to complete your outfit.
Step 3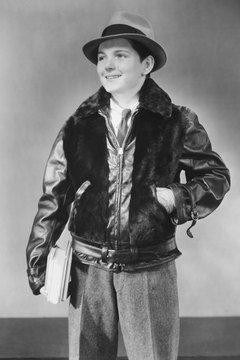 George Marks/Retrofile/Getty Images
Look to the male movie stars of the 1950s who influenced boys and young men's fashion. Small boys can dress up as frontiersmen with coonskin caps like Davy Crockett or in regular street clothes such as cotton pants and short-sleeved button-up shirts. For a more casual look, boys can choose jeans with rolled-up cuffs, short-sleeved shirts or T-shirts and tennis shoes. If you're after the greaser look, dress like Elvis, Marlon Brando or James Dean. Wear dark pants or blue jeans with leather jackets and biker boots, and slick your hair back. If you want a more conservative look, choose high-waisted pants paired with dress shirts, sweaters and saddle shoes or penny loafers.
Step 4
George Marks/Retrofile/Getty Images
Find a baggy man's suit and a fedora hat to look like the men of the 1950s. Wear a bow tie or a thin tie that can be held in place by a tie tack. For a more casual look, wear a large sweater over baggy slacks with a plain or patterned button-up shirt underneath. Tuck your shirt into high-waisted and belted pants. Wear plain dark dress shoes to finish off the look.