Teens can be very social and when it comes to special occasions, nothing fits the bill better than a celebratory mixer. It could be for a birthday, graduation, bat mitzvah, end-of-the-school-year party or for no reason at all except for the chance to gather and socialize with friends. Whatever the case, there are many ways to make it an event that peers will remember and talk about for months to come.
Choose a Theme
Choosing a theme can turn a dull, boring event into a real conversation piece. Teen mixers could include such themes as costume parties, beach bashes, a Hollywood motif, game nights, cook outs or pizza parties. Teen girls might enjoy a spa gathering, makeover mixer or flip flop theme. These events can be held either indoors in a home or restaurant or outside in the backyard or private area of a park.
Decorations
Along with the theme, decorations are important to bring it about. Balloons, cardboard standup figures, confetti, and colorful plastic and paper utensils, cups and plates are just a few suggestions to make the event spectacular. Choose items that will fit the theme and color scheme chosen -- it doesn't have to be expensive or time consuming to be effective. Often the simplest and easiest decorations are the most effective. For example, a balloon bouquet can be an attractive but simple centerpiece for a food table.
Music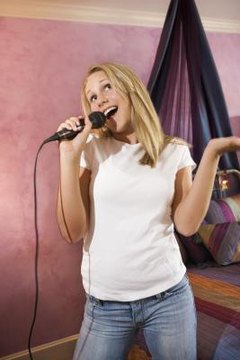 Thinkstock/Comstock/Getty Images
Music is also a requirement for an effective mixer. The type chosen will depend on the theme, budget and tastes of the guest of honor or the mix of teens invited. It can be as simple as an iPod with speakers or as elaborate as a DJ, one-man show or small band. A karaoke competition with all of the popular lyrics is sure to be a hit with all of the guests. Be sure to take the neighbors into consideration when determining the noise level required.
Other Entertainment and Activities
It may seem difficult to find other activities that teens will enjoy but some extras to add to the event if the budget allows could include a photo booth, hypnotist, giant obstacle course, caricature artist or portable rock climbing wall. These extras will allow the guests a variety of activities and opportunities to meet other individuals as well as celebrate the event. Choose activities that will fit the budget and the age group of the teens. For example, 13-year-old teens will have much different expectations and opinions of what makes a great mixer than 18-year-old teens.