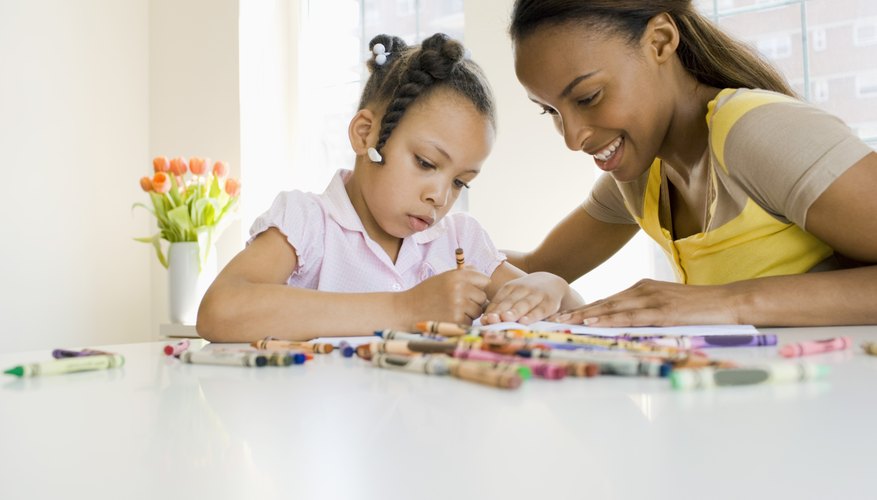 The decorations associated with winter are among the most-loved of all. A paper wreath is a popular craft during the winter holiday season, and with colors themed according to the season or for a specific holiday, you can make these any time. More than one method exists to make a paper wreath -- depending on the materials you have on hand -- and of course, on your preschooler's attention span.
Paper Plate
Paper plate wreaths are the easiest wreath to make with this age group. Cut out the center of the plate, so that the plate now resembles a wreath shape. Let your tot color the rim using crayons, markers or paint (believe it or not - she'll welcome your supervision!) You can also use cut-up pieces of green construction paper and red berries made of construction paper that you glue onto the paper plate, for a wreath you've made in a few minutes' time. Add a Christmas bow along the bottom of the wreath -- and with a hole puncher -- punch a hole along the top of the wreath so you can hang it. Voila!
Paper Hands
Your little one can make a hand wreath that's ideal for any occasion. Trace your child's hand. Then cut out several copies of the hand -- at least 10. If you invited a few or your child's friends over for the afternoon, you can make a friendship wreath by tracing all the kids' hands. You can also have the children say something about what friendship means to them, such as "sharing" and "playing." Write the words the children shared on each paper hand. Overlap and glue the hands together in a circular shape to create the wreath.
Tissue Paper
For this wreath, you can start with either a wreath shape cut out of sturdy construction paper or a cut-out paper plate. Then, let your preschooler tear tissue paper into small pieces. Put a thin layer of glue along the base of the wreath and press the tissue paper pieces onto the glue. Continue until you have filled up the entire wreath. You can get as creative as you like. For instance, for a July 4th wreath, use red, white and blue tissue paper, using the red and white for stripes, and white on blue for the stars on a flag -- or you can make star shapes for fireworks with white tissue paper against a red-and-blue background. Hot dogs and fireworks, anyone?
Paper Loop
This is a more complex paper wreath for preschoolers, but it's still fairly easy. Cut several 1 1/2-inch wide strips of construction paper. Next, cut a long, 1-inch strip that's at least double the length of the loops. Then, tape the ends together to create a circle. Next, have your tot decorate the shorter strips of construction paper, using crayons or markers. Loop the decorated strips around the larger circle strip, securing it with tape until you fill it up with loops to create the wreath.