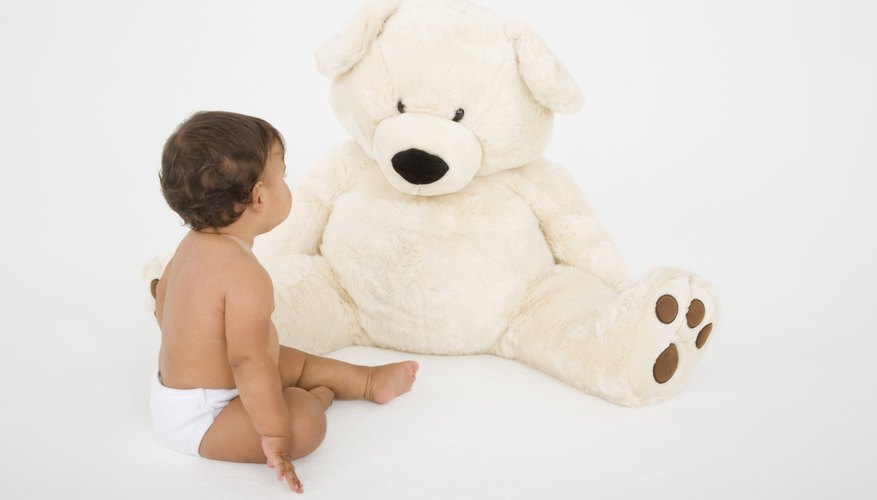 Cute and cuddly, teddy bears are a classic nursery theme perfect for a baby boy or girl. Whether you decorate around one special bear or go crazy with teddies of every size, shape and color, your little one is sure to love the room. Don't overlook the essentials, however: No matter how cute the room looks, make sure it's as safe for your baby as a stuffed teddy bear.
For the Crib
Crib sets, which are linen sets for the crib, come in hundreds of different colors and patterns -- including teddy bears. Usually, a fitted sheet, quilt or blanket and bumper pads are included in a crib set. The latter, however, should only be used for decorative purposes. The American Academy of Pediatrics states that bumper pads do not prevent injuries, and that they actually present a risk of suffocation if the baby's face becomes trapped between the pad and the edges of the crib. Choose a set that features teddy bears in the pattern, or if you want something more subtle, choose crib linens that evoke the feeling of a teddy bear -- perhaps in shades of soft cream and brown, with darker brown accents. Top the crib off with a sweet mobile featuring tiny little teddy bears.
For the Walls
Newborn babies can only see a few inches in front of them, but decorating the walls of the nursery will stimulate your baby's eyesight and give her something to look at as she grows. Patterns and other high-contrast items are most interesting to babies, so keep that in mind as you decorate. For example, you could create a painted pattern of bear paw prints traveling across the wall over and around the crib. Or, line the walls where they meet the ceiling with a wallpaper border printed with teddy bears. If you have artistic talent, consider creating a colorful mural featuring teddy bears in a happy tableau, perhaps at a picnic or playing in a garden. And don't forget the windows: Hang a ruffled valance decorated with teddy bears or, if you are going with a more subtle look, brown wooden window blinds.
For the Floor
Give your baby a soft space to play by laying down a teddy-bear shaped rug, or if you are going for a more realistic look, a faux bearskin rug. Place a large teddy bear in one corner for decorative purposes and for when the baby starts exploring when she's mobile. A soft-sided basket filled with teddies is also a nice touch. If the floor is hard, consider painting teddy bear paws or a teddy bear pattern on the floor around the edges of the room.
For Accenting
Line shelves with friendly teddy bears. If you don't want your baby pulling them down, install the shelves high out of reach, and use the bears as decorative accents only. A teddy-bear shaped lamp will add soft ambiance to the space. Framed prints of teddy bears add a colorful touch -- look for old books about teddy bears at a thrift shop, and then frame the pages.