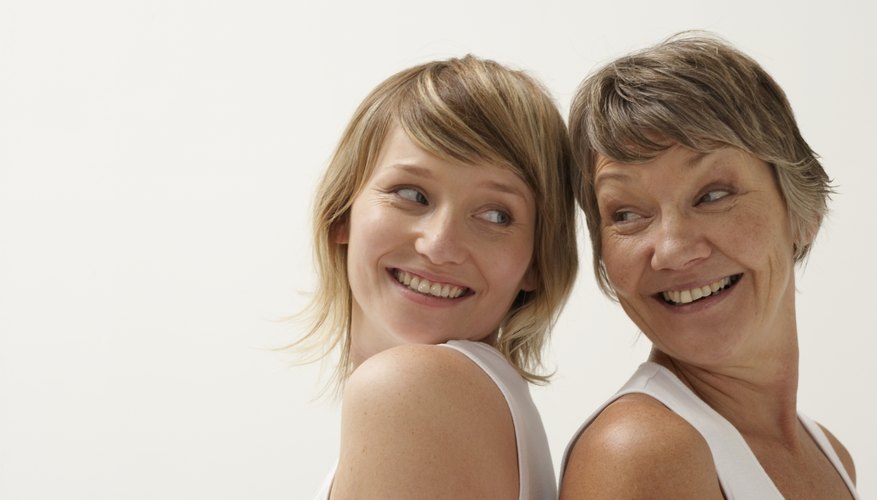 You can have a mother-daughter retreat for a group of women or you can have a private one for just you and your daughter. Retreats can be part of your participation in a social organization or church. Planning for large groups is more complicated than planning a retreat for just the two of you, but they focus on the same basic goal, which is to create positive connections between mother and daughter.
The Planned Retreat
Collect brochures about several retreats. A variety of organizations provide mother-daughter retreats. They range from formal religious activities to secular retreats run as a business. The costs for attending retreats vary, as well. Some might be covered by your organizational dues, be part of your church membership or be connected with other affiliations such as being a home-school parent. Look for themes and ideas that will appeal to your daughter and yourself.
Compare the costs, activities and location of the retreats. Discuss them with your daughter and get her insight on which ones look as though they would be fun for both of you. Family income, transportation and time will all have to be considerations as you make your selection. Narrow your selection to three or four that you both would enjoy and that fall within your budget. If you both belong to a particular organization, that makes it a natural as your primary selection.
Set the date. Clear your calendar for a day or a weekend, make arrangements for the boys in your family to stay with their father, friends or other family members. Select clothing, plan for spending money or any other small details you might need for your mother-daughter special time. You can even make the journey there part of your time together. Focus on good times as you travel toward your destination. This is time for you and your daughter.
Planning a Group Retreat
Select a theme. The theme for your retreat doesn't have to be complicated, but it should appeal to the members of the group. Consider the ages of the moms and daughters who will attend the retreat. Younger moms with preschoolers can bond over mini-golf or even a bank of swings and a slide, but they might be bored with a long focus-group session. Commemorative art projects can be shared by almost any group.
Find a location. A community meeting room, a motel or even a library might have a good place for your planned retreat. Some schools might even allow you to use their gymnasium for a weekend, particularly if school is not in session. Some types of locations will place a limit on the number of people who can attend, because of fire and other regulations for your location. This creates a natural maximum number of participants, which can assist other parts of your planning.
Set up a schedule and send out the invitations. Ask your guests to respond as soon as possible. Plan activities and refreshments for the event, and order supplies as soon as you have a solid number of people who are likely to attend. Include time for reflection, even if the daughters are young. Sharing books about mothers and daughters or even stories about when mother was young can be enlightening activities for both mothers and daughters.
Just You and Your Daughter
Select a relaxed time, such as a weekend or holiday when both of you are available. If your daughter still lives at home, this can be done fairly easily, but if she is an adult, you might have to adjust your schedules. Plan whether your retreat can be a full weekend, a day or if the two of you have only an hour or two. The important part of a mother-daughter retreat is that both of you can leave behind the ordinary working world and focus on just the two of you.
Plan something to do. You could go on a hosted retreat or just rent a motel room near a favorite park or beach. You might even send all the male members of your household off to play, and use the time to rummage through an attic or closet where family memorabilia is stored. Your retreat could center on a birthday or other special day. If you share an interest in a particular craft, you could spend the time working on a special project.
Deal with each other gently. If you select a formal retreat, there will be counselors and group leaders to help you through some of the mazes of interpersonal emotions. You've had a lifetime to develop techniques for managing each other, some of which are good and some are bad. A retreat can be a good time to put aside some of those techniques and become reacquainted with each other at the level of development you each have at the time of the retreat. If you are having your own private retreat, make one of your goals to reconnect and come home refreshed and ready to face the world.