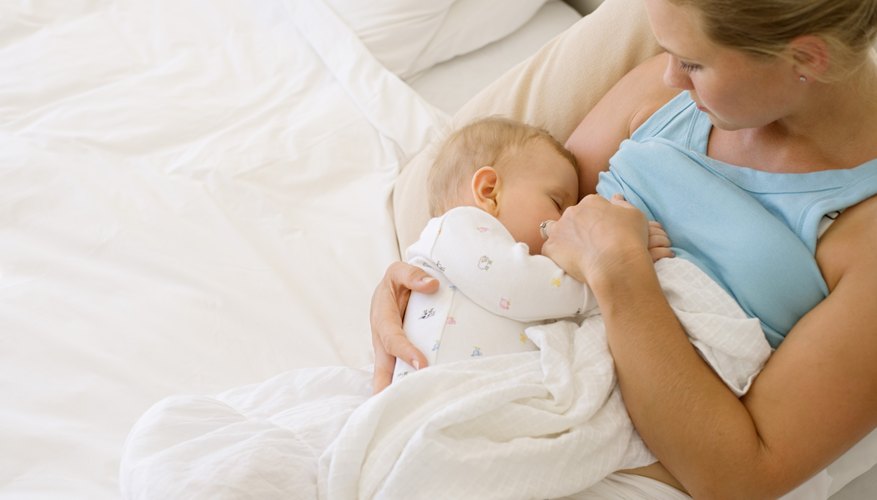 A new mom has so many baby-related tasks that often her own nutrition and well-being can be forgotten. A nursing mother must to take in an additional 500 calories per day to keep up with the demands of producing breast milk, according to KidsHealth. Preparing foods that can be stashed in the freezer until she needs them is one of the best gifts you can give a nursing mother.
Italian Flair
Italian food always hits the spot. WebMD points out that lean beef is a nutritious food that helps a new mom stay healthy and energized. It contains iron, protein and vitamin B12. Pair the meat with some whole wheat lasagna noodles, hearty tomato sauce and cheese for a flavorful lasagna meal. Cook the noodles and meat ahead of time. Assemble the lasagna in a disposable aluminum baking pan, and cover it completely with aluminum foil or an aluminum baking lid. Let your recipient know to thaw the frozen lasagna in the fridge overnight and then reheat the covered lasagna at 375 degrees for 50 minutes, uncover and bake for another 10 minutes.
Soup's On
You can make large batches of soup and freeze them in individual reusable plastic containers for easy use. Chicken, vegetable and brown rice soup is a comforting food for the new mom. Split pea and ham is thick and tasty. Chili is a protein-rich, hearty choice. Whole wheat dinner rolls and corn bread muffins complete the meal. Instruct the new mom to reheat soup on the stovetop until it is completely melted and hot.
Mix It up Asian Style
Whip up a flavorful stir-fry for the new mom. Saute some fresh veggies, such as sweet bell peppers, broccoli, carrots, celery and some minced ginger. Prepare some brown rice or quinoa according to the product instructions. Mix it all together, remove from heat and add some low-sodium soy sauce to taste. Once everything is completely cooled, scoop the mixture into a gallon-sized freezer bag. To reheat, cook all over medium to medium-high heat until thawed and hot – about 10 or 15 minutes.
South of the Border
Add some Mexican food to her freezer. Cook some chicken with some mild enchilada seasoning. Finely chop the meat. Place approximately 1/4 cup chicken in the middle of a corn or whole wheat tortilla and roll it up. Repeat this until you can fill a disposable aluminum baking pan. Pour some enchilada sauce over the tortillas and sprinkle with about 3 ounces of cheddar cheese and 3 ounces of Monterey Jack cheese. Cover with aluminum foil and freeze. To prepare, the dish should be thawed and baked at 350 degrees for 20 to 30 minutes.