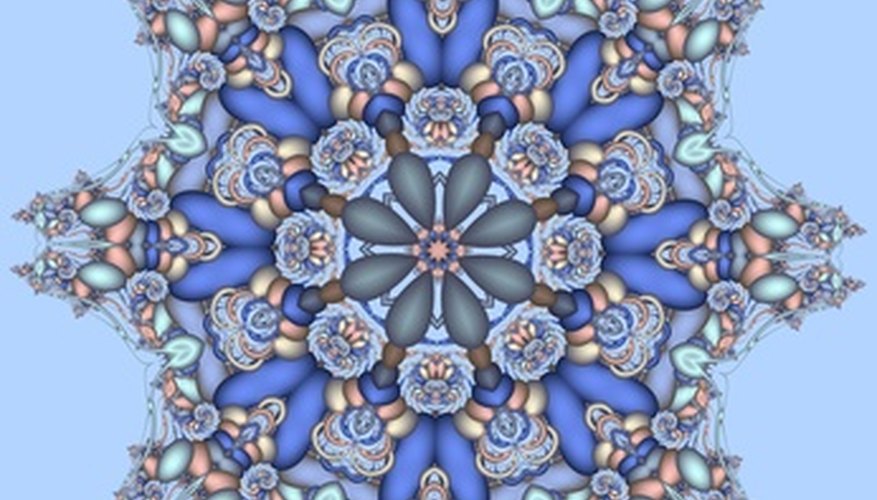 Creating your own kaleidoscope at home is easy and inexpensive using attainable household supplies. Bring the science of light to life with this easy craft while creating an educational toy with a child.
Fold the plastic report cover into thirds lengthwise, creating three equal sides.
Slide report cover into the paper towel roll. Trim off any report cover sticking out from the ends of the paper towel roll.
Poke a small peep hole with scissors into the center of the black construction paper.
Use a rubber band to secure the black construction paper to one end of the paper towel roll.
Secure plastic wrap loosely to the end of the paper towel roll, opposite the black construction paper end, with a rubber band. Wrap loosely enough so you create a small 1/4-inch depression with the plastic wrap.
Fill created plastic wrap depression with shiny confetti, small multi-colored transparent beads and sequins.
Wrap waxed paper tightly around the end of the paper towel roll containing the plastic wrap, confetti, beads and sequins. Secure with a rubber band.
Decorate the outside of the kaleidoscope with paint, stickers or other decorative items.
Peer through the hole in the black construction paper, and focus your kaleidoscope towards the light. Slowly turn your kaleidoscope to see the intermingling of colors and light.
Tip
Wrapping paper is an easy way to decorate the outside of your kaleidoscope.
This kaleidoscope works because when light enters the tube through the decorated side, it reflects off the shiny surface of the report cover, and beams onto the decorations while creating special effects as you rotate the tube.
Warning
Scissors should only be used under adult supervision.