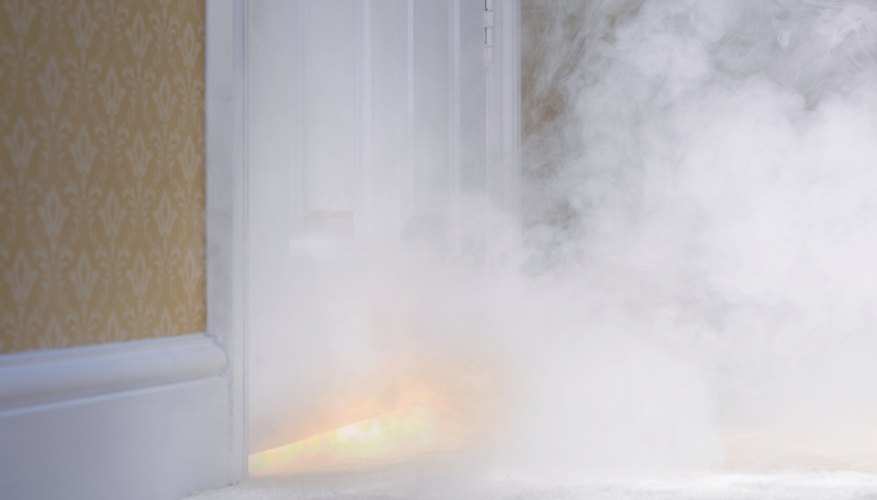 Fire safety and prevention education is an essential part of parenting. One child dies everyday and 14 kids are injured every hour in a home fire, according to Safe Kids Worldwide. These devastating statistics underscore the importance of relaying fire safety information to your child. Do so in a way that won't cause undue worry or anxiety by putting together a colorful mini-book with facts and tips that, when followed, will help keep your child safe in case of fire.
Construction
Place an 8.5-inch by 11-inch sheet of printer or construction paper vertically on a flat surface. Fold the paper in half from bottom to top and crease the fold with your fingers.
Fold it in half again in the vertical direction, without opening the sheet. You should have a long, skinny rectangle with the fold facing your body. Fold the rectangle one more time from right to left.
Open the sheet up enough to expose four quadrants. With the folded side facing your body, cut vertically along the bottom crease to the middle of the quadrants.
Open the sheet up completely. There should be eight sections with a cut running through the middle four. Position the sheet horizontally and fold it in half from bottom to top.
Grasp the edges of the rectangle and push toward the middle to form the center two pages of the book. Staple the middle crease of the book to keep the pages together.
Content
Design a decorative, subject-related cover to catch your child's attention. For instance, you might draw a bright red fire engine and place a picture of your child's face in the driver's window.
Write tips for preventing fires on the first two pages. Make a bullet-point list with warnings such as "Never play with candles, matches or lighters," "Don't touch ovens, fireplaces or heaters" and "Remind your parents to place and maintain smoke alarms."
Describe what your child should do in case of fire on the second two pages. According to the U.S. Fire Administration, children should be instructed to get low and crawl for an exit. Draw a simple schematic of your house with escape routes and exits clearly labeled. Write down your family's designated meeting spot outside of the house.
Include an activity on the remaining two pages. Make a word search including terms such as "smoke alarm," "fire" and "engine" or outline a picture for your child to color.
Write emergency contact information on the back of the book. In addition to 911, include the cell phone numbers for you and your family.
Tip
Practice a fire escape plan as a family. Use a stopwatch to see how long it takes your family to evacuate the house.
Take your kids to visit the local fire department. Ask firefighters for pointers on making your home safer.
Warning
Install smoke alarms in every bedroom and on every level of your house. Smoke alarms can reduce the risk of dying in a fire by nearly 50 percent, according to Safe Kids Worldwide.