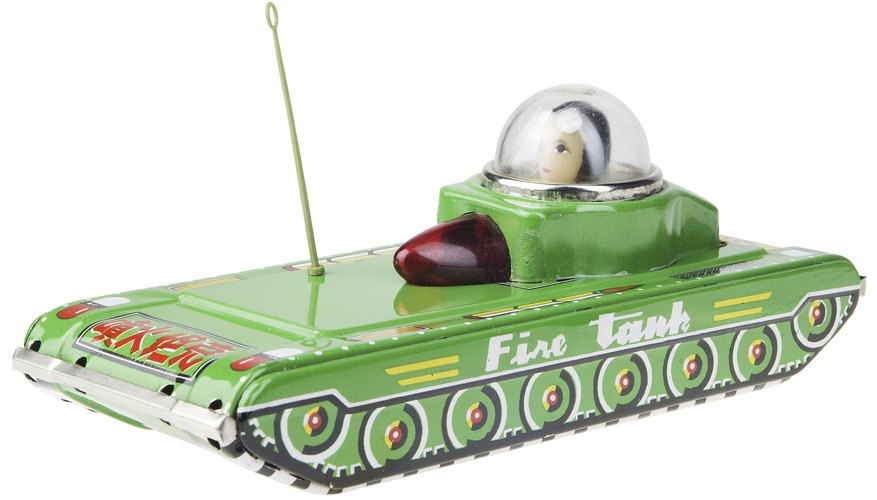 Small children always like playing in cardboard boxes. A cardboard box for them is a car or a playhouse. In fact, more often than not, a child will set a toy off to the side and play with the box it came in. One favorite childhood game is playing army, and a tank made out of cardboard boxes can provide hours of fun and stimulate a child's imagination. Cardboard boxes that contained large appliances or toys are perfect for making army tanks.
Making the Body of the Tank
Turn the large cardboard box upside down and cut a circle the size of a small child's shoulders in the bottom half of the box. The child should be able to stand up in the hole without difficulty. Turn the medium size box upside down and cut the same size circle in the bottom half of the box.
To make the tracks, cut all the paper rolls the same size by using a paper towel roll to measure the length. Save 5 long wrapping paper rolls and do not cut them. Glue the cut rolls and the paper towel rolls together on the sides until you have an oval shape the length of the large box, with one of the longer rolls on each end of the oval. Make another oval shape for the other side of the large box with the longer rolls on each end.
For the gun turret, cut a slit across the long side of the shoebox the size of one of the wrapping paper rolls. Do the same for the opposite side of the shoebox. Leave at least two inches on either side of the slit for support. Slide the wrapping paper roll across both slits.
Putting the Tank Together and Finishing
Place the medium box on top of the large box, lining up the circles. The width of the boxes should be even so that you can tape the boxes together. It should look like an L.
Tape the shoebox to the top of the medium box, lengthwise and in front of the circle, so that the "gun" is facing to the front of the tank.
Tape the longer wrapping paper rolls of the oval-shaped tracks to the outside edges of each side of the large box. It is all right to tape these flat. The purpose is to have something with which to fasten the tracks on the box. The tracks should be even with the bottom of the large box.
For a gun metal look and for reinforcement, wrap everything except the tracks with duct tape.
Tip
When making the tracks, glue the paper rolls together a few at a time and let dry. This will make it easier to glue them on top of each other.
Warning
Take extra care with craft knives around children.